Find your dream Clearwater / St. Petersburg wedding venue
Are you dreaming of a Clearwater / St. Petersburg wedding, and now trying to find your perfect venue? You have a ton of great venue options in the area, each more beautiful than the next! Fortunately, we have a few recommendations that will help you narrow down your options. Take a look at some of the team's favorite Clearwater / St. Petersburg wedding venues, below!
Isla Del Sol Yacht & Country Club
Of course, you want a venue that will blow you away with its beauty and charm, and Isla Del Sol Yacht & Country Club will do just that. The staff only book one event per day, so you'll have the venue completely to yourself. Spend the day admiring the serene waters of Boca Ciega Bay, dancing in the ballroom, or walking along the beach with your new spouse.
Unique features like the two-story water fountain and glass staircase immediately draw the eye, creating an elegant ambiance. Your guests will be raving about the views and great food for years to come, so make sure Isla Del Sol is on your list of potential venues!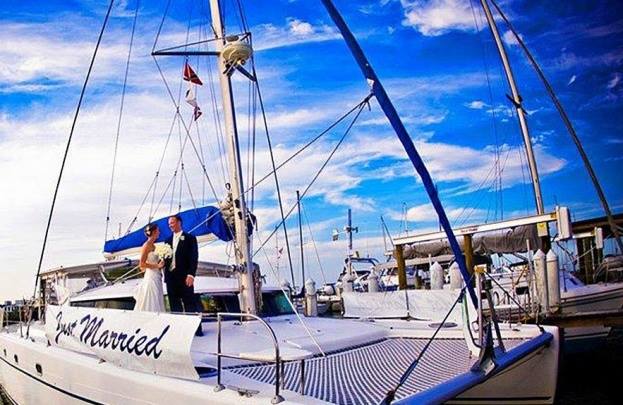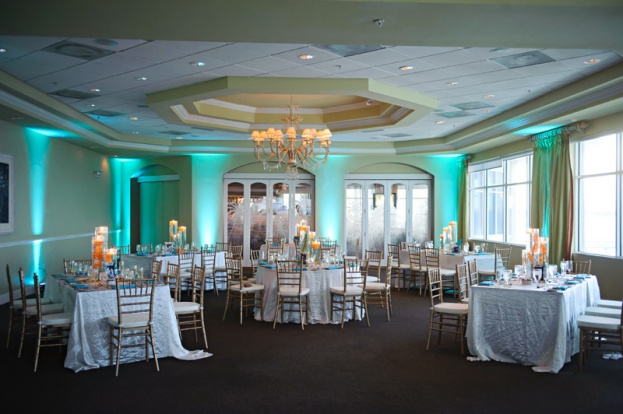 This venue is absolutely stunning, and we're not just saying that because it was the site of our stunning Tropical Boho shoot! The stylish, retro-inspired space is perfect for the beach wedding of your dreams, while the beautiful white beaches and clear blue waters will make you want to stay forever.
With the Postcard Inn, you also have lots of options for your ceremony and venue. The Garden Courtyard, with its wooden benches and ethereal lanterns, is perfect for outdoor events with up to 200 guests. Plus, it's absolutely gorgeous in the evening! Northern Picnic, on the other hand, is right along the beach, making it ideal for sunset views and an intimate, casual affair for up to 75 guests. Sunset Ballroom is on the second floor of the building, and the beautiful terrace offers breathtaking views of the beach. You won't be able to look away! The ballroom seats 130 guests. For an intimate, indoor reception, choose the Canteen, ideal for small groups up to 50 guests.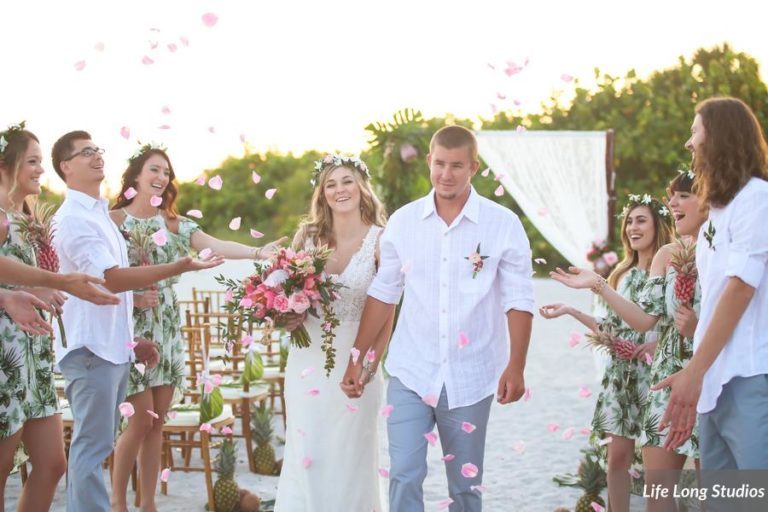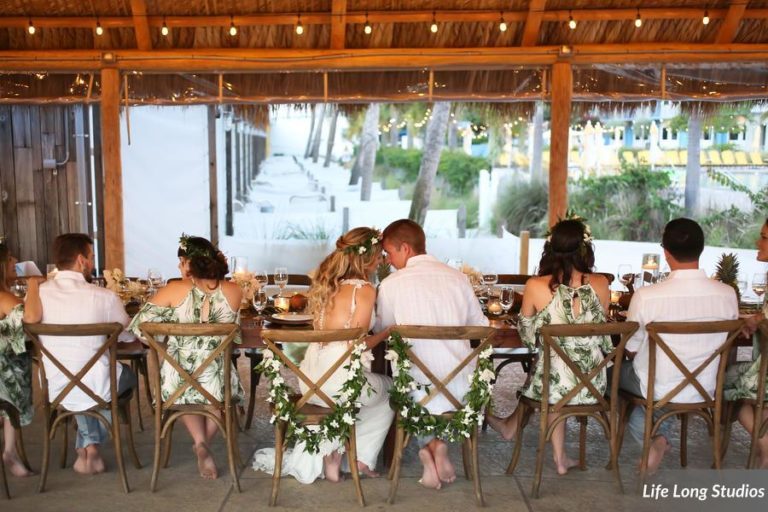 If you're looking for classic elegance, you're going to love Countryside Country Club in Clearwater! The golf course is always expertly manicured, so when you look out to the lake, you're greeted with the most calming, beautiful atmosphere. Here, you're guaranteed to have a breathtaking ceremony, whether you choose the ballroom, the stone fountain, or the grounds.
The ballroom is ideal for indoor ceremonies and receptions, featuring vaulted ceilings, exposed wood beams and floor-to-ceiling windows. Large enough to seat 250 guests, the ballroom can be easily decorated to fit any theme! Not big enough? Have your ceremony on the grounds, where you can say "I Do" by the lake with 400 of your friends and family. Or, if you want an intimate ceremony, imagine exchanging vows at the stone fountain, located in front of the country club entrance.
Countryside Country Club has it all – make sure you consider it for your Clearwater / St. Petersburg wedding!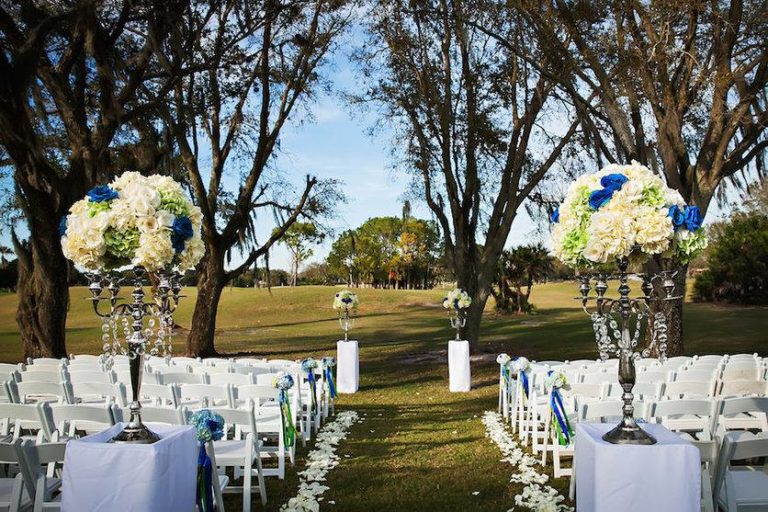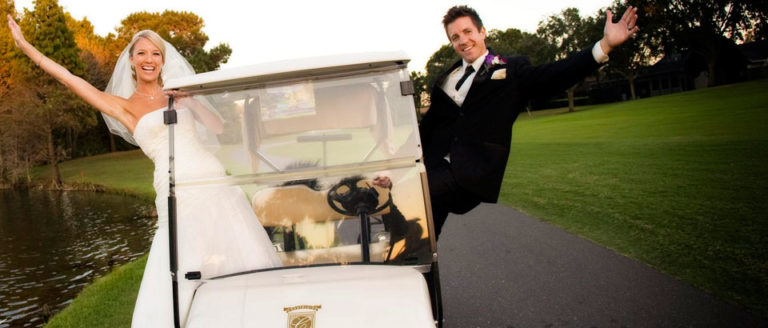 Hyatt Regency Clearwater Beach Resort and Spa
Planning a beautiful beach wedding in Clearwater? This might be the venue for you! From the resort, you'll have a one-of-a-kind view of the beach and the waters of the Gulf of Mexico. A variety of spaces are available for indoor or outdoor ceremonies and receptions, from large ballrooms to smaller spaces for intimate events. The Aqualea Ballroom can seat up to 250 guests, and the vaulted ceilings and chandelier lighting are ideal for a traditional reception. For a more intimate event with up to 30 events, choose the Caladesi Room, or combine it with the Terrace to fit up to 250 of your friends and family.
If you can't get enough of the view, choose the Belleaire Room and Beach Club Lounge. The floor-to-ceiling windows are sure to wow 100 guests with ease! Or, if you want the view in an outdoor space, opt for the Sky Terrace, located on the 16th floor. The Sky Terrace fits up to 250 guests for a ceremony or 125 for a seated reception.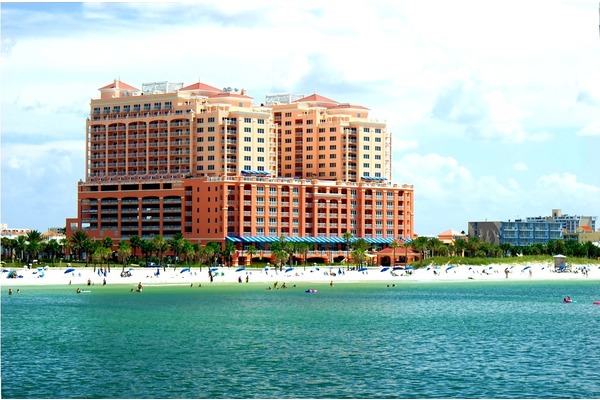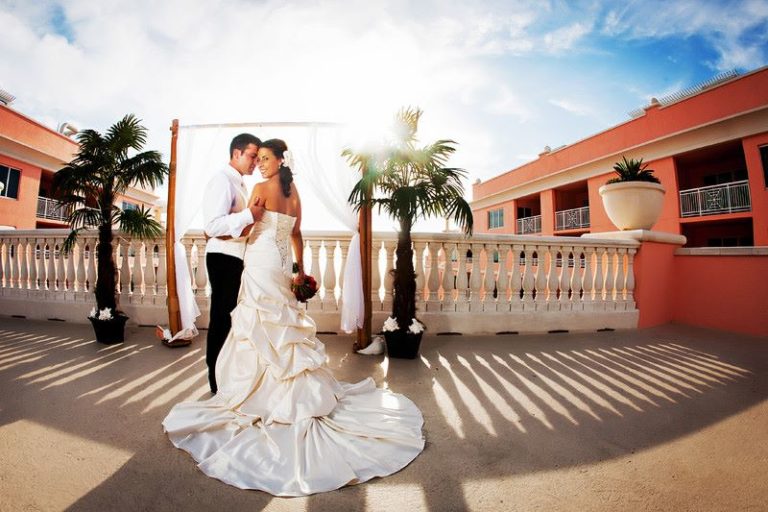 We know that it's a tough choice from all of these fantastic venues! Which Clearwater / St. Petersburg wedding venue do you love? We at A Chair Affair wish you luck on your venue search, and are looking forward to helping you complete the décor for your dream wedding. Looking for more wedding tips? Check out our wedding booking tips, tricks, and timeline!
Interested in other great venues around Florida? Check out our other picks, below:
Find Your Perfect Downtown Tampa Wedding Venue
Finding Your Dream Gainesville Wedding Venue
5 Florida Farm Wedding Venues We Love