Every month, we conduct a drawing and one lucky couple wins $500 off their wedding rentals with us! This time, we want to introduce you to our October 2018 wedding rental winners, Jennifer and James! We spoke with bride-to-be Jennifer to get more information on how her and James's meet-cute, their wedding goals, and more!
Where did you meet your fiancé?
My fiancé and I met via an online dating app!! We decided to meet for dinner at Carrabba's and go play some putt putt golf. He tried to show off by ordering wine and let me try it, I couldn't hide my expression because I HATE wine! We still laugh to this day about that.
How did you know he was the one for you?
I knew he was the one when we went to Disney and I had crossed the street and he was trying to read a map and ran straight into a garbage can! I laughed so hard and the fact that he laughed right along with me instead of getting mad or embarrassed-that was when I knew he was for me!!
What are the things you have in common?
Our common threads tend to be our humor and our outlook on life. We are serious when needed, but we just try to live life everyday for what it is and not worry about any could be's or what if's.
How did he propose?
My fiancé was teasing me for about a month before he proposed. He kept saying let's just wait another year, we have so much going on, etc. So then my mom was having a BBQ for July 4 (which she does almost every year) and my friends were all there, which again is totally normal. So my best friend grabbed me and wanted to talk to me about her upcoming wedding so we went upstairs to talk. Then my mom yelled for me to come downstairs and when I did, James (fiancé) was at the bottom of the stairs with all my family gathered around the living room. It was perfection.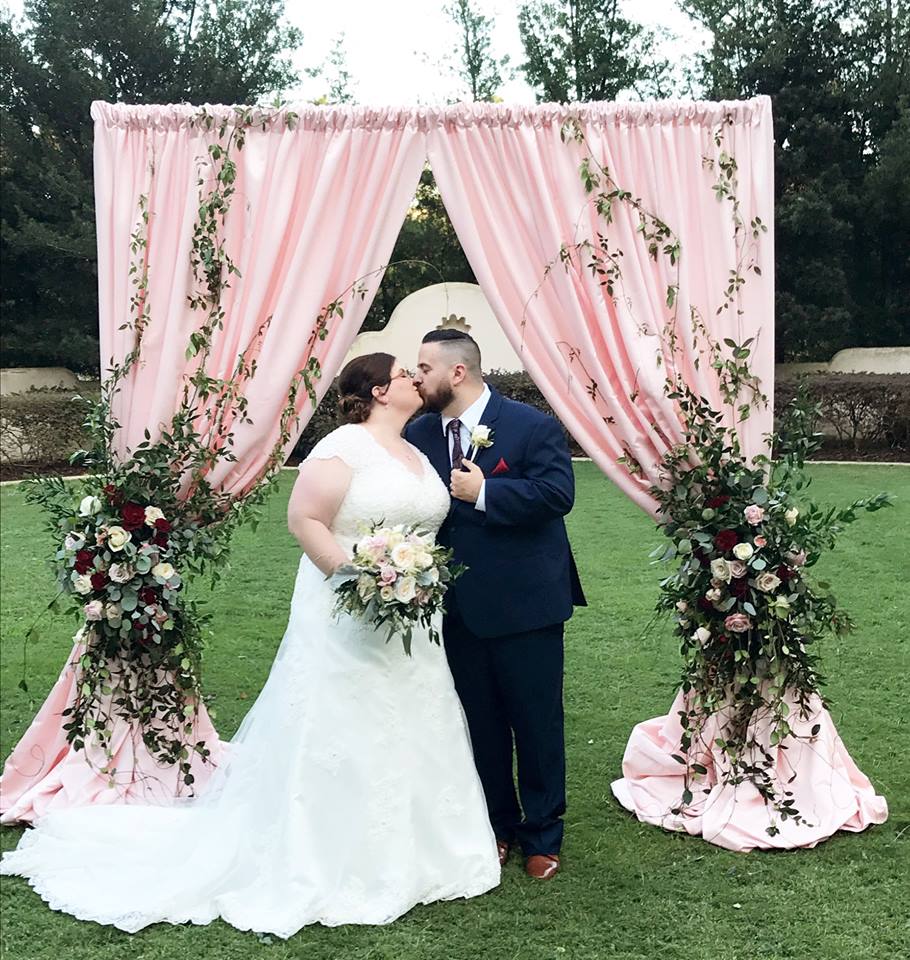 What part of the wedding day are you looking forward to most?
I was looking forward to the first look most at the wedding. I wanted him to be speechless.
What inspired your wedding colors?
My wedding colors were inspired by my late grandmother. Her name was Rosemary and she always had these gold and dusty rose/mauve roses hanging in her home. They were my favorite thing in her house. So my colors were just that, rose golds, dusty rose and mauve.
That sounds really lovely, Jennifer! Thanks for chatting with us, and congratulations on being our October 2018 wedding rental winners!
Are you getting married soon? Tell us your story for a chance to win $500 off your wedding rentals with us! Click here!