November 2018 – Jessica and Austin Monthly Rental Winners!
Every month, we conduct a drawing and one lucky couple wins $500 off their wedding rentals with us! This time, we want to introduce you to our November 2018 wedding rental winners, Jessica and Austin! We spoke with bride-to-be Jessica to get more information on how her and Austin's meet-cute, their wedding goals, and more!
Where did you meet your fiancé?
Disney University! Austin and I met on our very first day of working for the Mouse during orientation, "Traditions". I was the first one in the room super excited for my dream job come true, Austin was one of the last and he sat at the last available chair at my table. It was love at first sight. We talked the whole day and went on our first date to Hollywood Studios the very next day.
How did you know he was the one for you?
There was one date we had at Disney's Boardwalk where our conversation was so deep and personal, I knew he was the one, and I had fallen hardddd!
What are the things you have in common?
We both love movies and speak in movie lines a lot of the time. We pretty much have our own language and humor that other people just don't get.
How did he propose?
It was my mom's birthday weekend and we planned a weekend getaway with the family to Disney's Hilton Head Island Resort in South Carolina. Austin is from South Carolina so we had his parents and sister join us there to make it a fun family weekend with a little bit of Disney and a little bit of home. The night of our nice evening out, my mom used her birthday powers to have us take nice family photos on the beach before dinner. We took a few pictures and as we were finishing up, Austin asked me to walk down the beach with him (and our puppy, Beau). Next thing I knew he was down on one knee with the most beautiful ring and the biggest smile on his face with our families cheering in the background. I said yes, duh. Learn more about our wonderful love story here!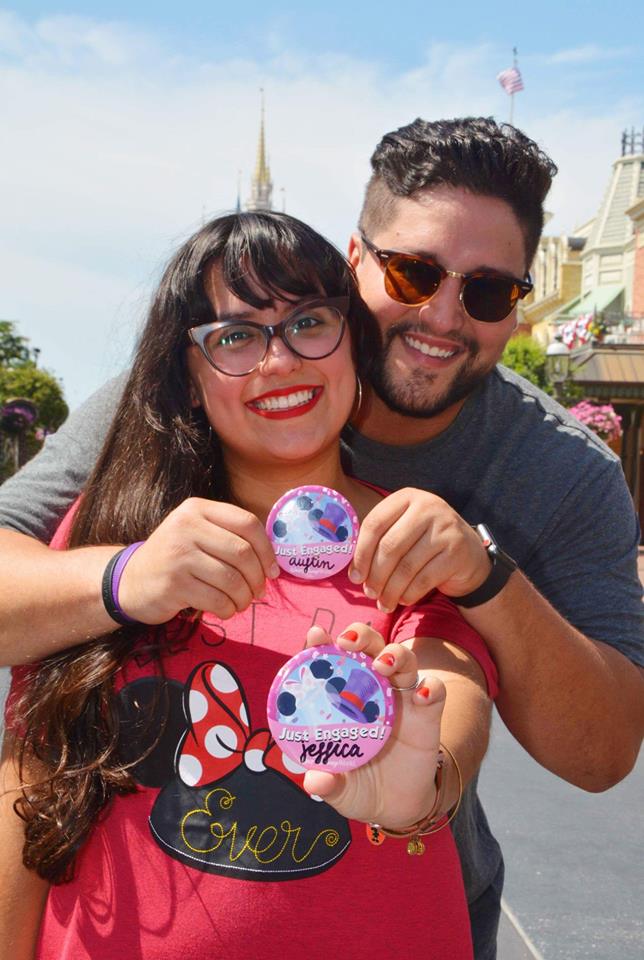 What part of the wedding day are you looking forward to most?

It's going to be an extremely emotional day for many many reasons, but I think I'm most looking forward to seeing the look on his face as I walk down the aisle towards him…. and hearing his vows.
What inspired your wedding colors?
Our wedding colors are all neutral due to the venue being an outdoor garden. I didn't want to clash with any of the beautiful flowers already at the venue and several Disney inspired themes throughout the wedding, so everything is white or neutral colors.
That sounds really lovely, Jessica! Thanks for chatting with us, and congratulations on being our November 2018 wedding rental winners!
Are you getting married soon? Tell us your story for a chance to win $500 off your wedding rentals with us! Click here!