Every month, we conduct a drawing and one lucky couple wins $500 off their wedding rentals with us! This time, we want to introduce you to our September 2018 wedding rental winners, Renee and Nadeem! We spoke with bride-to-be Renee to get more information on how her and Nadeem's meet-cute, their wedding goals, and more!
Where did you meet your fiancé?
Nadeem & I met through a co-worker of mine. She knew we both had similar hobbies and interests and thought we would hit it off. We exchanged numbers and got to know each other for 4 months before we had our first date. We met at Wekiva Island in January 2016 for a kayak fishing date. We spent the day on the water and got to know each other even more. To this day, we love to enjoy the outdoors as we did when we first met.
How did you know he was the one for you?
Nadeem is the sweetest and has the most gentle soul. He has more patience than anyone I have ever met. I knew if he could have so much patience with anything life threw at him, that he would be the one for me. We have become best friends and are so excited to be getting married and enjoy the rest of our lives together. We are each truly lucky.
What are the things you have in common?
Nadeem & I and both share a love for nature, fishing and traveling. We visit national and state parks often to go camping, fishing or for a nice hike. We take our kayaks down south at every opportunity we get. We enjoy seeing and experiencing new things together from anywhere we are. We both also have a love for God and our family and keep them at the center of our lives.
How did he propose?
On April 29, 2017 Nadeem proposed in the most magical way. On our first trip to Alaska, he took me to Portage Glacier on what I thought was a sightseeing trip. On our way there, I fell in the snow up to my knees, as a Florida girl not knowing how to walk in the snow. After laughing the fall off, we walked to the foot of a glacier lake. There, he got down on one knee and asked me to marry him. Close family were also there to capture the special moment.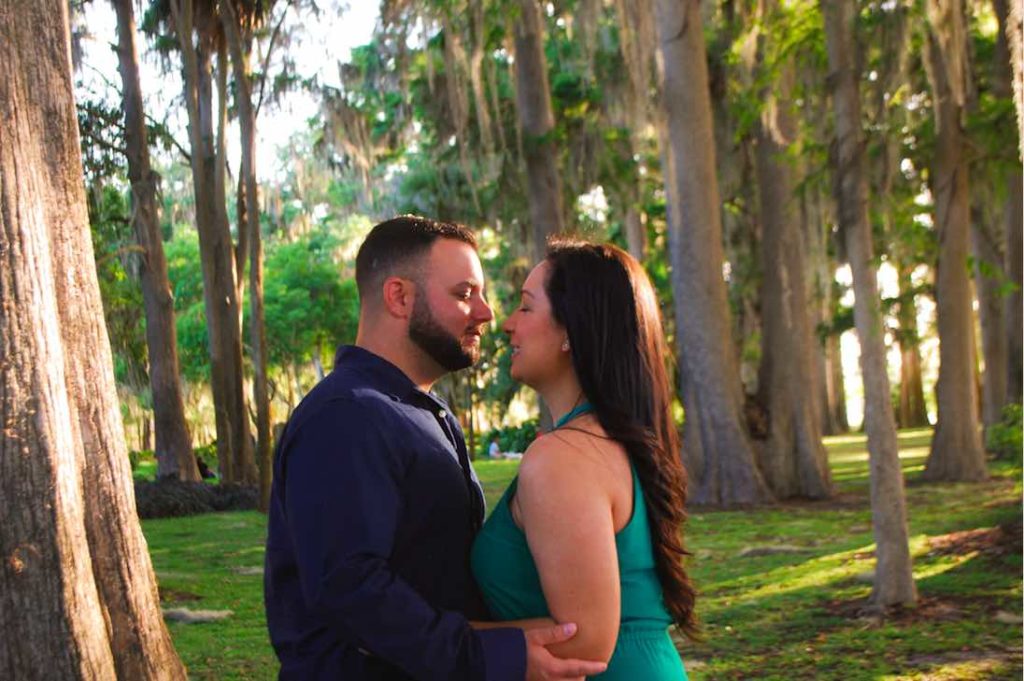 What part of the wedding day are you looking forward to most?
We are looking forward to our first dance as husband and wife the most. We will be overjoyed being surrounded by all our close loved ones watching us as we dance together. Our family means the most to us and have provided so much support getting us to this moment that we will dance in the spotlight in our special moment in time.
What inspired your wedding colors?
Our wedding colors were inspired by our venue's rustic style. The Winter Park Farmers Market's large barn doors, red brick walls and stained concrete floor were the perfect canvas for gold and blush. Our reception will include gold Chiavari chairs, amber colored uplighting and blush hydrangeas. I have always had a love for pink and gold, especially together, and knew these colors would look great for a Fall wedding.
That sounds really lovely, Renee! Thanks for chatting with us, and congratulations on being our September 2018 wedding rental winners!
Are you getting married soon? Tell us your story for a chance to win $500 off your wedding rentals with us! Click here!