Veena & Bryan
When two people from two different cultures and backgrounds come together, the result is love story magic. Veena and Bryan met at the beginning of 2020. Over the course of the year their relationship blossomed. This year, we celebrated their love with two beautiful ceremonies and one epic reception!  Their multicultural wedding was one of the books. Designer Weddings by Carly Rose wrangled all the luscious details and  Root Photography captured them!
Indian Wedding Ceremony
In a traditional Indian wedding ceremony, there are vibrant colors and an abundance of celebration. On the grand lawn at JW Marriott Orlando, Grande Lakes, the couple met under the arbor.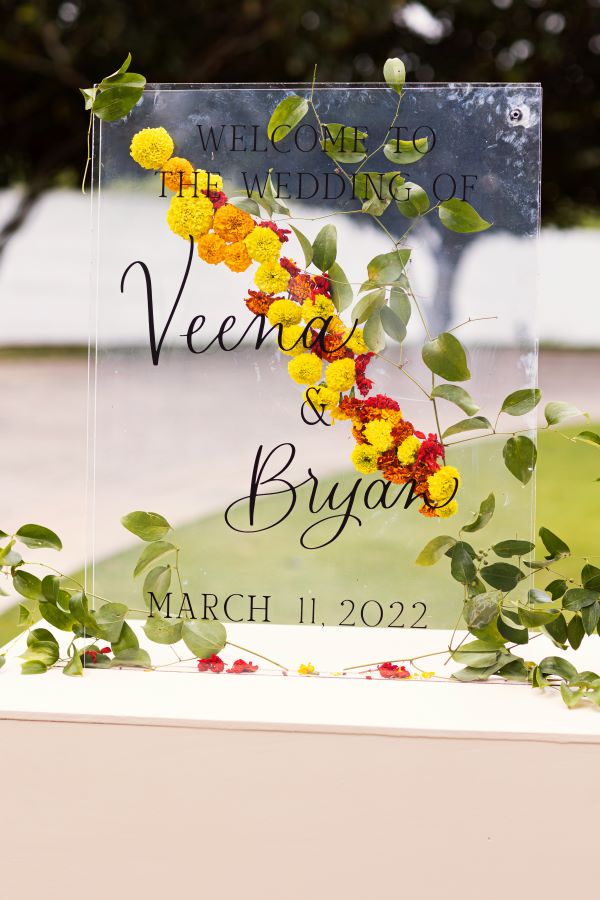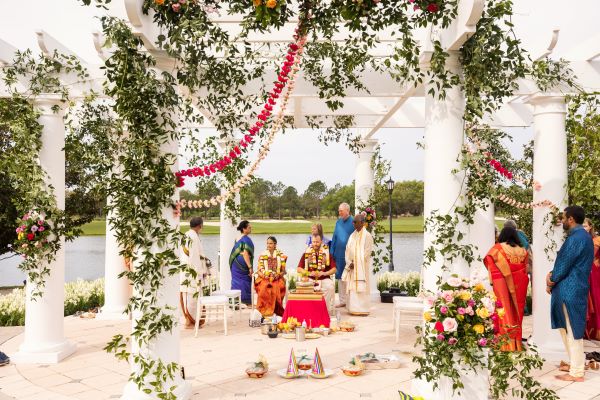 Using bright blooms and greenery,  Flower Girl Designs designed an enchanting space for their sacred ceremony. Our White Chiavari Chairs accommodated the wedding guests.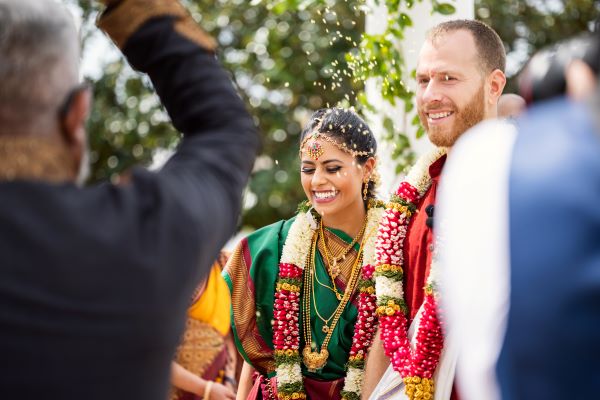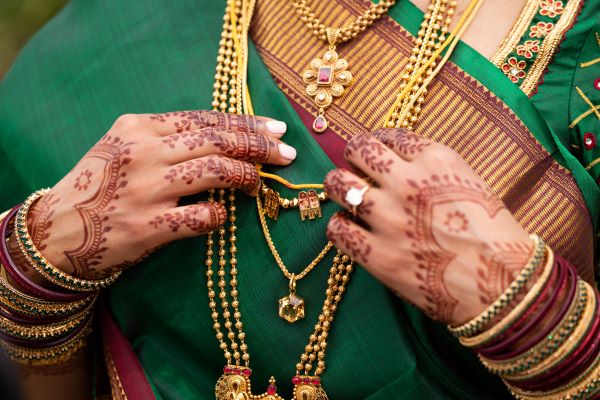 Jewish Wedding Ceremony
But what's better than one wedding ceremony? Two wedding ceremonies! After Veena and Bryan's Indian wedding ceremony, the couple changed their outfits for their Jewish ceremony. Veena's beauty team, consisting of Bella con Stile' Beauty Makeup and Hair Artistry and The Improper Blonde added some touch-ups.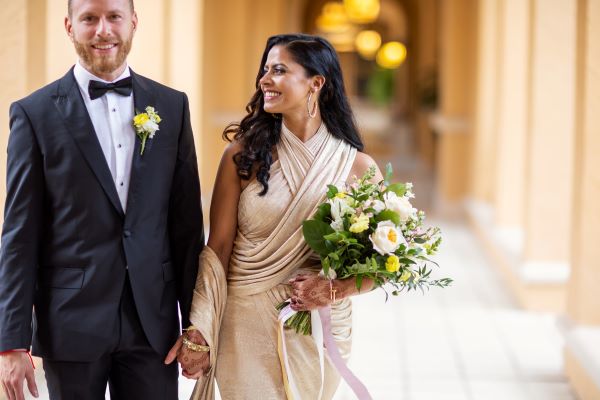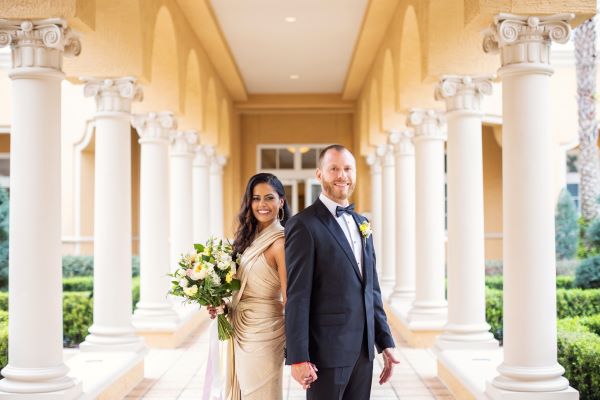 The arbor was transformed into a chuppah with the vibrant floral removed and creamy ivory added in its place. And of course, our White Chiavari Chairs remained for the guests.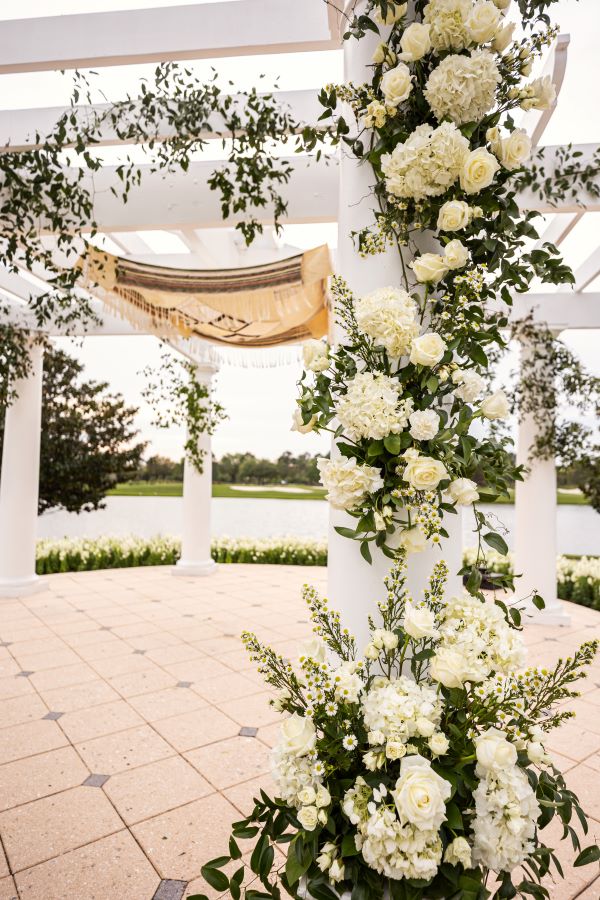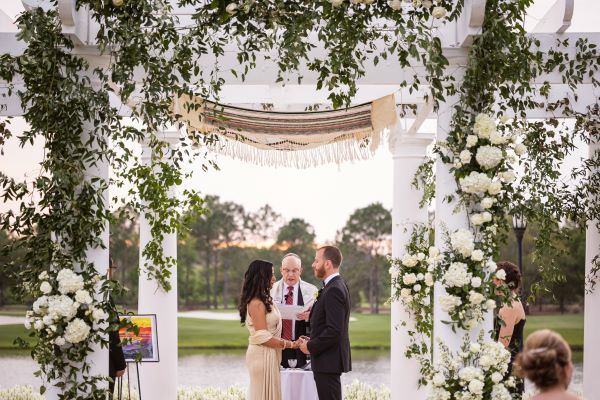 As the sun set on the lake, the wedding guests watched the Rabbi lead the couple through the ceremony.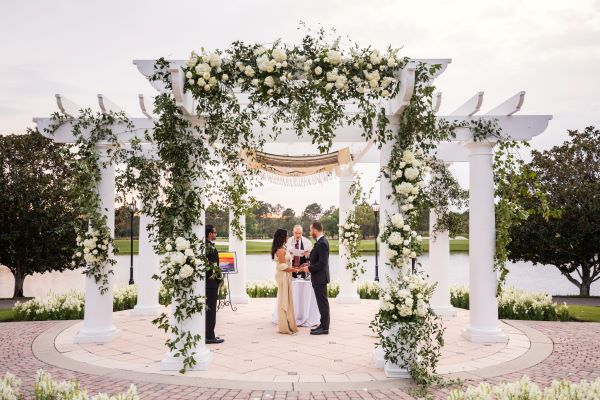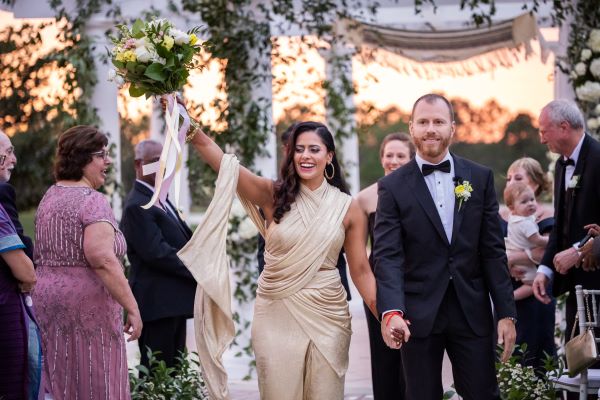 Epic reception
Of course, after two beautiful multicultural wedding ceremonies, it was only fitting to celebrate with an epic reception. From the floor to the ceiling, the ballroom was decorated for the festivities.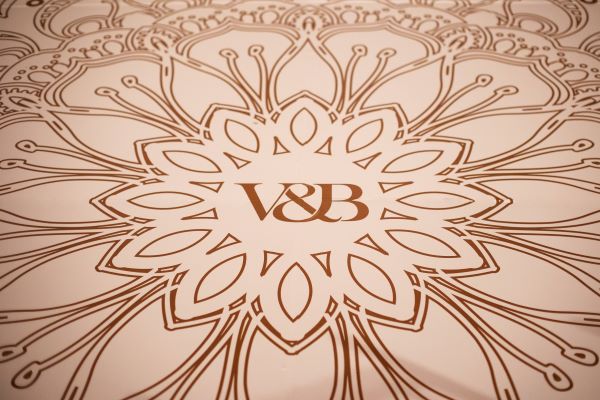 All eyes were on the dance floor – Letz Dance On It customized this beauty with a henna design that we loved!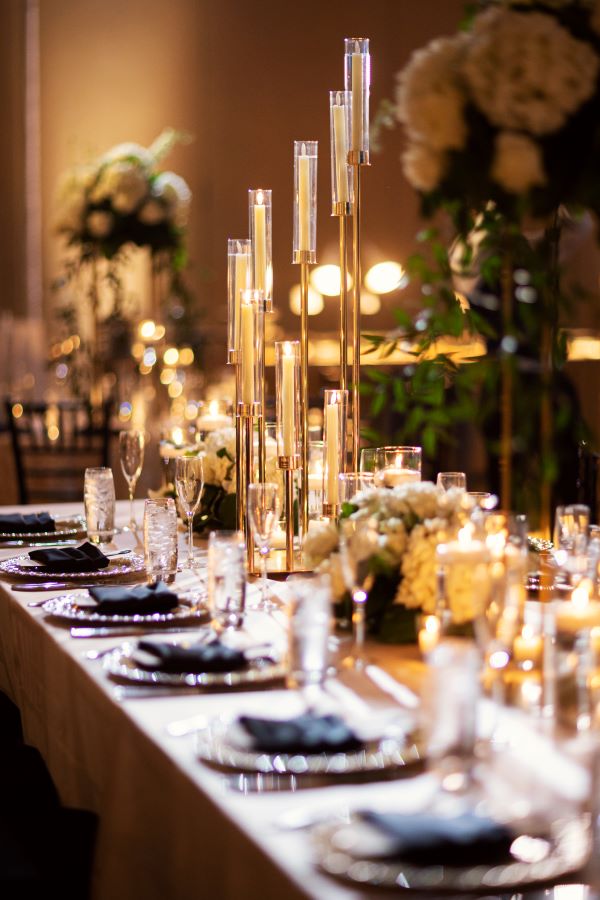 Moving to the tables, our Gold & White Petal Chargers tied in the petal design on the wedding cake. Just wait till you see it!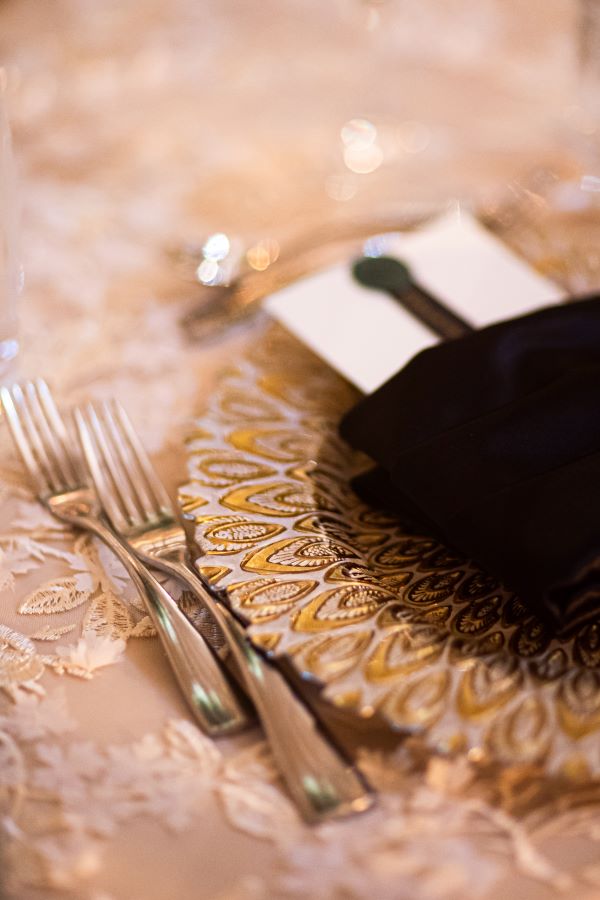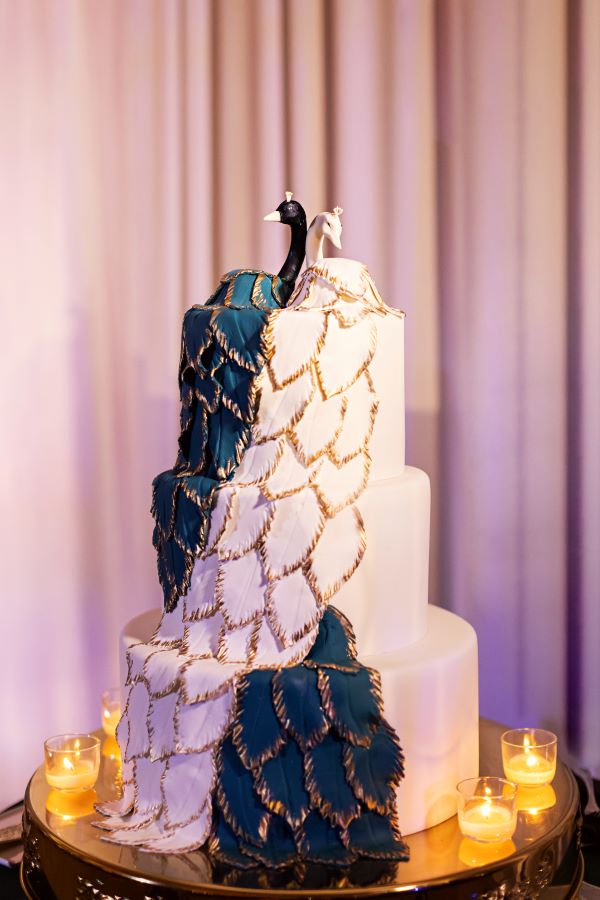 With white and teal petal trains down the side of the cake, this delectable dessert was a work of art.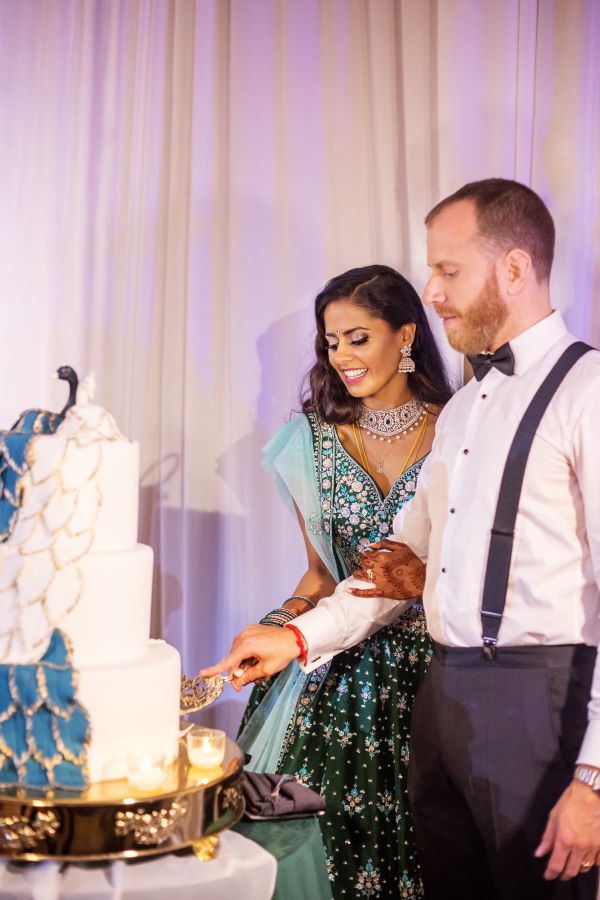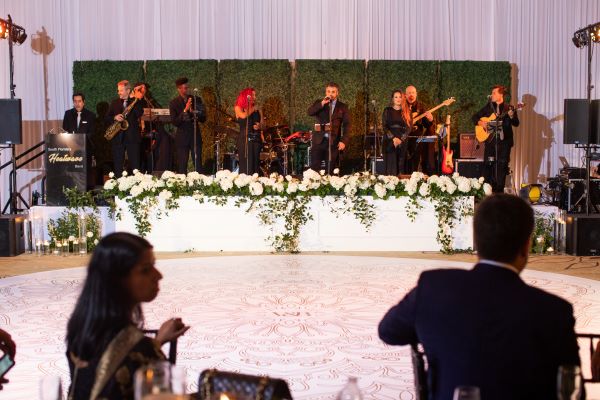 With South Florida's Heatwave on stage, our Hedge Walls made the perfect backdrop for the entertainment! And as the music turned up, the guests joined the couple on the dance floor.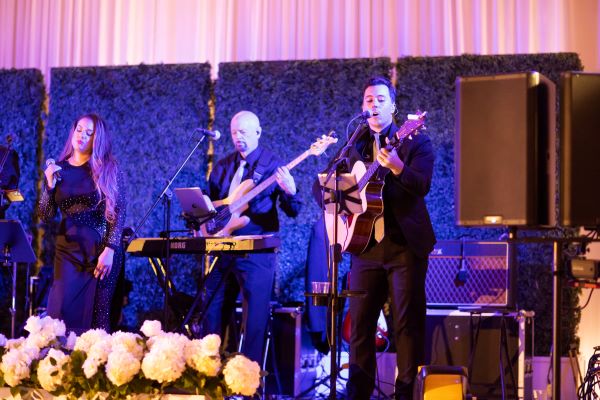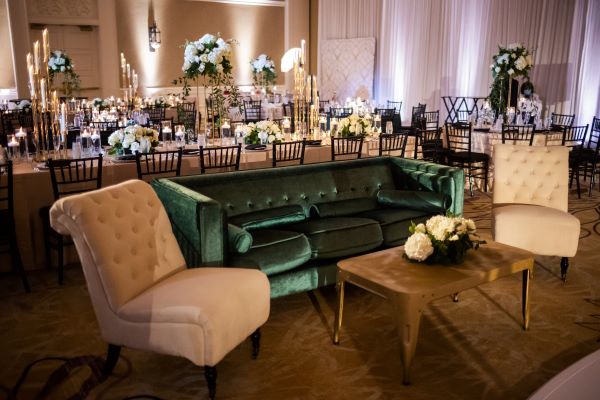 Of course, some partygoers needed to rest their dancing feet and catch up with old (and new) friends. Veena and Bryan created a lounge space with our Emerald Brighton Sofa, Tuscan Chairs, and Gold Fox Coffee Table.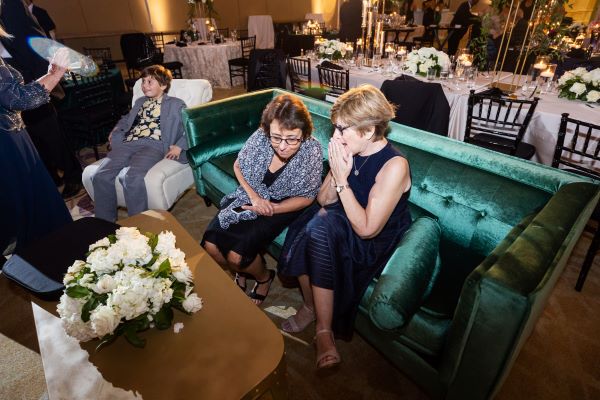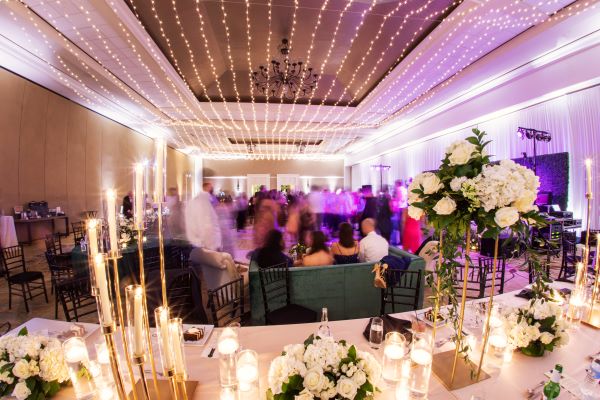 Guests also made their way to the photo booth provided by SnapShot Orlando to have some more fun!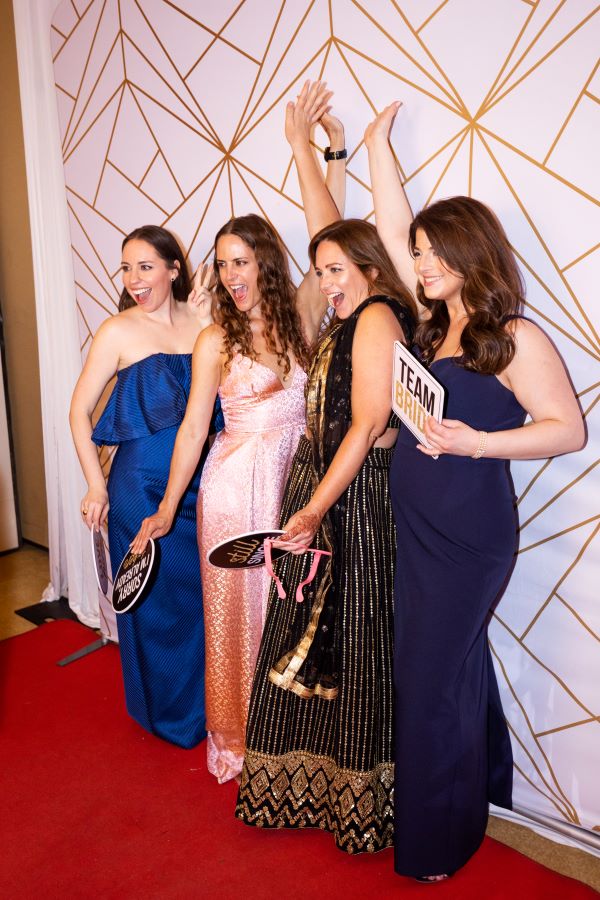 But all good fun things have to come to an end. Of course,  Veena and Bryan's multicultural wedding ended in the most epic way – with a burst of confetti. It was a fitting finale for two gorgeous wedding ceremonies, an epic reception ending and a beautiful couple!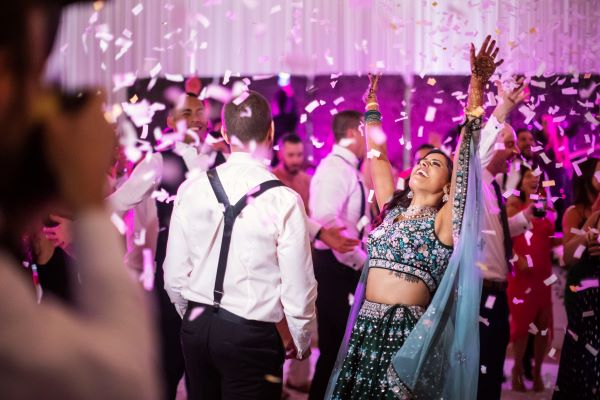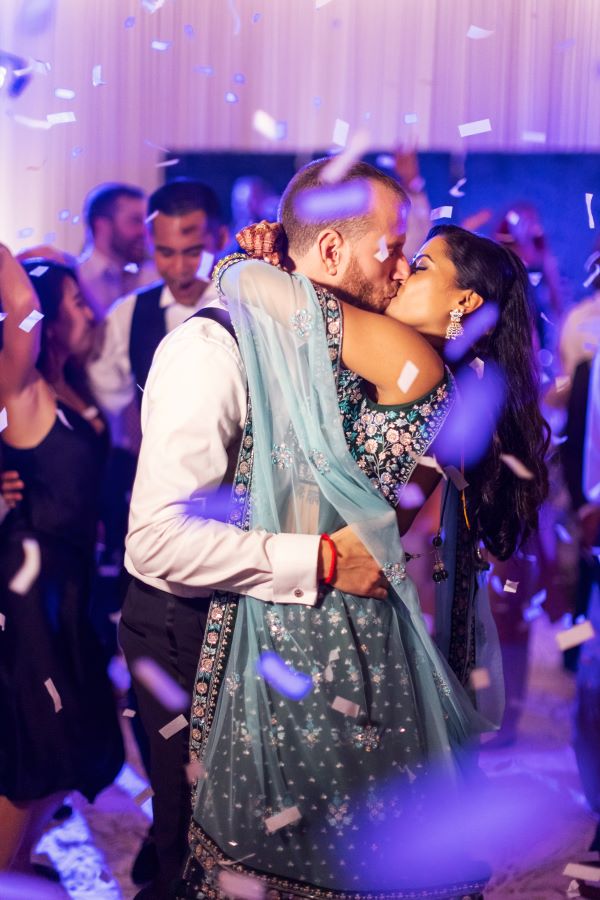 Featured Products: White Chiavari Chairs, Gold & White Petal Chargers, Emerald Brighton Sofa, Tuscan Chairs, Gold Fox Coffee Table, White Cosmo Bar, Hedge Walls
Venue: JW Marriott Orlando, Grande Lakes | Planner: Designer Weddings by Carly Rose | Photography: Root Photography | Effects: FyerFly Productions | Rentals: A Chair Affair | Hair & Make-up: Bella con Stile' Beauty Makeup and Hair Artistry, The Improper Blonde | Florist: Flower Girl Designs | Dancefloor: Letz Dance On It | Henna Artist: Henna Allure | Photobooth: SnapShot Orlando | Entertainment: South Florida's Heatwave | Stationary: Bare Lettered Designs