January monthly wedding rental winners – Renu + Ram
Congratulations to Renu and Ram, our January Monthly Wedding Rental Winners!  These newlyweds recently tied the knot with a big, beautiful ceremony and reception filled with lots of family and friends, many who traveled from far away for their big day.
Read all about their beautiful love story and wedding day. Then, learn how you can win $500 off of YOUR wedding rental!
Where did you meet?
We officially connected and started talking on an Indian dating website – shaadi.com. It turned out that we had mutual friends that had wanted to set us up together earlier but the timing just wasn't right back then.
How did you know this was the one?
Well, there were several times throughout our relationship that assured us this was the right one, but the moment that sticks in our memory would have been during the first trip Ram made to visit Renu in Austin. Just sitting on the couch, eating dinner, watching movies, talking, and enjoying each other felt so perfect.  It was just an easy comfort with each other.
What are the things you share in common?
We both have a similar sarcastic sense of humor, we love similar TV shows and connected over the show The Office when we first started talking. We have the same values – our family, friends, our culture. Trying new restaurants and hanging out at breweries is one of our favorite things to do.  We also love exploring new cities.
Tell us about the proposal.
Ram planned a glamping trip outside of Austin right after the holidays in January 2022. It was supposed to be a little getaway to relax after a hectic few months. He said we were going old fashioned camping in the middle of nowhere with tents, sleeping bags, campfire, etc. There was no expectation of a proposal at all. It turned out to be a beautiful glamping resort in Lago Vista that looked like a luxury hotel under the stars. He put together a video with moments from our relationship, and at the end of the video, he proposed! It was the perfect way to start the year!
What was the best part of your wedding?
It was  definitely having so much love and support from our family and friends. When we initially started planning, we wanted something small and intimate, but we quickly realized that couldn't happen with our guest list. All our guests that traveled from near and far to celebrate our marriage made our wedding so special.
What inspired your wedding colors?
Traditional colors for Indian Brides to wear for the ceremony are bright colors like Reds, Pinks, etc. Renu wanted to wear something soft and subtle for the ceremony and chose a light pink lehenga with coral accents. The wedding colors were soft peach and mint to complement our outfits.  Renu changed it up for the reception and wore a bright red gown, and chose the colors soft pink and white and gold for the reception.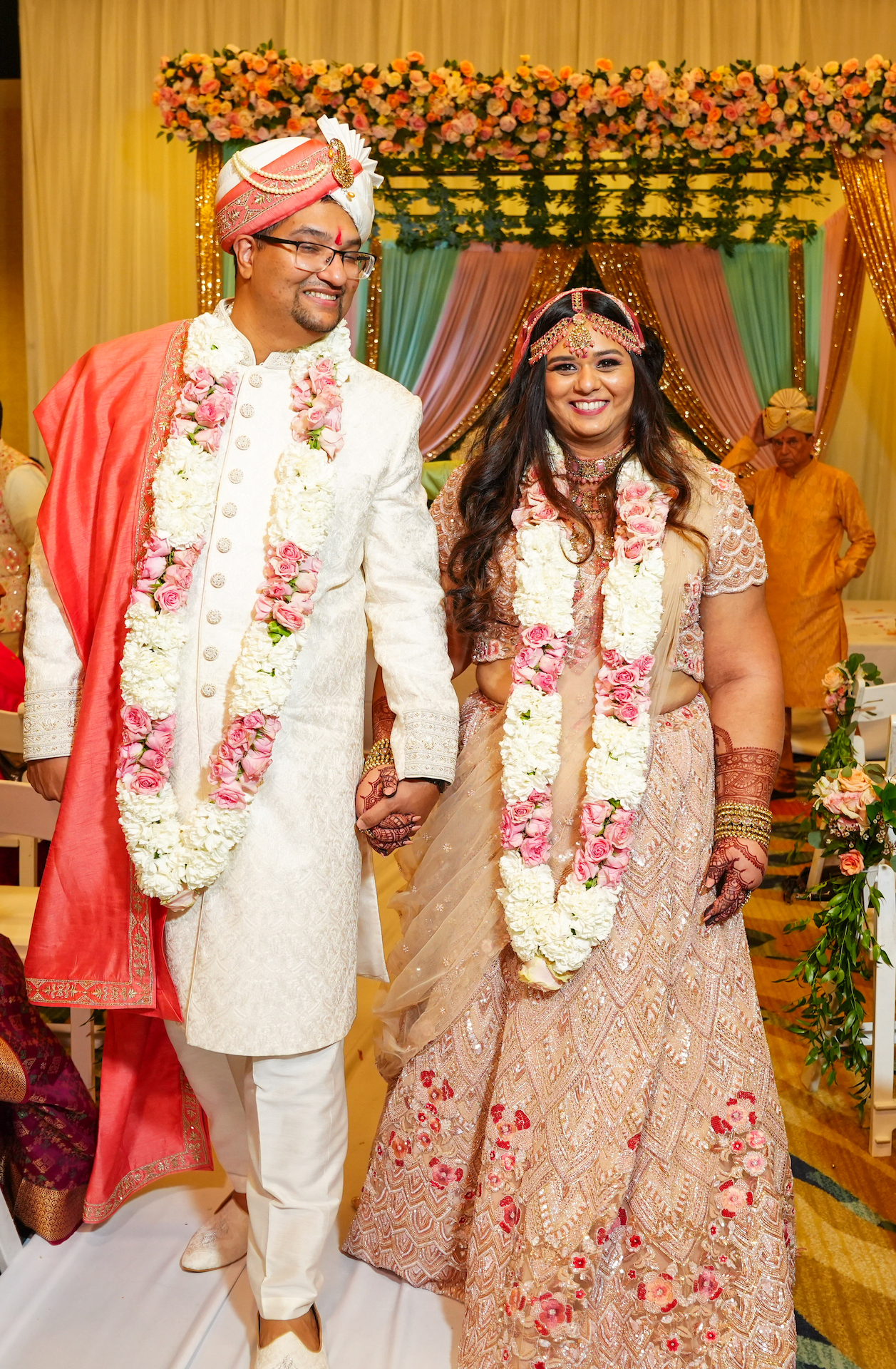 Cheers to Renu and Ram!  Congratulations on being our January Monthly Wedding Rental Winners!
Are you getting married soon? Tell us your story for a chance to win $500 off your wedding! And might be our next monthly wedding rental winners. Click here!