Armature Works Reception
When it comes to modern seating choices for your wedding, our ghost chairs are – hands down – the stars of the show. Whether you choose our black ghost chairs, our clear ghost chairs, or both, you will not be disappointed. And that's just what we did for our modern wedding shoot at Armature Works: we gave them the best of both worlds. The team from Rad Red Creative was on hand to capture the magic.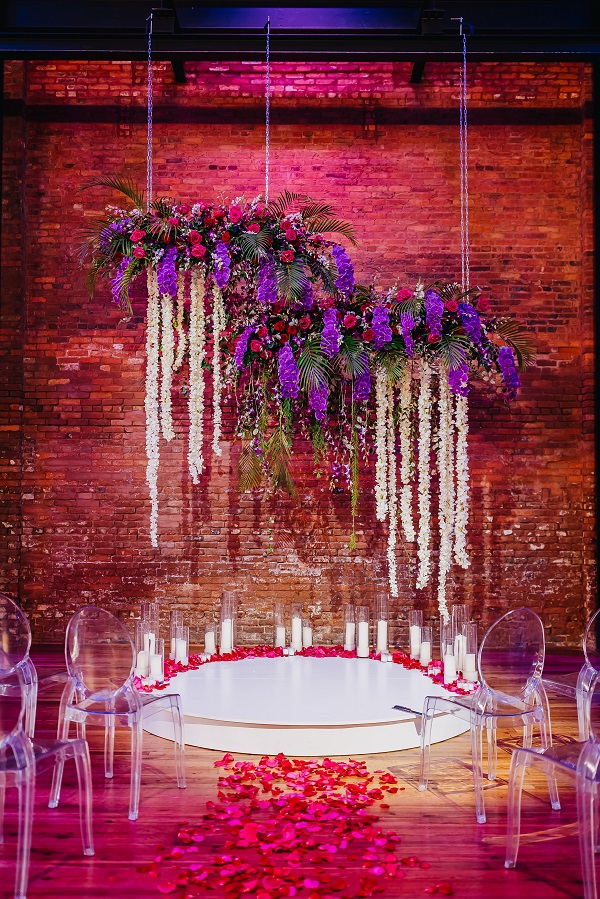 Clear Ghost Chairs- Ceremony Set-Up
For the wedding ceremony, our bride and groom stood on a circular platform, with a vibrant floral arch that was suspended from the rafters. The team from Botanica created this breathtaking piece that framed the couple perfectly. And speaking of framing, our clear ghost chairs framed the couple as well, giving the wedding guests a number of perfect viewing option for the nuptials. The chairs were a nod to the modern venue, blending in seamlessly with their sleek design.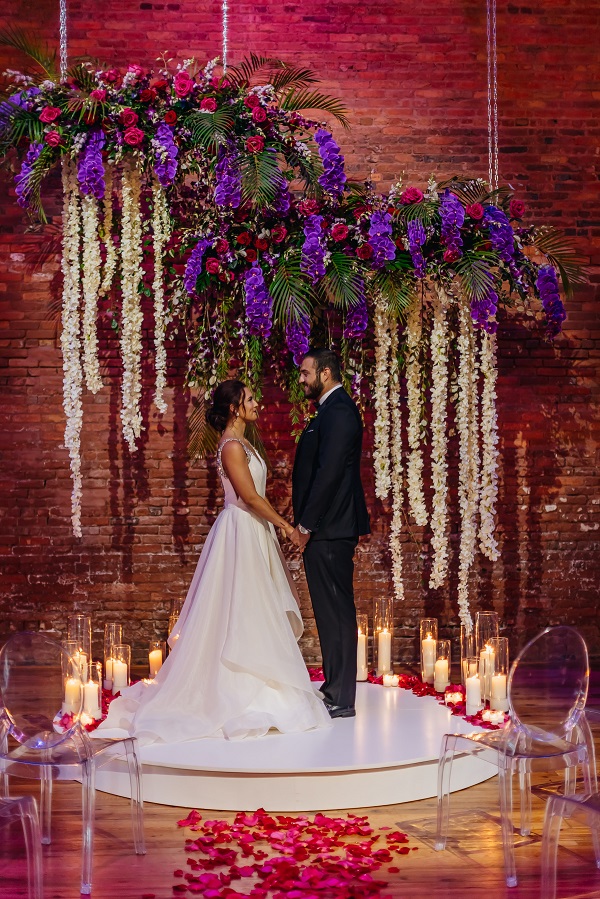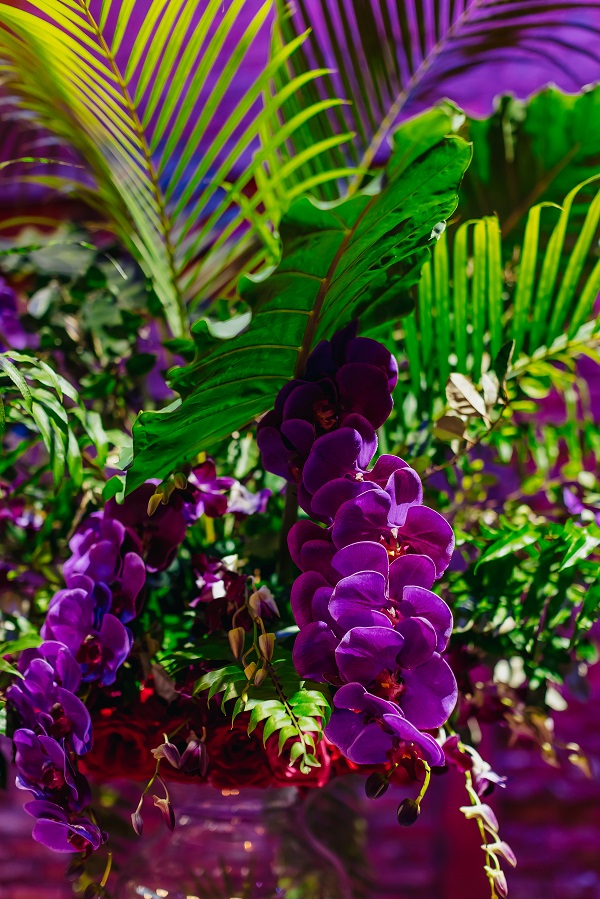 Black Ghost Chairs- Reception
What we love the most about these chairs is the versatility that they bring. We offer the same chair, done in two fantastic ways. So, for the reception set-up, we went with a darker and more moody design. The lighting was brought to a deep hue of lavender, and the black linens were mixed with floral runners. And the floral was a showstopper too!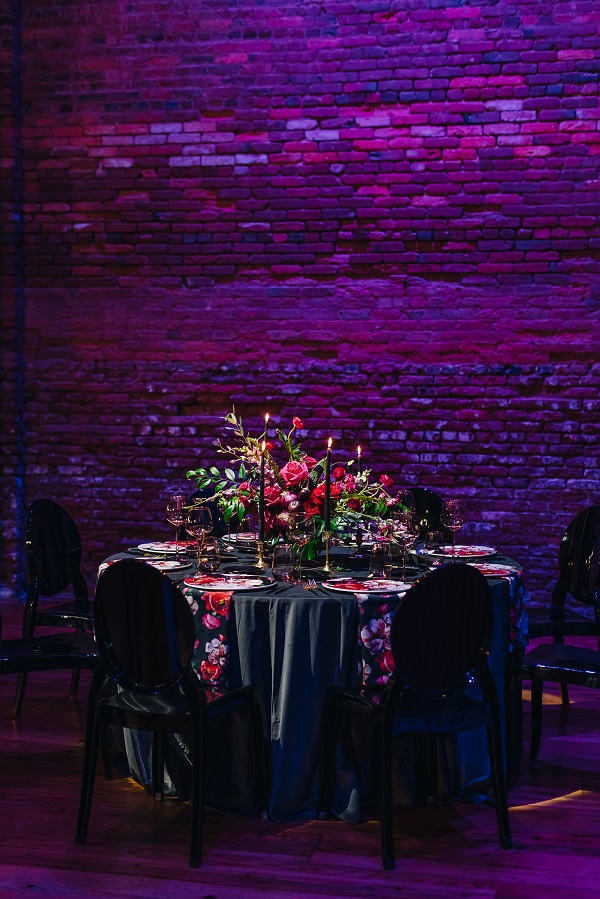 Botanica gave us two looks. The first included a low and full floral centerpiece with taper candles. The second featured a clear vase that was filled with palms and lavender floral. But the one thing that remained consistent in both designs was our black chairs. While the clear chairs from the ceremony brought a sense of playful fun, this seating option was full of sexy flirtatiousness…and we were here for it!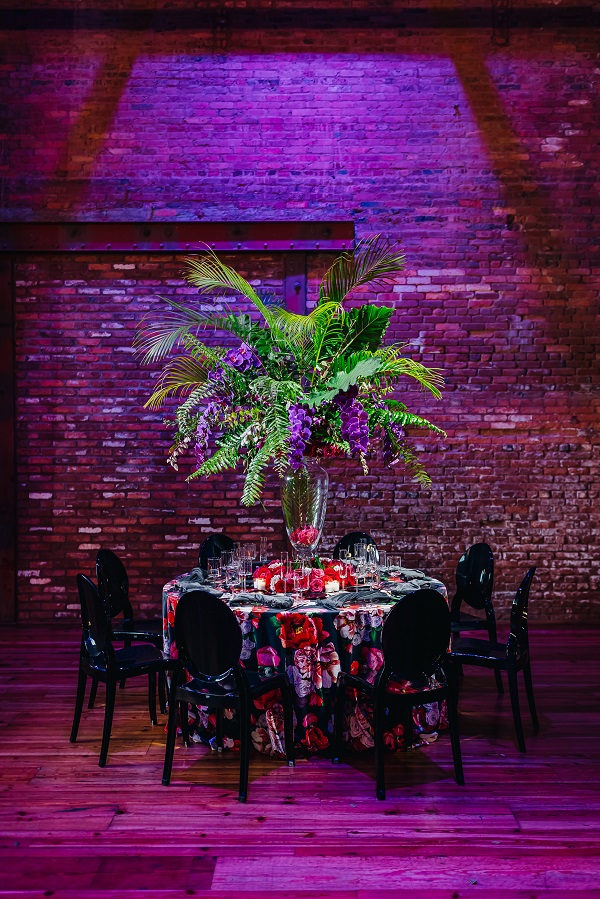 So, as you can see, with both chairs, you can create a whole new feeling during the same event. From ceremony to reception, these chairs are the perfect option for your modern wedding.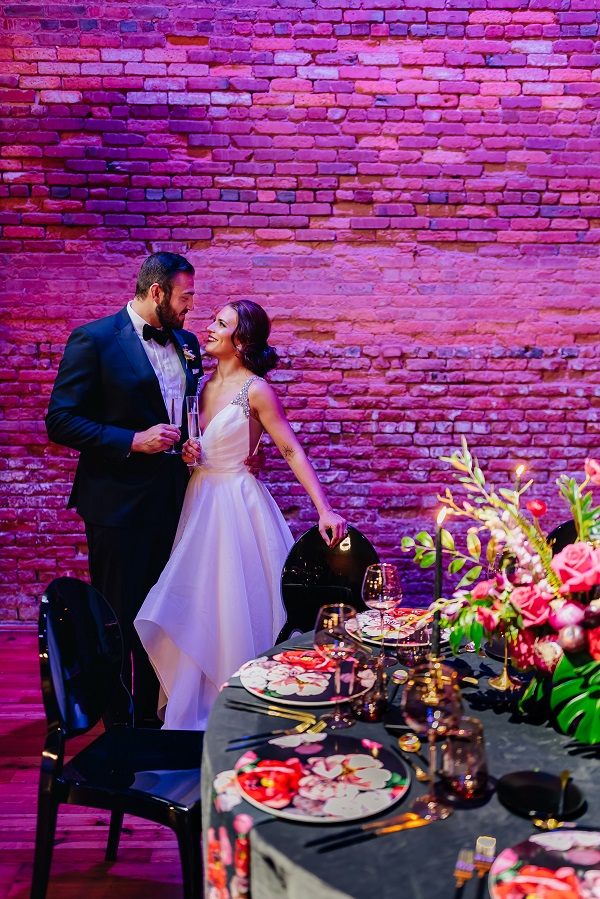 Featured Products: black ghost chairs, clear ghost chairs
Venue: Armature Works | Photography: Rad Red Creative | Floral: Botanica | Furniture and Stage: Vivant Rentals | Linens and Chargers: Nuage Designs | Flatware and Glassware: Treasury Rentals | Chairs: A Chair Affair | Catering: Good Food Catering | Lighting: Bay Stage Live | Dress: White Magnolia Bridal | Suit: Bespoke & Co.  | Hair and Makeup: Femme Akoi