Colleen & Hayden's Winter Wedding
Winter weddings are coming! We might all be looking forward to the end of 2020, but the year ending also brings cooler weather and winter weddings. With rich colors and a chill in the air, winter weddings allow for joyous and memorable celebrations. They are just wonderful. And Colleen and Hayden's winter wedding was exactly that! It started with a classic church ceremony, and it transitioned right into a fun-filled reception at Country Club of Orlando. It was beautiful! We had the pleasure of working with a fantastic vendor team, including planner Michele Butler Events and photographer KV Photography. So it made for an all-around perfect night.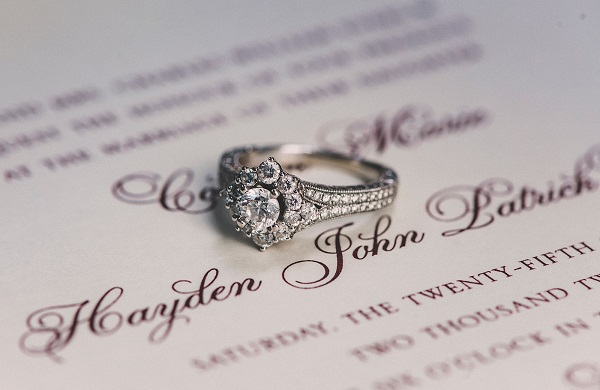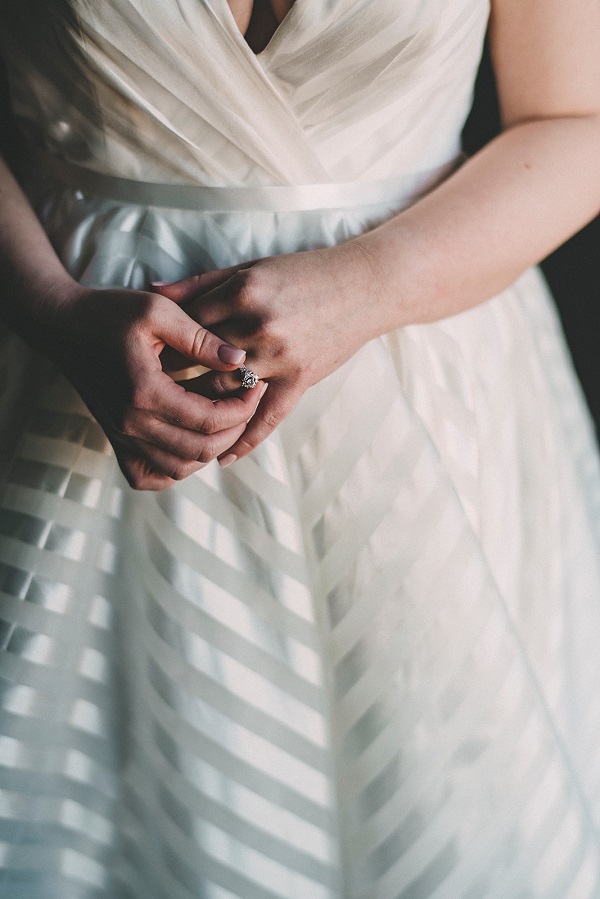 Winter weddings provide deep and rich color palettes. To illustrate, Colleen chose shades of burgundy and merlot, highlighted with creamy pinks. The bride wore a crisp white gown and her bridesmaids wore gorgeous velvet gowns in varying styles. They all looked perfect. And they were accented with bouquets from Fairbanks Florist. It was just gorgeous!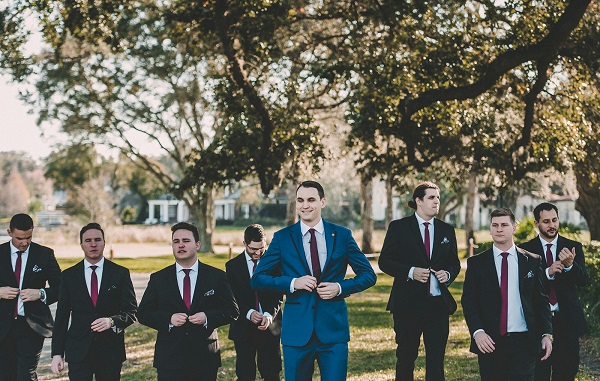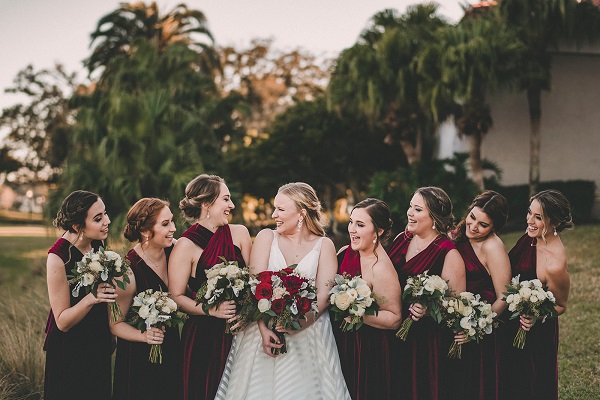 After their church ceremony at the beautiful St. James Catholic Church in Orlando, FL, the happy couple invited their guests to join them at the spectacular Country Club of Orlando. Guests entered the ballroom to a romantic reception. The warm and rich color palette carried over from the ceremony. It was breathtaking! Namely, it displayed candlelight, velvety textures, and gorgeous florals.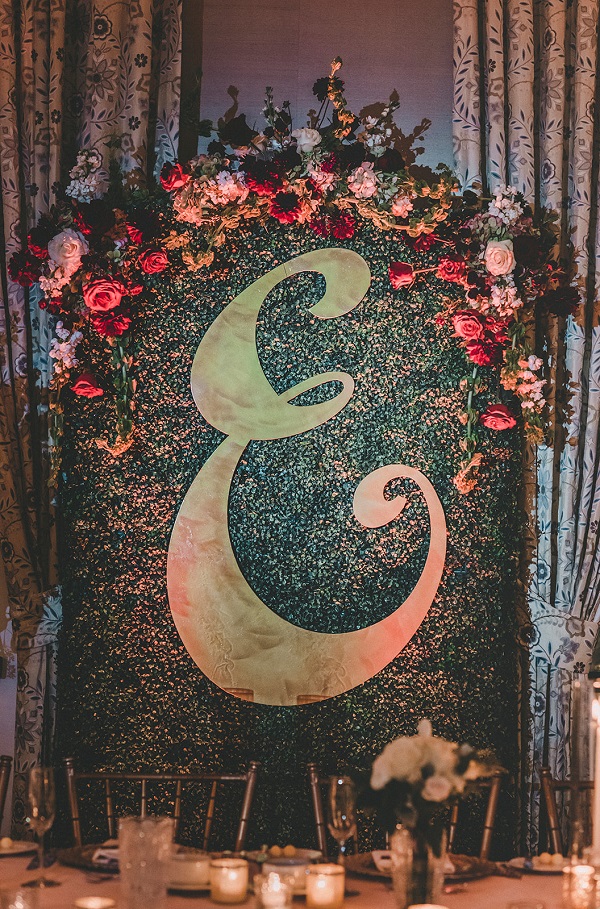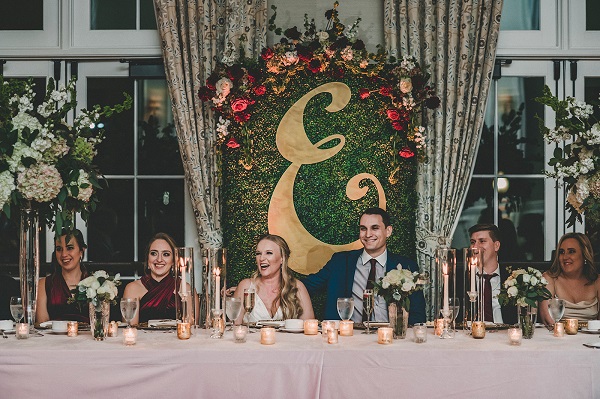 And speaking of the florals, our green hedge wall stood as the backdrop for the newlyweds. It created a dramatic statement with a custom monogram initial "E"  adorning it and florals in complimenting shades dripped across it. It was stunning. And it doubled as a one-of-a-kind decoration and a photo-op for guests.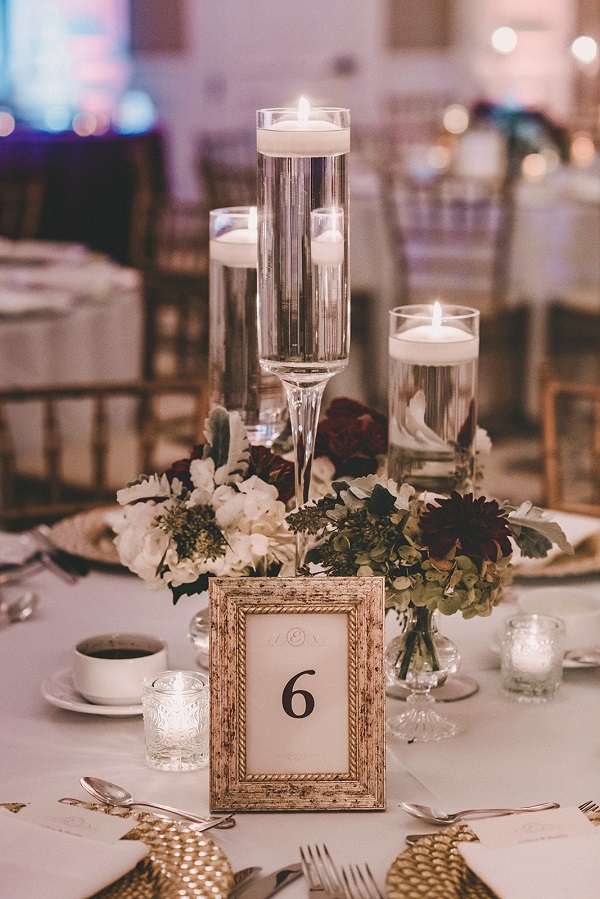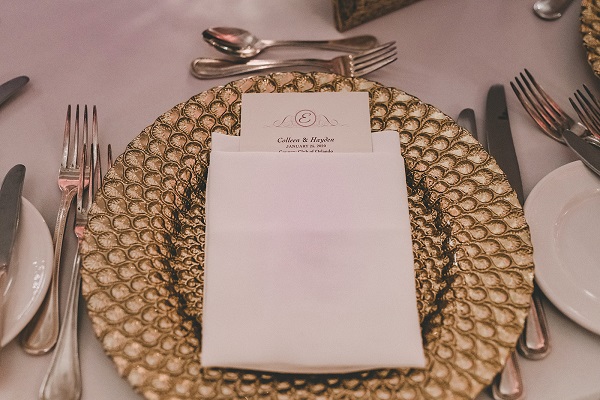 The drama continued on the tablescapes. Specifically, our gold peacock chargers complimented the texture of the gorgeous florals. And the velvet linens and candlelight added a romantic touch. It was warm and inviting. At the same time, it all created elegance. We loved how it turned out!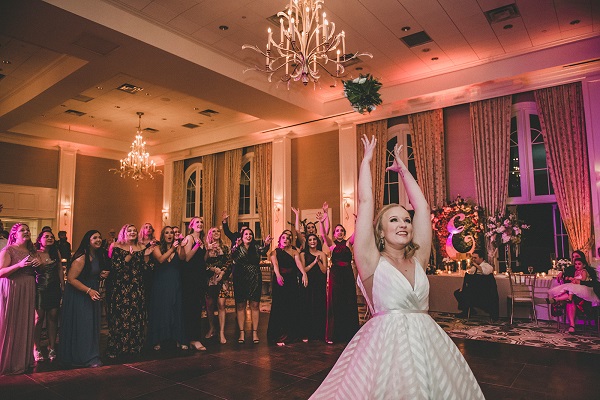 The couple had a wonderful time celebrating with their family and friends. Their joy was contagious. And the whole celebration was perfect. Finally, after a night filled with love and laughter, the guests sent the couple off in a shower of sparklers. It was memorable for everyone. There's no doubt brides-to-be will want to take inspiration from this gorgeous winter wedding!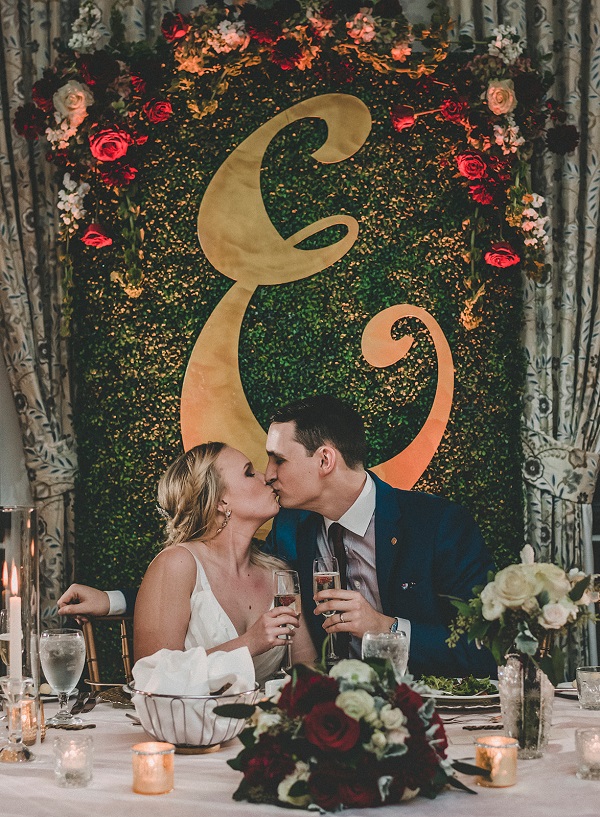 Featured Products: green hedge wall | gold peacock chargers
Vendors: Ceremony: St. James Catholic Church | Reception: Country Club of Orlando  | Planner: Michele Butler Events | Photographer: KV Photography | Florist: Fairbanks Florist | Videographer: Concensus Media | DJ: Asher Grier – AlistDJEntertainment | Rentals: A Chair Affair | Bridal Hair and Makeup: Lexie Rose Hair | Bridal Gown: Miss Hayley Paige | Bridal Salon: Calvet Couture Bridal