Travis & Stefanie
With over three decades of weddings and events under our belt, we've been a part of many memorable celebrations. And while we can't chose our favorite one, we'll add this one to the top of our list! Travis and Stefanie's elegant black and white wedding at Alfond Inn was packed with gorgeous details. And you can't have details without Michele Butler Events! Finally photographer Damon Tucci Photography and videographer Jeffery Stoner Video were on hand to capture them all. It took a dream team to make this dream wedding happen!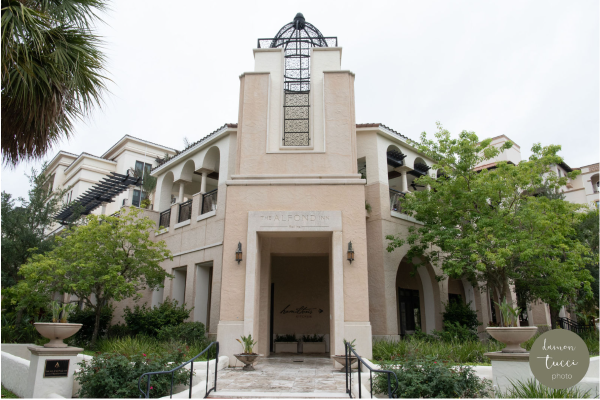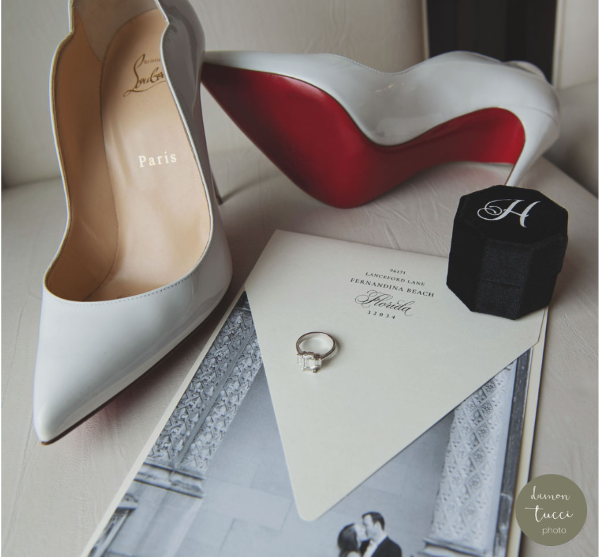 Getting Ready & Ceremony
One of the best parts of the wedding day are the moments the bride spends with her bridal party. With M3 Makeup joining the ladies in the bridal suite, it was time for last minute primping and touch-ups.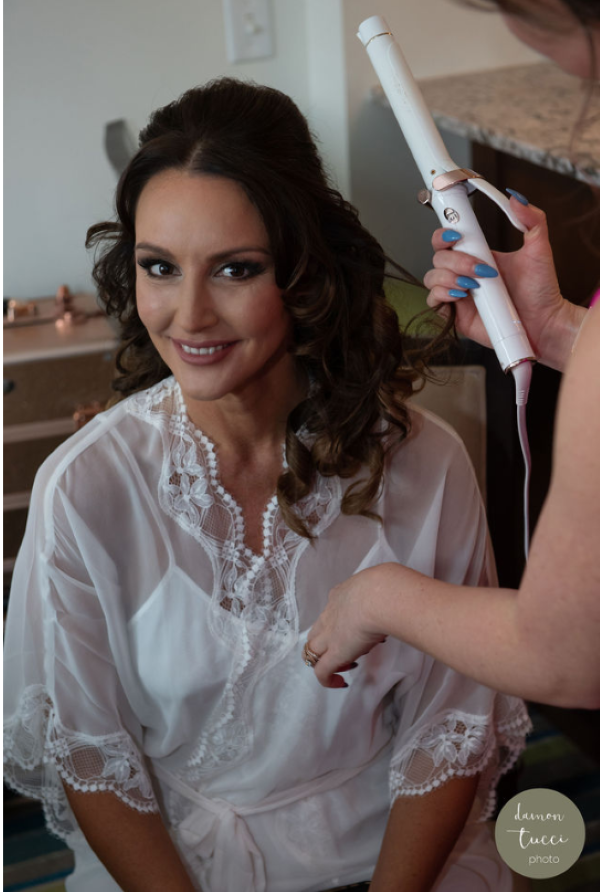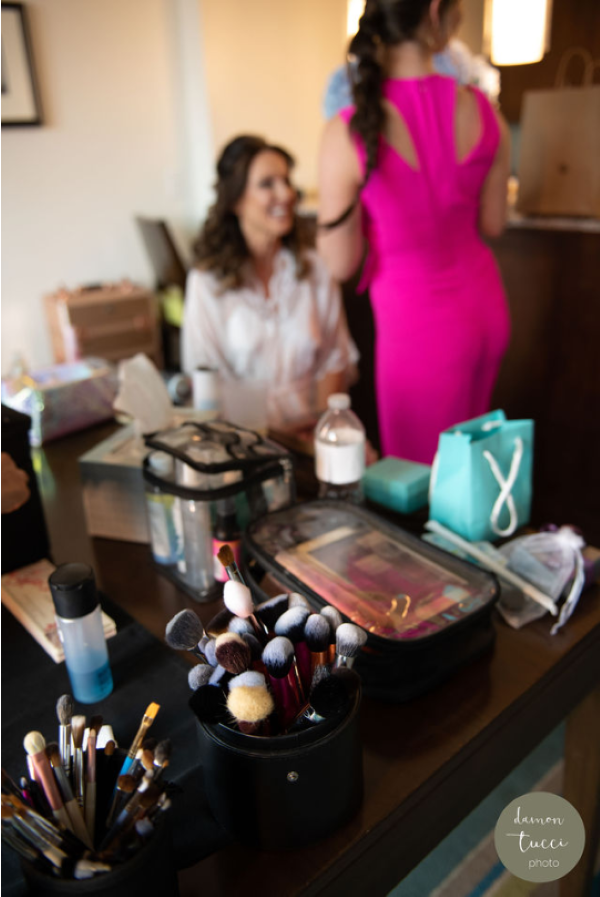 And when it was time for the Stefanie to put on her wedding gown, she had some help from three very special ladies. With her veil in place, it was time to see her bridesmaids.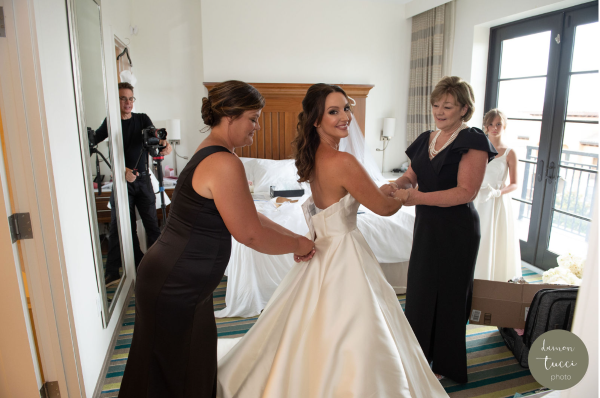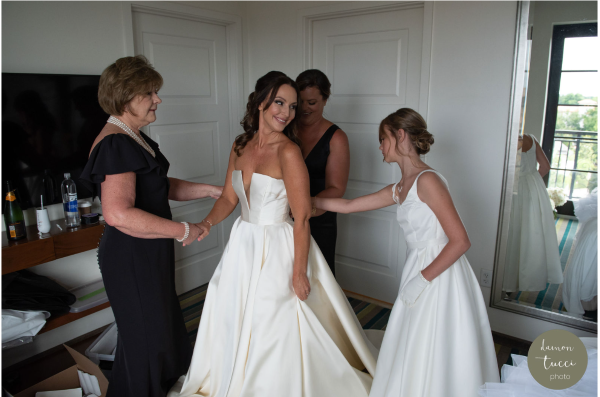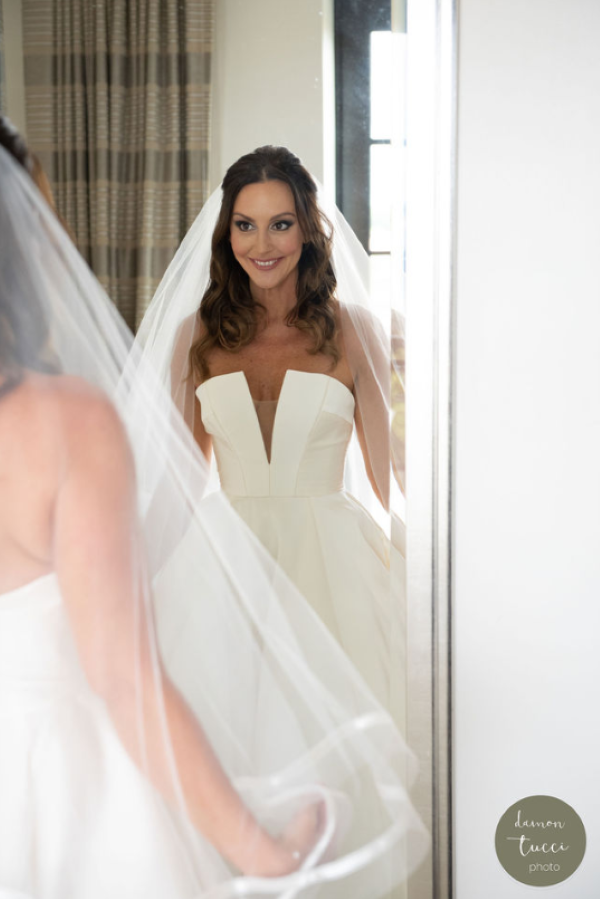 With their eyes closed tightly, you could feel the excitement. But when the bridal party got to see Stefanie in her gown, the emotions ran wild. There might have been a few happy tears shed. But with a few dabs of a tissue, it was time to head off to the church.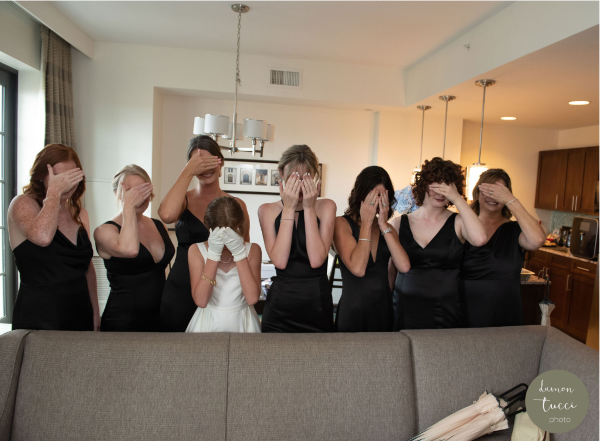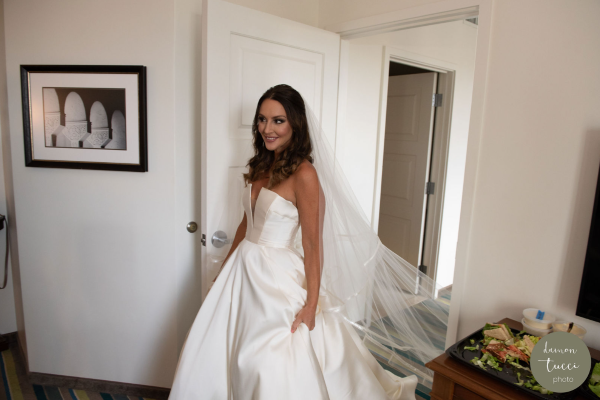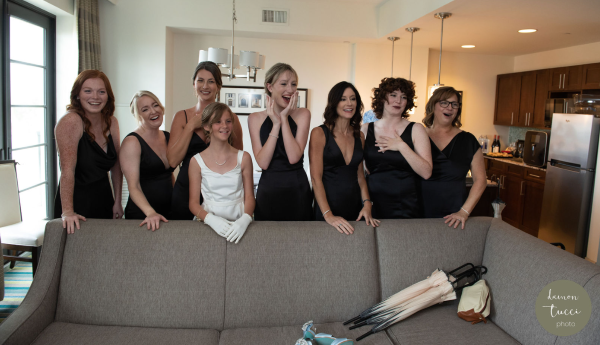 The First Congregational Church of Winter Park was dressed for this elegant black and white wedding. A custom ceremony aisle runner from Artistic Aisle Runners was a fun and personal addition for their ceremony.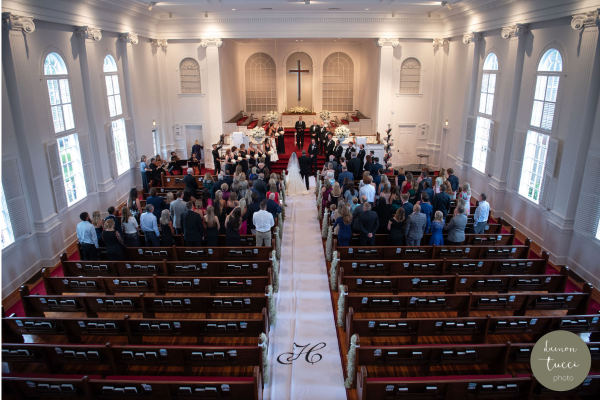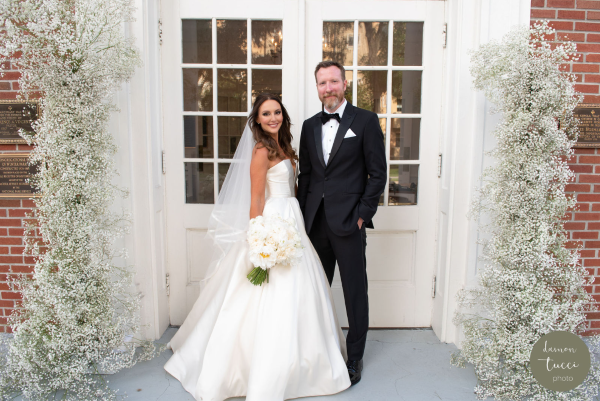 Second Line &  Black and White Wedding  Reception
When we talk about fun, this is what we mean! After Travis and Stefanie sealed their union with a kiss, they walked out of the church and right into a classic New Orleans style second line. Under black and white umbrellas, the newlyweds led the way to the reception with a brass band escorting them!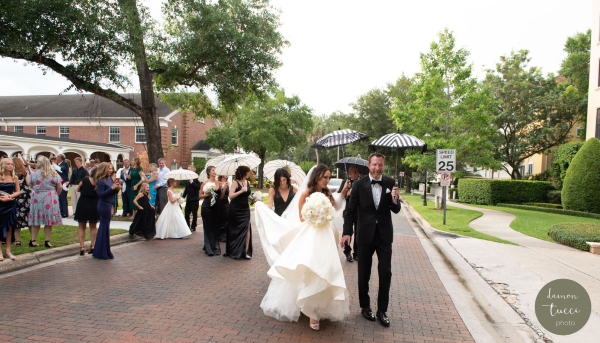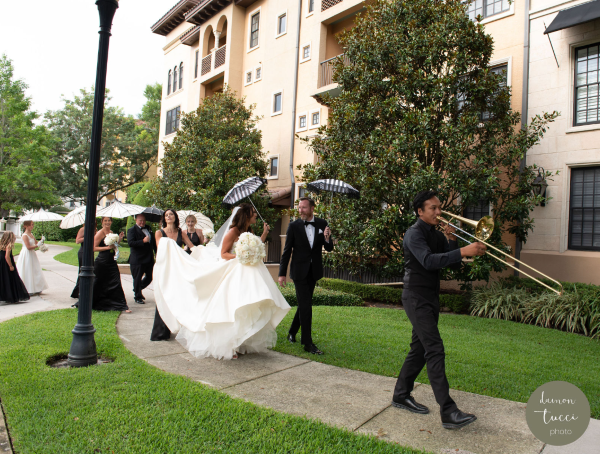 After all that excitement, we couldn't wait to see what was next! The ballroom at the Alfond Inn was transformed into an exquisite black and white wedding reception. Flowers from Fairbanks Florist were on every table and even above the custom dancefloor from Dream Dancefloors.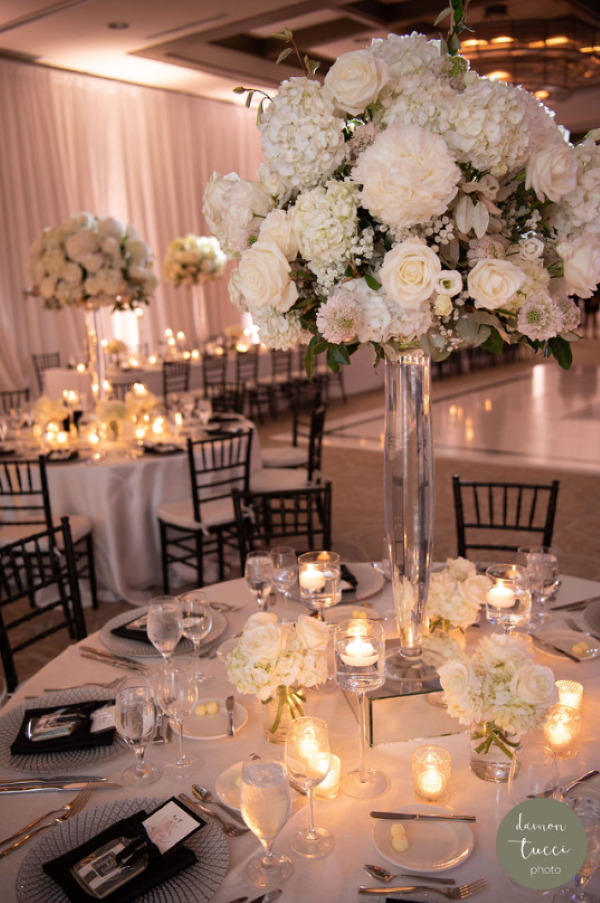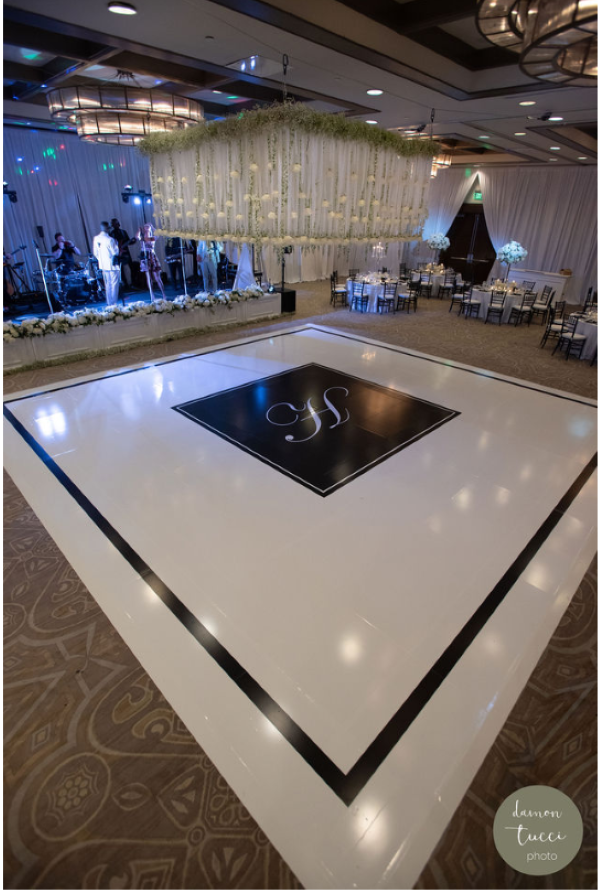 At the tables, white linens were teamed up with our Silver & White Weave Chargers, bringing some sparkle to the white and black wedding décor.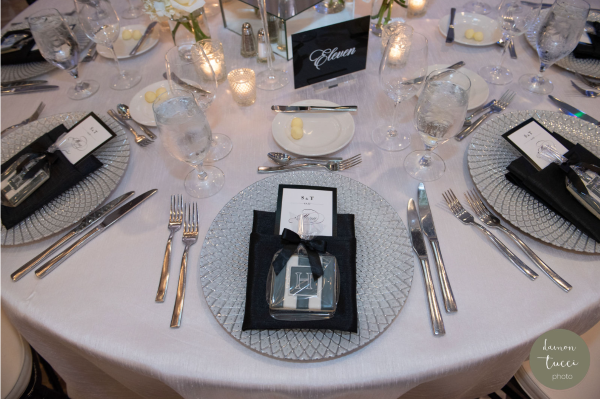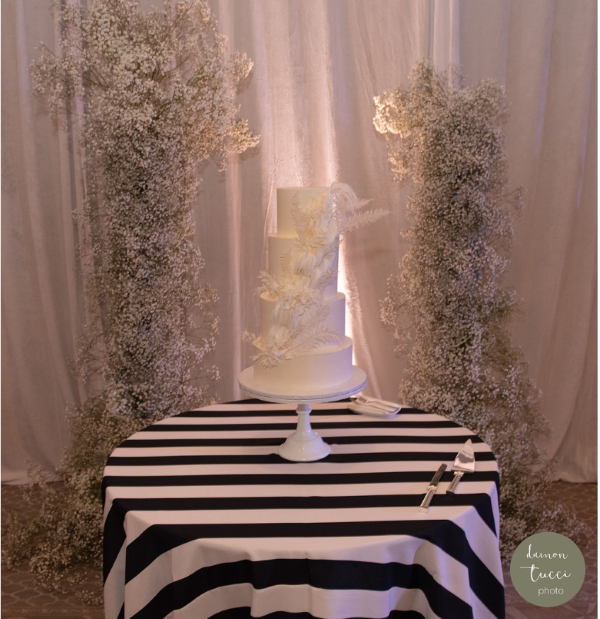 But noting sparkled more than the happy bride and groom. With The Hit Factory Band on stage and the drinks flowing, the wedding party was just that: A PARTY!! Between dinner, dancing and dessert, the wedding guests made sure to the visit the photobooth from Party Shots Orlando for a wedding memento.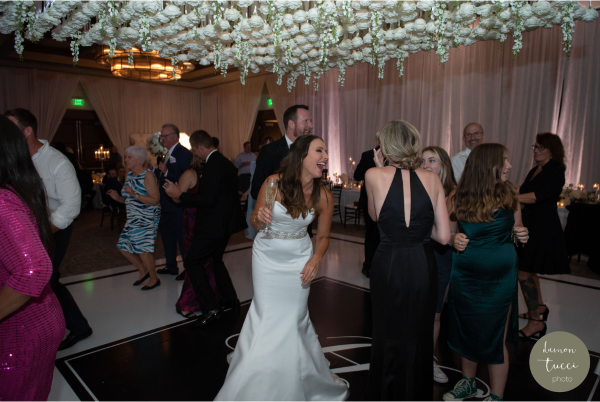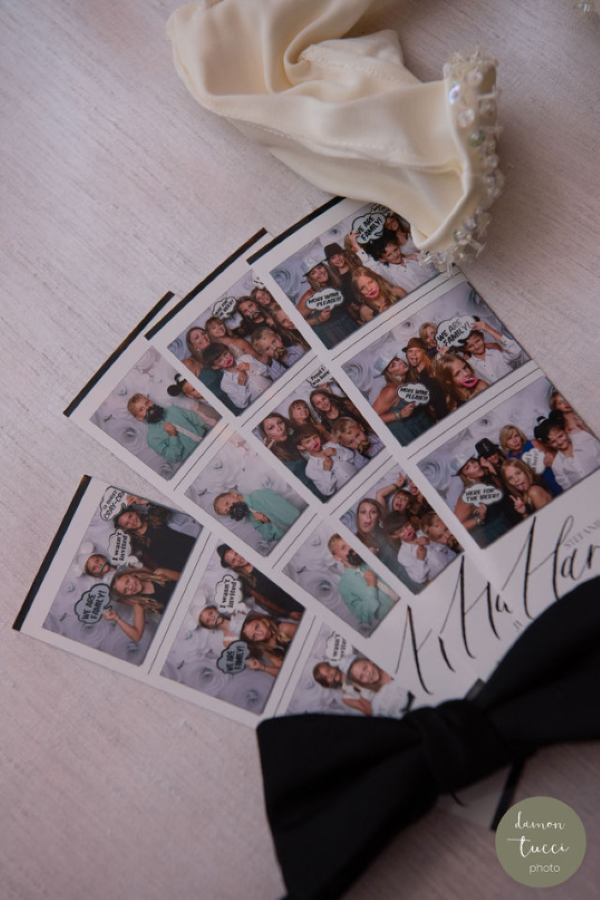 And of course, after the confetti cannons rained down on the dancefloor, Travis and Stefanie's guests took home a pocket full of memories.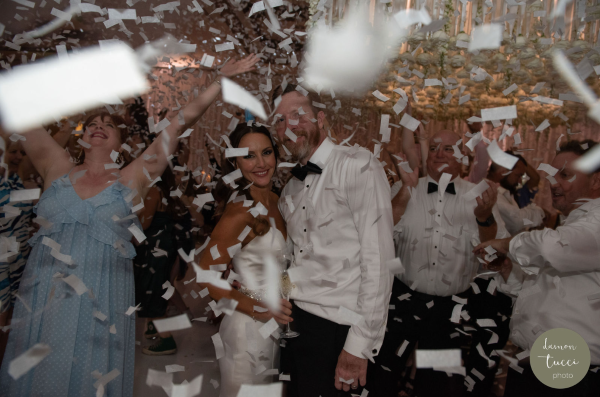 Featured Products: Silver & White Weave Chargers
Ceremony: First Congregational Church of Winter Park | Venue: Alfond Inn | Wedding Planner: Michele Butler Events | Photography: Damon Tucci Photography | Cinema: Jeffery Stoner Video | Floral & Decor: Fairbanks Florist | Ceremony Decor:  Artistic Aisle Runners | Beauty: M3 Makeup  | Cake: Morgan Hunter Desserts | Favors: Jessie B's Custom Cookies | Photobooth: Party Shots Orlando | Ceremony Music: Beautiful Music | Entertainment: The Hit Factory Band | Dancefloor: Dream Dancefloors | Rentals: A Chair Affair | Rentals & Decor: Fyerfly Productions