Meet Katie Collins from Katie Collins Paintings LLC
If you're planning your wedding and/or event Katie from Katie Collins Paintings LLC is the one to call!  Katie captures special moments live with a one of a kind painting while creating memories that will last a lifetime! When we heard about her creative twist we knew we had to chat with her and get all the details!

Tell us a little about yourself
I put everything I have into creating beautiful heartfelt paintings of my brides and grooms. My one of a kind paintings capture their most treasured moments on the canvas and showcase personality, likeness and excitement of this incredibly special moment in time. I donate 10% of proceeds to charity so many people find comfort knowing somebody has been helped in the process of hiring this wonderful, captivating entertainment.
How did you get your start in the event business?
I began my journey while painting in Winter Park. I was approached and asked if I could paint live at their wedding! After thinking about it I decided to do it. Then, I was asked to paint at another wedding from that very first night! Business just bloomed for there and the rest is history.

What do you love most about being in the event/wedding business?
The wedding industry is a fun and friendly business where everyone else each other out. We truly are each others biggest fans. I have met some great people who constantly want to help me succeed and offer up their time to help keep me updated with whats new. All in all, I love working with brides, grooms and all of the wedding planners. It's such a happy and exciting time in everyones lives and creating such memorable paintings to look back on this special time is just the icing on the cake.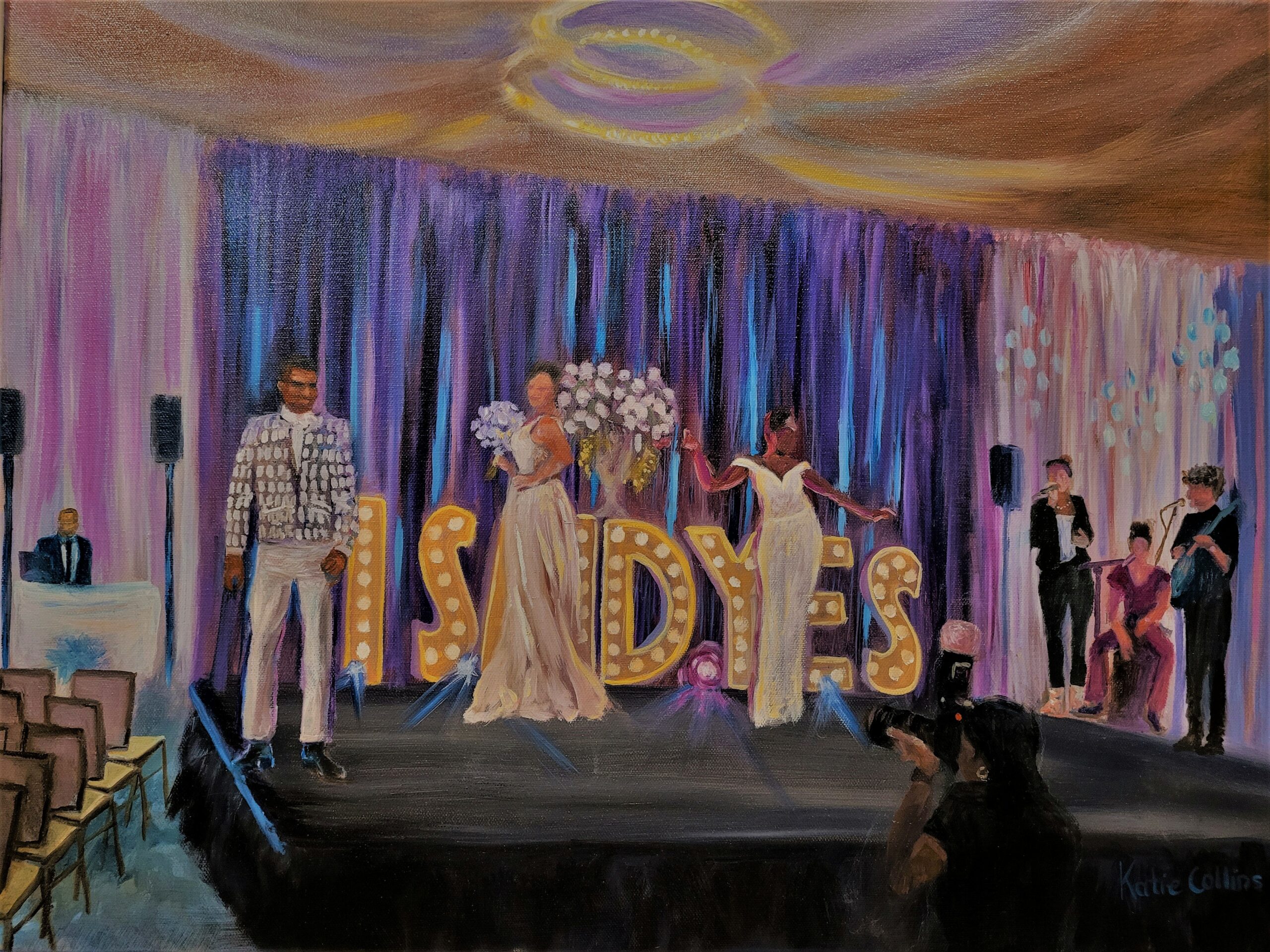 If a bride/couple is considering a theme to their wedding, what is your best recommendation for incorporating a theme?
My best advice is to work with the professionals, because this is what they do every single day. They know the best people for the job and know how to get it done. As an artist I have a color palette that can capture any theme that can be enjoyed for years to come.
What approach do you advise in order for it to be tasteful and yield an amazing ­looking event?
Use great reviews to find out which planners match your style the closest to make planning go smoothly and effortless.

When people inquire about your services, what can they expect?
Katie Collins Paintings provides the best service and care striving to make decisions straight forward and easy. Having beautiful moments captured on a canvas that will last a lifetime is the perfect way to complete your wedding day and excite and delight your guests at the same time.
What is your best advice to avoid planning stress for any special event?
Trust your professionals to do their job. They are there to make your day go smoothly, relax and take it the moments you have spent so long deciding on.