Rooftop Tampa Wedding
One of our favorite venues in Tampa for a rooftop wedding is the Rooftop 220 By Armature Works. With the stunning views of downtown Tampa all around, it was the ideal venue for Yesenia and Greg's sunflower and navy wedding. We teamed up with an outstanding vendors team consisting of  Taylor FalconEvents, McNeile Photography, and  Events In Bloom. Join us as we look back at their special day!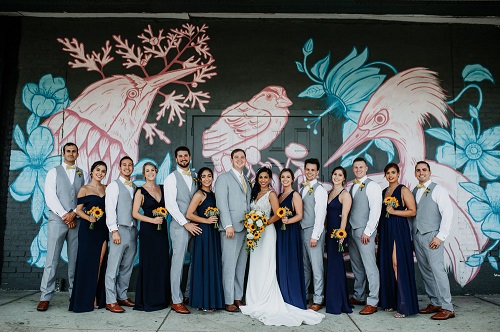 First Looks
It's no secret how much we love a first looks series. And this sweet one from Yesenia and Greg is just adorable. From the moment that Yesenia first walks out with her Maid of Honor and sees her groom waiting for her; to the sweet embrace they share, it was the perfect way to release any last-minute jitters before their rooftop wedding ceremony.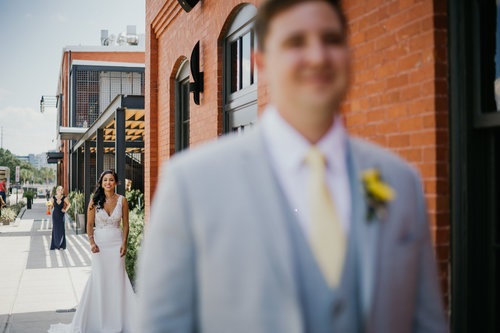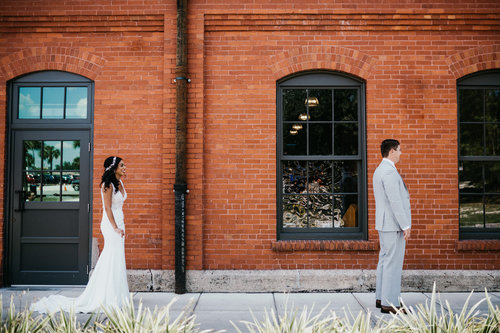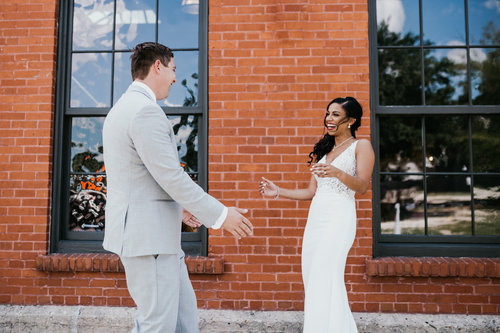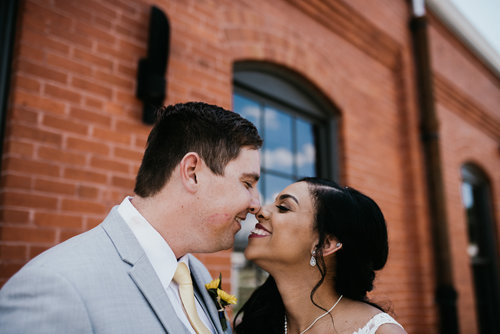 Tampa Rooftop Wedding Ceremony
The sun was on point for their wedding day! The blue skies were the perfect match to the navy and sunflower color palette. Our White Resin Folding Chairs made sure that all the wedding guests were comfortable and didn't miss a moment.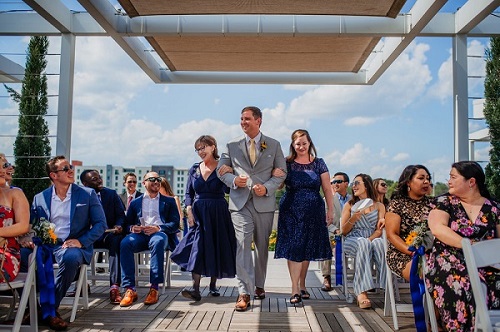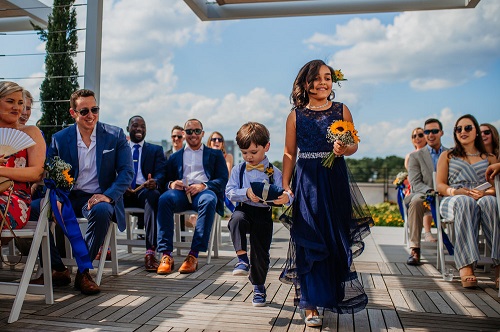 After the flower girl and the adorable ring bearer made their way down the aisle, it was time for the grand entrance. Yesenia looked gorgeous in her gown that held a little secret that would be revealed at the reception. We loved the classic cascade bouquet of sunflowers that she carried as well.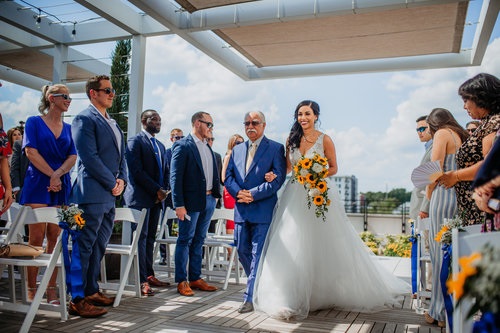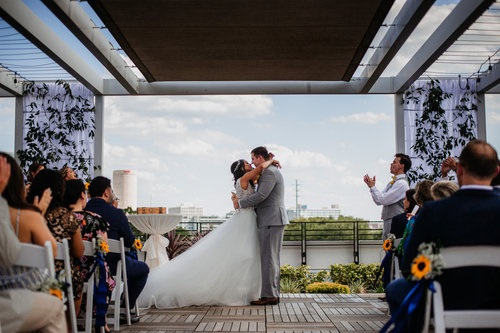 After their vows and a sweet kiss, it was time to celebrate. The guests were invited to join the happy couple following the rooftop ceremony for the reception at Cavu Tampa.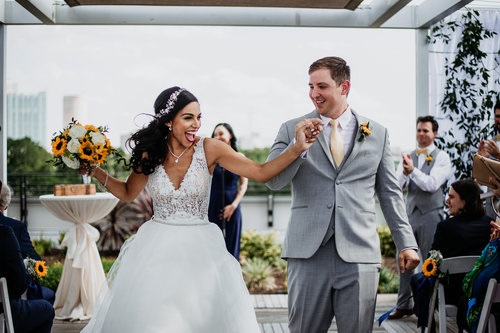 Cavu Wedding Reception
The moment that Yesenia and Greg walked into their Cavu Tampa reception, the party started. Remember that wedding gown surprise? Yesenia removed the tulle skirt to reveal a sleek gown that was perfect to dance the night away in.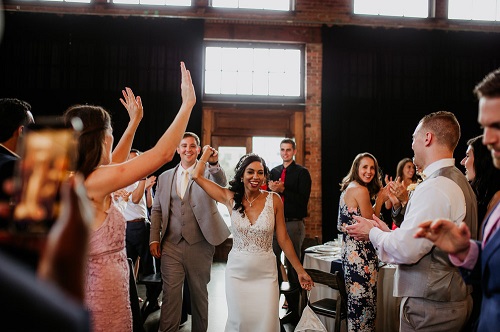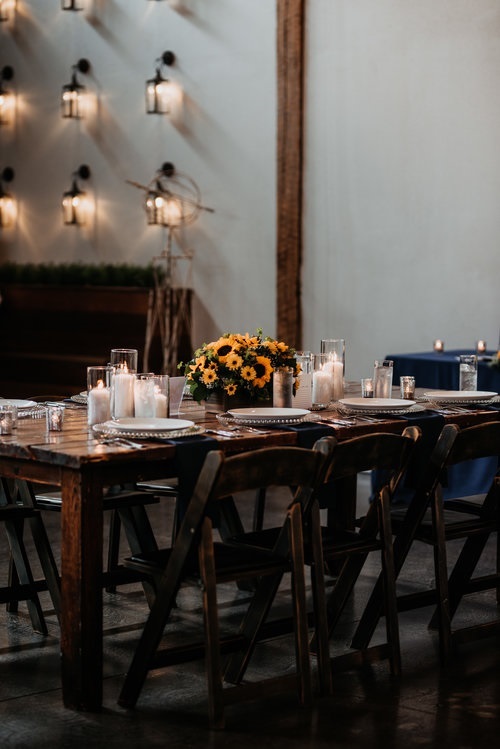 But before the dancing could begin, the wedding guests joined the bride and groom in their first meal as husband and wife. Our Mahogany Resin Folding Chairs were placed around tables with crisp white linens, and our Mahogany Farmhouse Tables were set for the newlyweds and their families. Gorgeous sunflower centerpieces completed the look.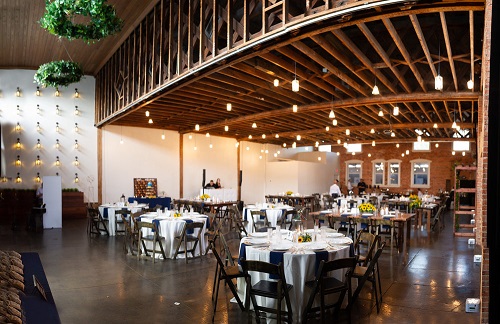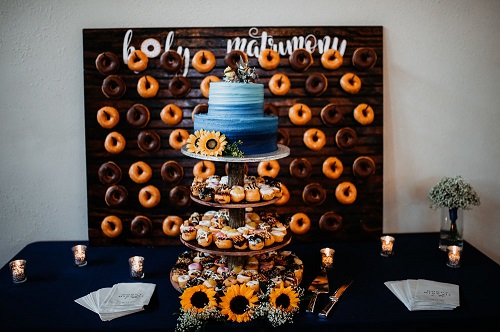 After dinner, dancing, and donuts, it was time to send the new Mr. and Mrs. Black to their happy ever after. And even though their rooftop wedding was over, it will live on as one of the most memorable weddings!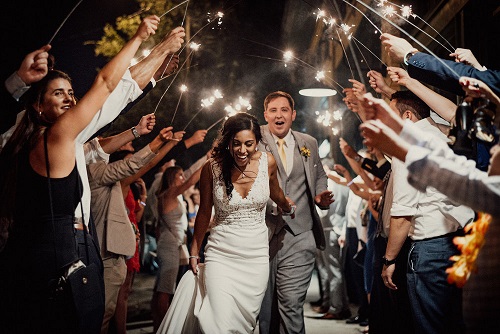 Featured Products: White Resin Folding Chairs, Mahogany Resin Folding Chairs, Mahogany Farmhouse Tables
Venue: Rooftop 220 By Armature Works | Reception: Cavu Tampa | Wedding Planner: Taylor Falcon | Photography: McNeile Photography | Flowers: Events In Bloom | DJ: Cory Barron | Photo Booth: Shutterbooth Tampa | Chairs/Tables: A Chair Affair