Ellena + Tommy
Ellena and Tommy's Royal Cinderella Princess Wedding Day was nothing short of magical.  From a  Cinderella carriage arrival, multiple dress and tiara changes, to the Cinderella castle cake, this wedding made them feel like royalty.  It was a challenge to choose just a few images to showcase because they were all so stunning! Thanks to Katie Trauffer Photography for capturing all the intricate details.  This wedding is dedicated to all the little girls out there dreaming of a wedding fit for a princess.  This is proof that dreams really do come true!
Princess Dresses and Tiaras
Ellena's gorgeous gowns probably deserve a post all of their own.  She wore not just one but three dresses on her big day!  If even possible, each dress looked more stunning than the one before.  Her initial dress was a puffy cloud of tulle and all things dreamy.  It delicately laced up the back with beautiful layers creating the perfect princess look.  With each dress change, Ellena also switched out her princess tiara.  The second dress, which took her to the reception, was fitted and sleek but still just as magical. It had sheer panels with intricate floral lace thorough as well as on the straps.  Ellena's shoes matched her dresses with a beaded floral design and sweet tulle bows on the back.  For her first dance, Ellena changed into her third gown which seemed like a perfect blend of the first two, strapless but with a flowing bottom all also done in lace.  There's no doubt that this bride looked and felt like a true princess.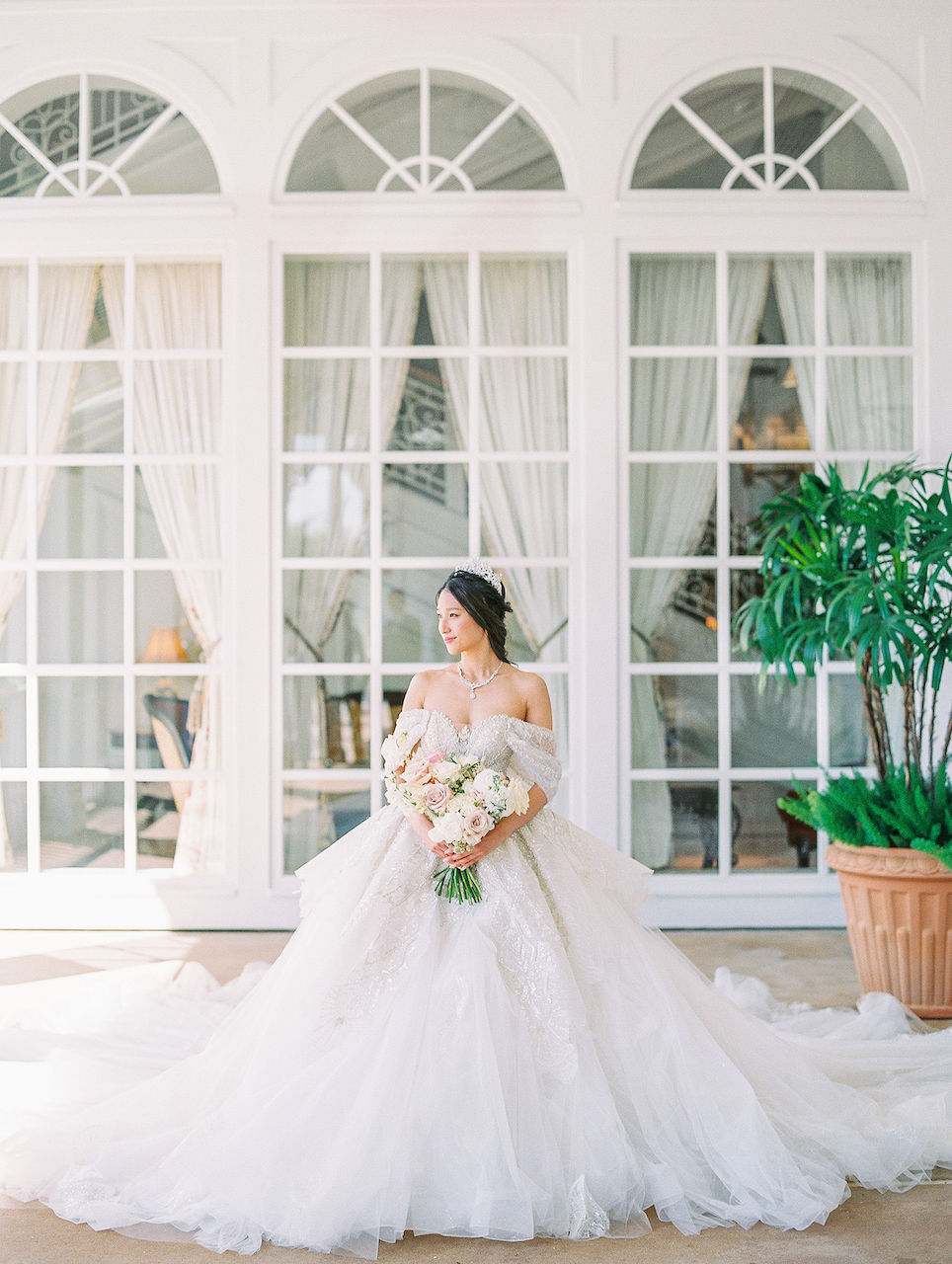 Prince Charming
Tommy also went with two distinctive looks for his attire.  For the ceremony, Tommy chose a dark suit with a white shirt, brown shoes, and a traditional Cinderella blue striped tie.  Heading to the reception, Tommy changed into a white dinner jacket with black accents, black trousers, and a black bow tie.  There's no doubt, Tommy looked like Ellena's Prince Charming.
A Disney Wedding Chapel Ceremony
Disney's Wedding Chapel had to be their ceremony venue.  Ellena dreamed of this location since she was a little girl.   Light blue walls and lots of bright and airy windows made for a royal backdrop.  The couple exchanged vows and their first kiss while all their family and friends looked on.  It was perfection.
All the Reception Details
The reception took place outside on a gorgeous green lawn under the shade of large oak trees.  Our long Monaco Tables and French Country Chairs welcomed guests.  At each place setting were our Gold Round Belmont Chargers, Nouville plates, Gold Rimmed Water Goblets, and Gold Brushed Flatware.  The bride and groom sat at our Monaco Sweetheart Table in our regal Victoria Chairs.  Pink blush roses, white roses, and Cinderella blue Hydrangeas filled the tables and centerpieces.  The Cinderella's Castle wedding cake was truly a masterpiece made by Cake and Bake.
Congratulations Ellena and Tommy!
Thank you for sharing your magical day with us and allowing A Chair Affair to help with all your rental needs.  Your day was truly one of a kind and such a Royal Cinderella Princess Wedding.  We wish you all the love and happiness!
Featured Products: Monaco Tables, Monaco Sweetheart Table, French Country Chairs, Victoria Chairs, Gold Round Belmont Chargers, Nouville Plates, Gold Rim Water Goblets, Gold Brushed Flatware
Ceremony Venue: Disney Wedding Chapel | Reception Venue: BellaCosa Lakeside | Photographer: Katie Trauffer Photography | Rentals: A Chair Affair | Florals: In Bloom | Cake: Cake and Bake