Meet May and Justin, our November winners! This lovely couple will receive $500 off of their wedding rentals with us. Read their love story below!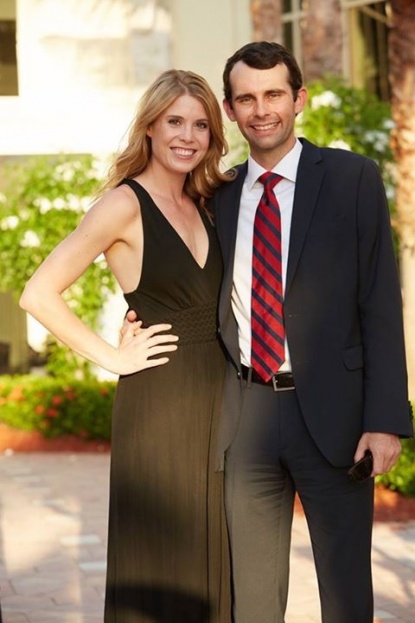 Where did you meet your fiancée? At the University of Florida. Justin was a bus boy for the kitchen at my sorority house. He says it was the best job he ever had because of his benefits – Free food and meeting me! That was over 9 years ago!
How did you know he was the one for you? We became best friends.
What are the things you have in common? We have a lot in common. We share a sense of humor. We enjoy many outdoor activities together including marathon running, kayaking and hiking. We love to read. We share our faith together, too!
How did he propose? We were kayaking in Mosquito Lagoon at dawn. We saw manatees, dolphin, red fish jumping, and my favorite bird, a roseate spoon bill. After an hour of paddling, my arms grew tired and I begged for a break. Conveniently (although  I learned later it was pre-planned), there was a sandy beachy island not far ahead. We parked the kayaks, were enjoying the beauty of the lagoon and he popped the question! Haven't stopped smiling since! It was the best day.
What part of the wedding day are you looking forward to most? Seeing Justin at the end of the aisle and sharing our vows together and with all of our closest family and friends.
What inspired your wedding colors? We do not have specific colors. We wanted a calm, crisp, clean Spring look. We chose light grey bridesmaid dresses and white hydrangeas.
Would you like to be one of  our lucky couples? Click here to find out how you can enter to win!