Holiday Wedding at The Mulberry
No matter the time of year. we love a holiday wedding; the deep rich colors, the twinkle of the lights, and the cool crisp air. Brianna and Micheal's berry and gold wedding at the gorgeous  Mulberry at New Smyrna Beach was the ideal holiday celebration. The outstanding team at Timeless Wedding Designs  perfectly planned day, and 28 North Photography captured each and every detail. It's might be spring now, but we are ready to cozy up and relive this perfect winter wedding celebration.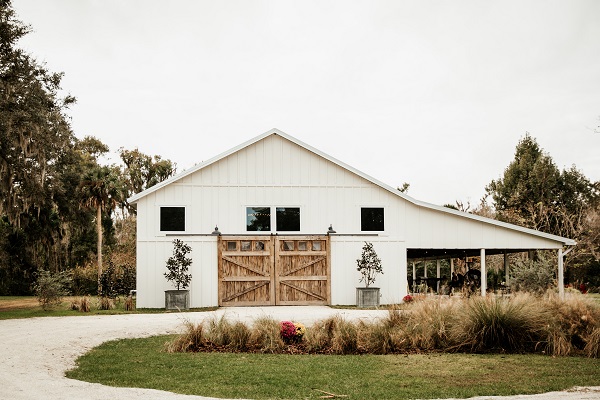 Surrounded by the rustic oaks and dripping moss, the ceremony was set. Rows of French country chairs with ivory pads were lined up and waiting the guests. Brianna walked down the aisle in a beautiful lace gown from Hayley Paige. Her bouquet from The Wild Thistle Co. was the perfect accompaniment; filled with deep red floral and creamy ivory accents. Her bridesmaids all wore rich red gowns in a varying of styles. Micheal and his groomsmen all wore gray suits with a touch of color from their pinned boutonnieres. This was a picture perfect wedding party!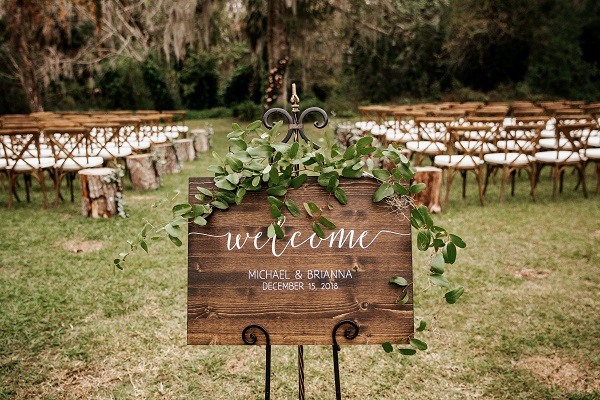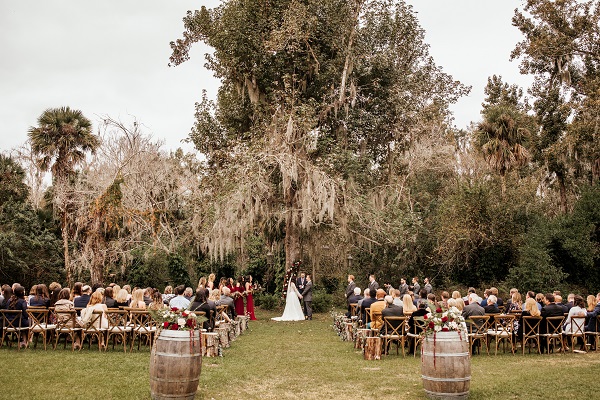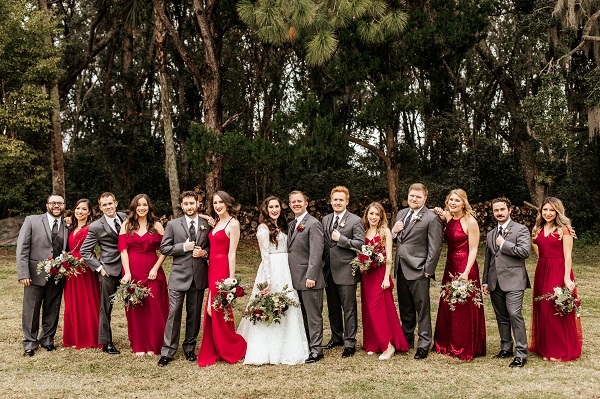 Following the nuptials, it was time for the reception!  Micheal changed into a fun and festive red suit jacket and we knew it was party time! We were so excited for this holiday wedding reception to begin!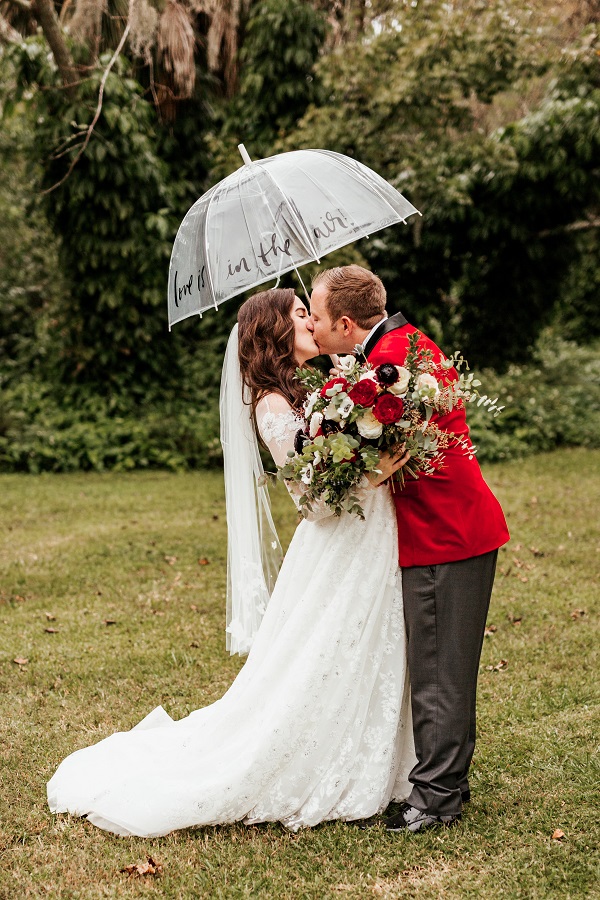 The newlyweds were introduction into the barn that was transformed into a berry and gold holiday celebration. Rustic farmhouse style tables were lined up around the dance-floor. Our French country chairs with ivory pads returned and were placed around the  tables and were joined by a a few more of our A Chair Affair products.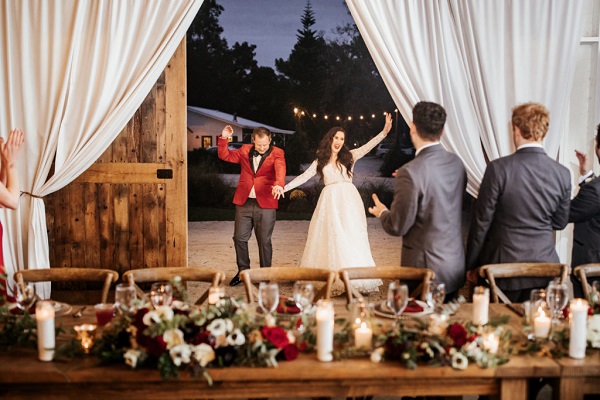 The head table was dressed with our gold Belmont chargers and topped with our Regal gold dinnerware. Our rich red napkins, were paired with a sweet holiday wrap and a sprig of pine. White candles and rustic floral lined the table.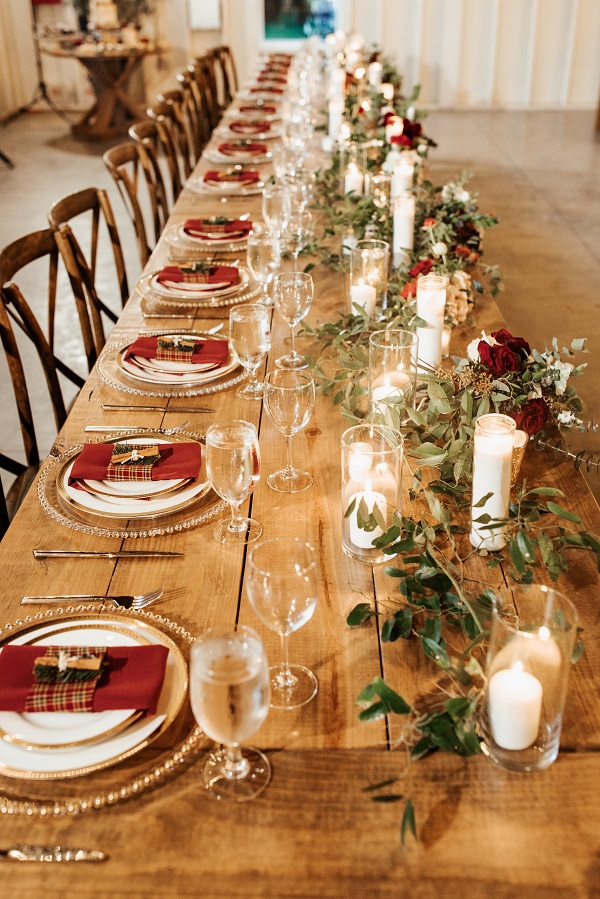 The guest tables were dressed with our crisp white china, topped with the rich red napkin and holiday wrap that mimicked the head table. Our capri flatware and stemware completed the table setting. Each and every detail of this holiday wedding was perfectly executed!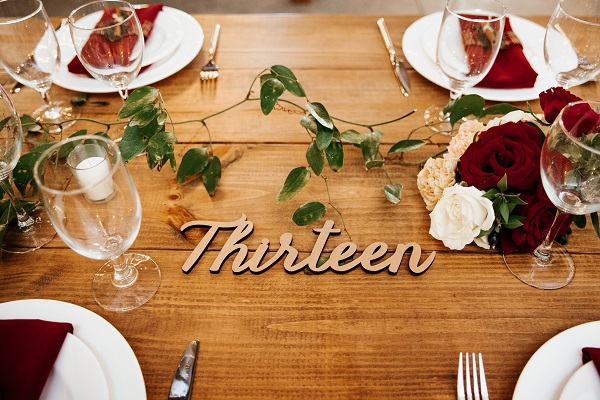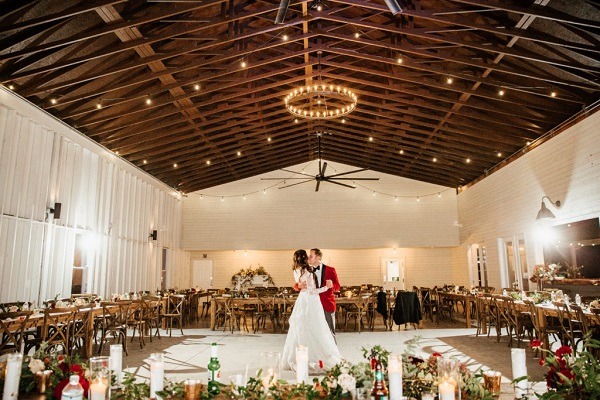 The evening progressed and the party continued. Following a delicious meal from Yellow Dog Eats and wedding cake from Sweet Flours Bakery, the dance-floor filled up. The newlyweds enjoyed dancing and celebrating with their family and friends.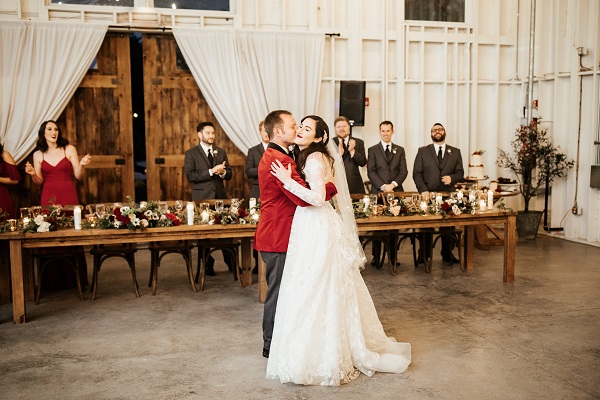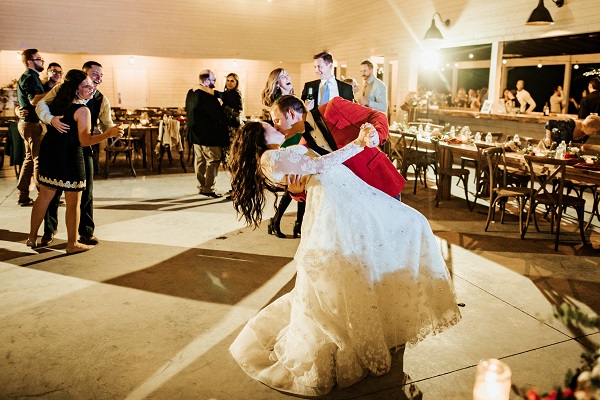 Under the shower of sparklers, Brianna and Micheal thanked their guests and walked hand in hand to their next chapter. Their holiday wedding was a perfect celebration of love and joy!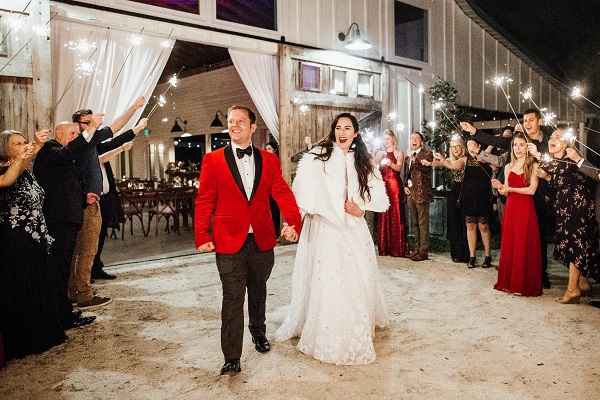 Featured Products: French country chairs with ivory pads | napkins | gold Belmont chargers | Regal gold dinnerware | capri flatware | stemware | white china

Venue:  The Mulberry at New Smyrna Beach  | Planner: Timeless Wedding Designs  |  Photography: 28 North Photography  | Floral Design: The Wild Thistle Co.  | Rentals: A Chair Affair  | Catering:  Yellow Dog Eats  | Stationary: Minted  | Wedding Gown: Hayley Paige