March 2019 – Alexis and Cody Wedding Rental Winners!
Every month we hold a drawing and one lucky couple wins $500 off their wedding rentals with us!  We wanted to introduce you to our March 2019 wedding rental winners, Alexis and Cody! We loved getting to know this cute couple and hearing their wedding day plans!
Where did you meet your fiancé?
We met at Saddle up (a country bar) in downtown Orlando on a Sunday funday (how romantic)!
How did you know he was the one for you?
I knew Cody was the "one" because he's the only person that I can wake up in the middle of the night to go get me a glass a water. That's true love if you ask me.
What are the things you have in common? 
He's an Orange County Fire Fighter and I had just finished EMT school. When we first met it was a great ice breaker being able to have similar career paths. People who deal with sick people all the time tend to have the same sort of sick and twisted humor.
How did he propose?
Cody was on shift for valentines day so he had promised he would make it up to me the day after. He told me he had planned to take me to Clearwater Beach and get us a nice hotel to get away for a night. Well . . . I ended up getting the stomach flu and little did I know our little overnight trip to the beach was actually a trip to Naples (somewhere we both hadn't been). I tried cancelling the trip, but he said no refunds! I couldn't even get out of bed. I had a 104 temperature and was miserable. I ended up sucking it up and we ended up going. Turned out he had reserved a table on the beach at sunset. He hired a photographer and even had my parents hiding in a bush to help celebrate afterwards. It was the most thought-out proposal and I could have never asked for anything more!
What part of the wedding day are you looking forward to most?

We have a french fry bar with tater tots and waffle fries. I'm not sure what could possibly be more exciting than that!
What inspired your wedding colors?
Still to this day my mom can't believe that I chose a shade of pink for my wedding. I am the furthest thing from a girly girl. Planning a wedding brought out the feminine side of me and what color is more feminine than pink? Also, I think my ring bearers (our fluff balls) will look dazzling in cute little pink bow ties.
That sounds really lovely, Alexis! Thanks for chatting with us, and congratulations on being our March 2019 wedding rental winners!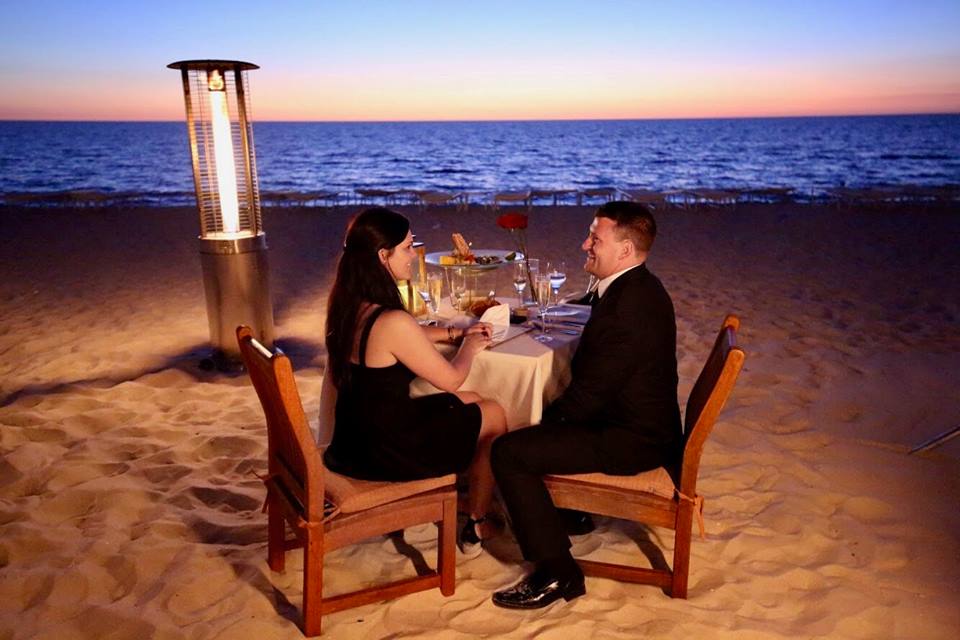 Are you getting married soon? Tell us your story for a chance to win $500 off your wedding rentals with us! Click here!