Make Your Wedding Unforgettable with lounge furniture
When it comes to planning your wedding, you want every detail to be perfect. From the food to the music, every detail should contribute to creating a magical and memorable experience for you and your guests. But one often-overlooked aspect of wedding planning is the furniture. Incorporating lounge furniture in your special day can help elevate it and create that memorable experience for all.
The Benefits of Lounge Furniture
Lounge furniture can be the secret to an elevated wedding. It creates a relaxed and comfortable atmosphere, allowing guests to sit back and enjoy the festivities. This is particularly important for guests who may need a break from dancing or for older relatives who may prefer a quieter space. Additionally, lounge furniture adds a touch of elegance and sophistication to your wedding design. It's a great way to create a cozy, intimate setting for guests to socialize and connect with each other.

Photo: Root Photography |  ACA Products: Tuscan Chair, Emerald Brighton Sofa, Gold Fox Coffee Table
Incorporating Lounge Furniture into Your Wedding Design
Incorporating lounge furniture into your wedding design opens up a world of creative options that perfectly suit your venue. If your wedding is outdoors, picture a cozy seating area where guests can unwind and enjoy the surroundings. You can also arrange the furniture around a fireplace or outdoor fire pit. Thus, creating a warm spot for both relaxation and socializing. Indoors, you can transform the lounge furniture into a stylish cocktail area during the reception or a lively space for an after-party. Break away from the norm by making the lounge furniture a focal point. Instead of hiding it in a corner, let it take center stage in your wedding design. This way, you'll craft a welcoming and inviting space where guests can comfortably chat and mingle.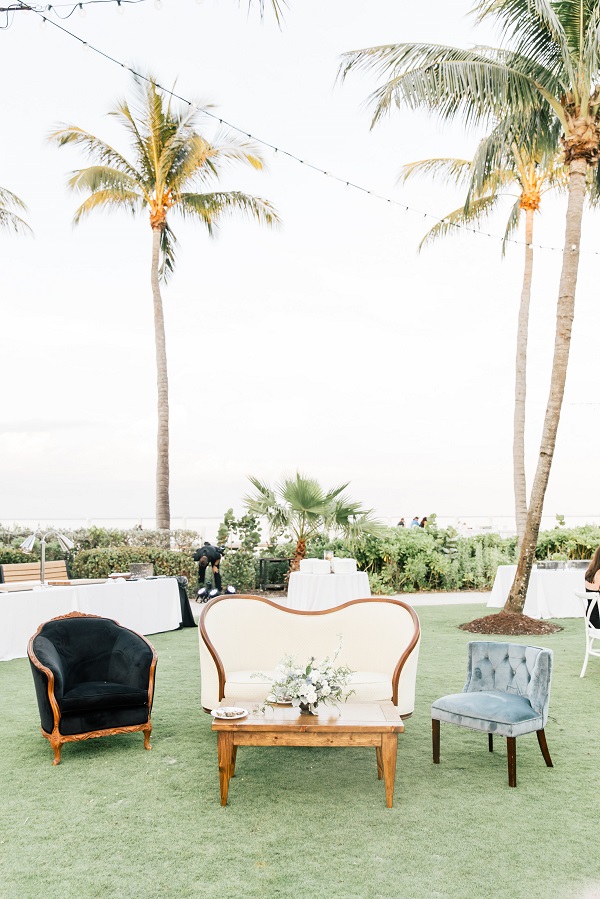 Photo: Anastasiia Photography | ACA Products: The Nellie, La 'Chelle, The LaSalle, The James Coffee Table

Photo: Contempo Photos | ACA Products: The Nina Sofa, The Kaley Chair – Tan, The Tommaso Coffee Table, The Edgar End Table
Choosing the Right Lounge Furniture
When selecting lounge furniture for your wedding, start by ensuring it harmonizes with the overall design and style. Next, aim for the furniture to seamlessly blend with your existing decor. You'll find an array of popular lounge furniture options to consider, including plush sofas, armchairs, ottomans, and coffee tables. These choices span various styles, such as modern, rustic, and vintage-inspired pieces. Don't hesitate to experiment with mixing and matching different styles to craft a one-of-a-kind and eclectic aesthetic. Ultimately, infuse your personal touch into the lounge furniture by incorporating pillows, blankets, and other accessories that mirror your individual style. Doing so will fashion a space that exudes a truly exceptional ambiance, both for you and your guests.

Photo: Renee Nicole Photography | ACA Products: The Queen Ann, Blue Brighton Sofa, Gold Fox Coffee Table, Daniel End Table
Inspiration
Explore these captivating furniture combinations from our catalog. Whether you lean towards vibrant colors or soothing neutrals, embrace vintage charm or modern elegance, we have pieces to match every wedding style. Let these examples ignite your creativity and provide you with endless inspiration!
Elevate your wedding
Incorporating lounge furniture into your wedding design is a great way to elevate your celebration and create a memorable experience for you and your guests. With the right furniture, you can create a cozy and intimate setting that reflects your personal style and vision for your wedding. So, why not consider adding some lounge furniture to your wedding decor and take your celebration to the next level?
Cover Photo –  Photography: MPH Photography | ACA Products: The Queen Ann, The Bernice Chair, Emerald Brighton Sofa