Emily and Juan's Cozy Cypress Grove Estate Wedding
There are so many hidden gems in Central Florida; from the beach to rustic barns to host a gorgeous wedding. One of of our favorite venues is the classic  Cypress Grove Estate. A dreamy location, tucked into the heart of Orlando; a perfect spot for Emily and Juan's cozy December wedding. The details of this navy, cornflower blue and ivory wedding were overseen by Taylor from Blush by Brandee Gaar and captured by the talented  Sunglow Photography.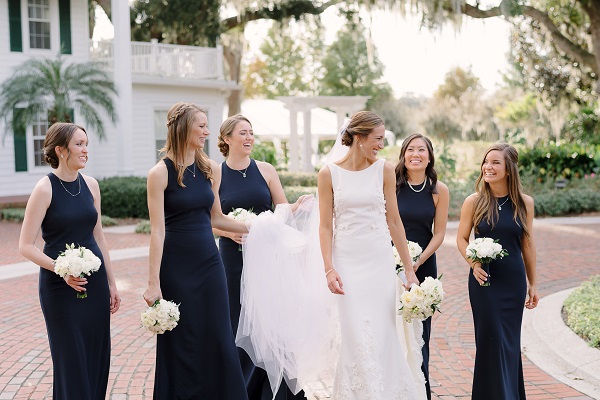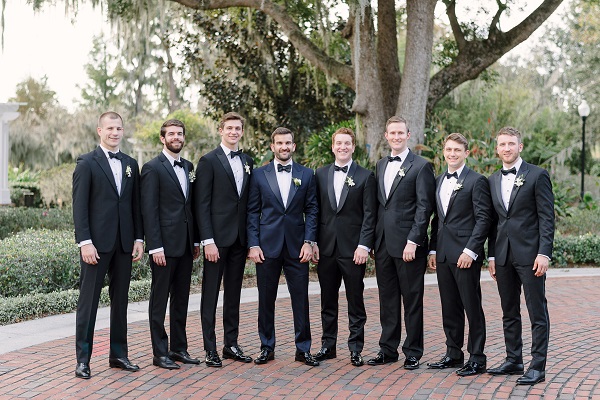 Emily looked breathtaking in her custom-made gown; provided by the groom's aunt in Argentina. The details on this dress were stunning. Her bouquet was created by a family friends and was a perfect compliment to her wedding day look. Her attendants wore classic navy gowns and carried bouquets that mimicked the bride's. We cannot forgot about Juan and his gentlemen; they were looking dashing in their classic tuxedos. A picture perfect wedding party!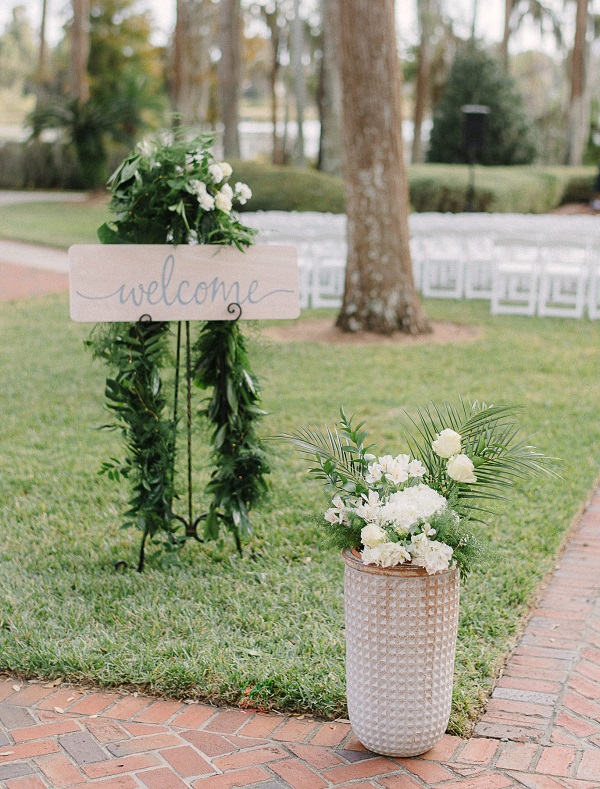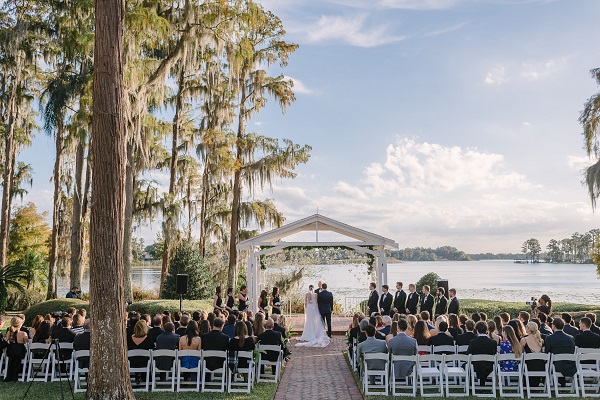 The ceremony was set up, facing the sparkling water of Lake Jessamine. This tender ceremony was both touching and lighthearted. Emily and Juan's family and friends cheered as the couple were produced husband and wife and then it was times to party!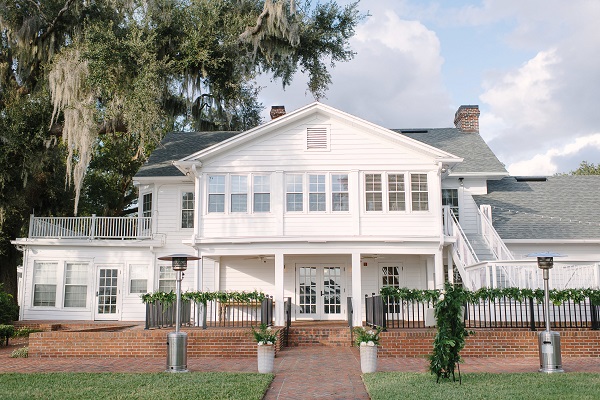 With a chill in the air, the couple opted to rent a few Mushroom Gas Heaters and Flame Dancers Gas Heaters to keep their guests toasty as the sun began to set. We know they guests were very thankful for it too!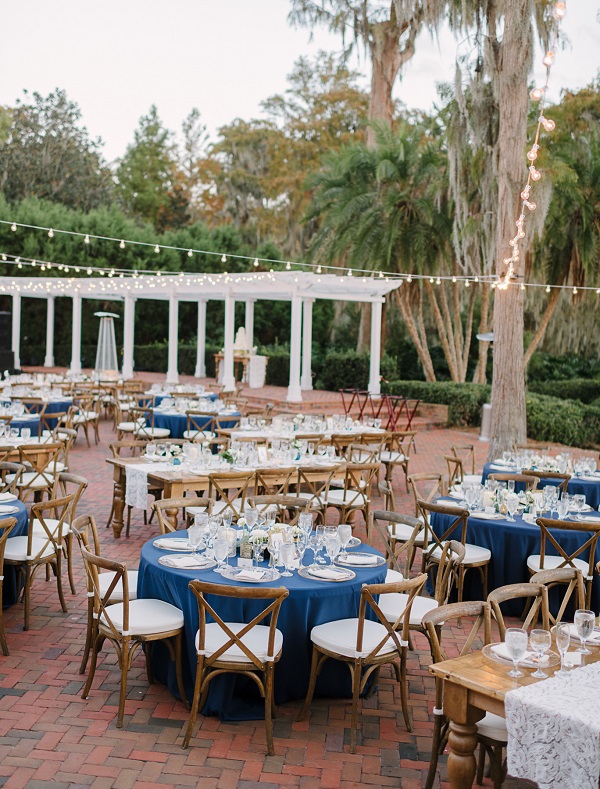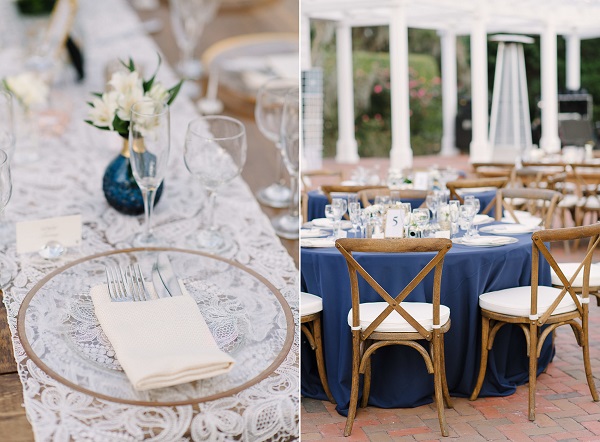 The reception was waiting the guests in the beautiful amphitheater at the Estate House. Under the canopy of the market light, round tables were marked with our Gold Ivy Table Frame and covered in a beautiful blue linen from Over the Top. They were paired with our French country chairs to complete the rustic, romantic look. Mixed in, the couple chose to use the  Monaco Farm Tables with a simple lace runner. On each table, the place setting centered around our delicate Gold Rim Chargers.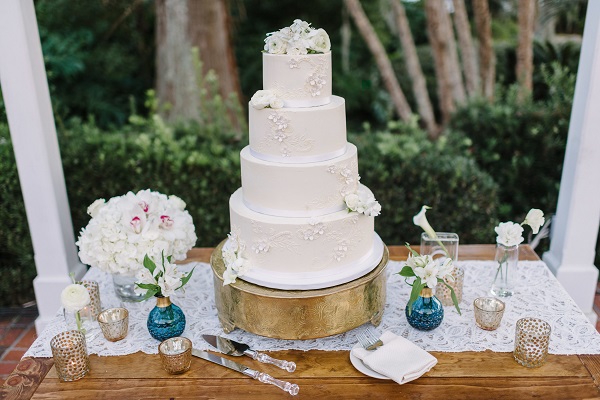 Cakes by Sofelle created a beautiful, four-tiered cake and added the detailing of Emily's gown. Gorgeous! It was placed on our Gold Round Cake / Cupcake Stand and sat upon the Monaco Sweetheart, Farm Table, surrounded by lace, blue and gold details.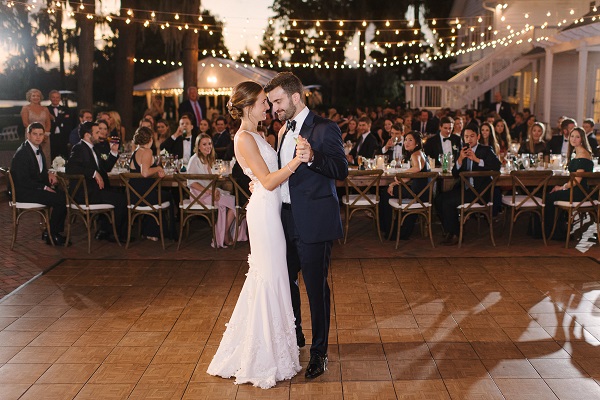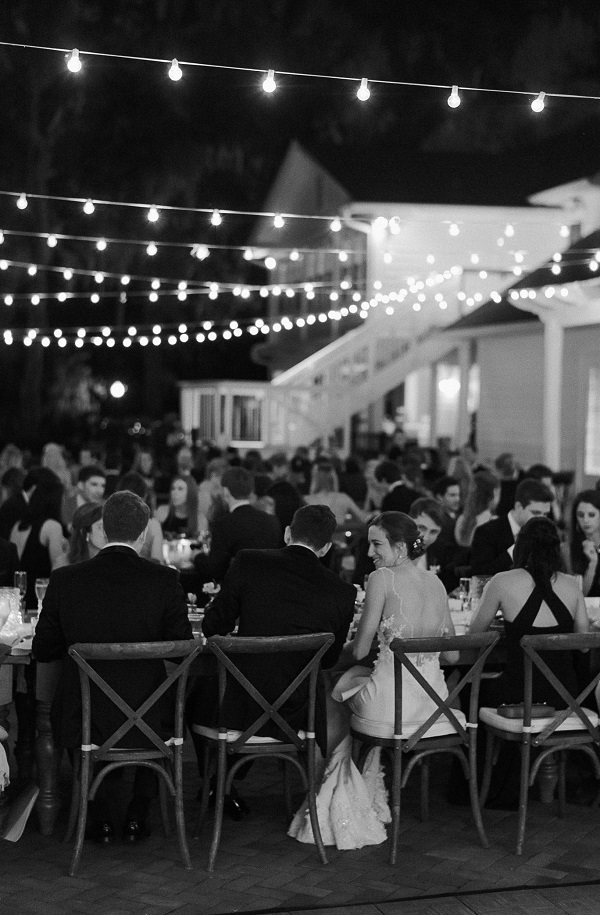 As the sunset, the guests enjoyed a lively evening of dancing, toasts and lots of laughter. It was a memorable night and we are so excited to have been a part of it! Congratulations Emily and Juan!!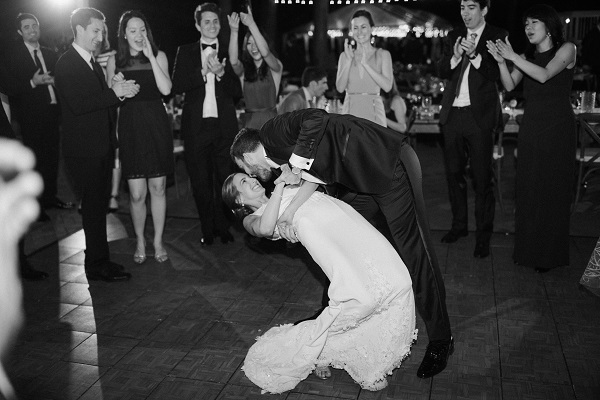 Featured Products: French country chairs | Gold Rim Chargers | Gold Round Cake / Cupcake Stand | Blue Velvet Sofa The Brighton |  Ivory Arm Chair The Britt Chair |  Monaco Sweetheart | Farm Tables | Monaco Farm Tables | Square Mirror Chargers | Ivory French Country Pads | Rectangular Coffee Table The James Coffee Table | Rectangular End Table The James End Table | Mushroom Gas Heaters | Flame Dancers Gas Heaters | Gold Ivy Table Frame