Meet our August drawing winners, Kara and Trent! They will receive $500 off of their wedding rentals with us! Read their sweet story and check out the beautiful illustration the bride created of their engagement!
Where did you meet your fiancée? I met Trent through a thinly veiled matchmaking scheme disguised as a photography project. My cousin needed me to model for some portraits to round out her photography portfolio at school, so I agreed to help and traveled up from south Florida to Tampa. When I arrived, I discovered the real reason I was there—to meet my future husband!
How did you know he was the one for you? It was pretty quick. While I was modeling for my cousin, she decided to have Trent jump in and shoot some engagement style photos (which was a little awkward after just meeting each other). But something about it just felt right. He asked me on a date that night and as we were driving to the restaurant, I just looked over at him and had a feeling that this was it. A week after meeting and hours and hours of talking, I knew undoubtedly that he was the one.
What are the things you have in common? We really bonded while talking about our dreams, morals and what we want out of life. We found out that we have the same viewpoint on a lot of things and share a sense of adventure that had both of our bucket lists pages long. We love exploring new areas, trying new restaurants, going to museums, theme parks, and being artistic (his photography and my painting). Since we both have art degrees, it's great to be able to bounce ideas off each other and collaborate on projects.
How did he propose? I love the circus, so Trent planned a day for us to go to the Ringling Museum in Sarasota. They have a circus museum as well as a historical mansion and gardens to tour. We meandered through the rose garden and came up to the beautiful gazebo in the center, where we stood for a moment and took it all in… then he got down on one knee!
What part of the wedding day are you looking forward to most? I'm looking forward to having all of our family and friends together in the same place. It's so hard with people's busy schedules nowadays to get everyone together, so this will be a kind of big family reunion/union.
What inspired your wedding colors? We're relaxed, easygoing people and we want our wedding to feel welcoming and fun for our guests. Our main colors are ivory and blush, with a pop of french rose and a warm, sophisticated bordeaux. We're also bringing in some natural elements with wooden french country chairs and greenery.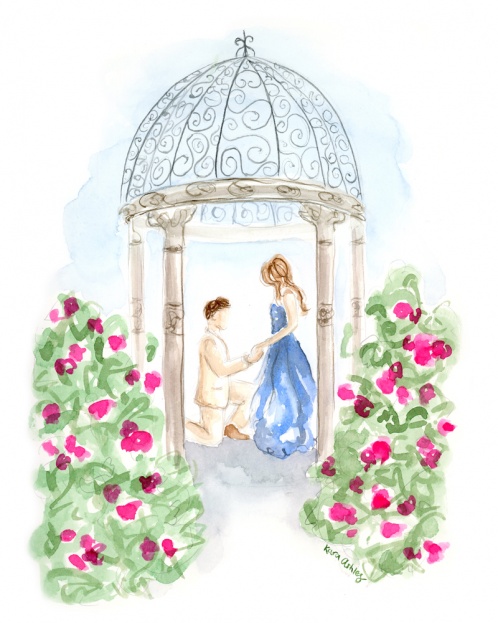 Click here to find out how you can join our monthly winners!