Donae + Will
It was a gorgeous afternoon celebrating the love between Donae and Will. A Rosen Shingle Creek Wedding that will always be cherished! Anna Christine Events flawlessly coordinated their dream day. We cannot wait to share memories with you all thru photos captured by That First Moment.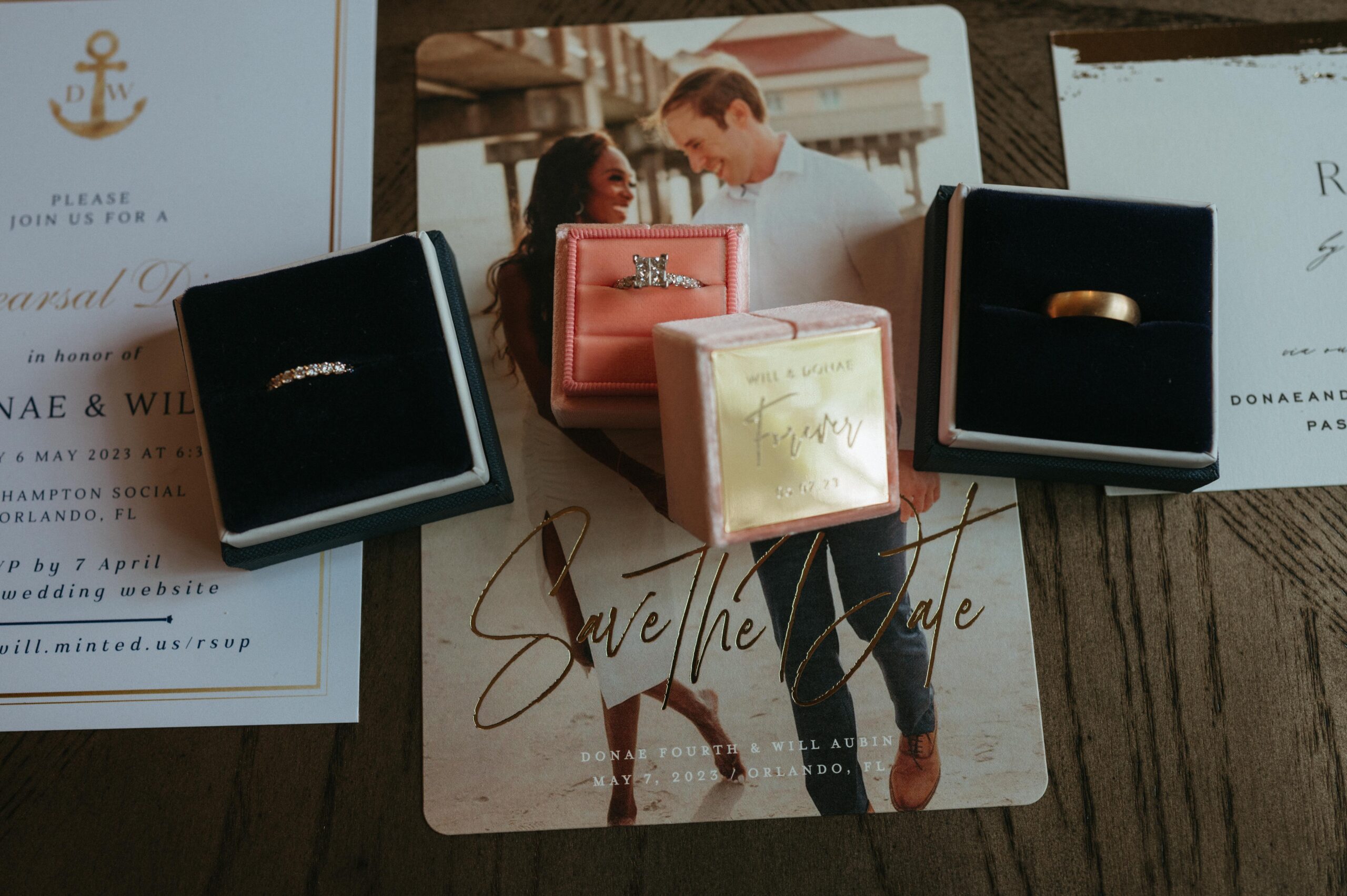 Bridal Glam
Donae and her bridesmaids began their morning in the bridal suite getting ready. The room was adorable, decorated with bridal balloons, and of course, the girls had champagne in tow. Meanwhile, the groom was with his groomsmen getting ready as well in their lounge. After Yuri Marie Brida styled the bride's hair, she then got her makeup applied by Stenza Beauty. Before slipping on her wedding dress, Donae looked at it in complete awe. The day she had always dreamt about, at last, here in real-life time. She then slipped into her white-laced wedding gown and headed to take bridal party pictures with her ladies. It was then time to meet her father and mother to be escorted down the aisle to her groom.

Rosen Shingle Creek Ceremony
As the bridal party in their pink-hued dresses and men in their dapper black suites made their way to the altar the crowd all knew the procession had begun. The guests all stood as the bridal hymn began to fill the speakers. The bride's parents walked her down the aisle filled with family and friends to her groom. Their outside wedding ceremony took place, vows were said, and their love was sealed with a kiss. They were finally announced husband and wife, and it was then time to celebrate their love.
Painted Gold Reception
The wedding reception was indoors at the Rosen Shingle Creek venue. The room was warm and welcoming with golden vibes throughout the room. Our Gold Chiavari Resin Chair with White Chair Pads looked so elegantly placed around the tables. Topping the tables were cascades of glass candle holders, wrapping the bottoms were a greenery wreath. The pop of the table were our Gold Painted Chargers which were fantastic to see! Their uniqueness brought so much to the table decor. It was a true golden dream.
Reception Traditions
After the guests took their seats around the table in our Gold Chiavari Chairs, the newlyweds were announced into the room. The party then officially began. They had their wedding traditions like toasts, a meal, cake cutting, and special dances. The newlyweds took to the dance floor with their guests having the time of their lives. Surrounded by the people they love and in love the newlyweds exited to a sparkling farewell. We are honored to have been a part of A Rosen Shingle Creek Wedding. Congratulations Donae and Will may your love last a lifetime and more.
Featured Items: Gold Chiavari Resin Chair | White Chair Pads | Gold Painted Chargers
Vendors: Venue, Catering, Cake: Rosen Shingle Creek | Hair: Yuri Marie Bridal | Makeup: Stenza Beauty | Planning/Coordination: Anna Christine Events | Rentals: A Chair Affair | DJ & Photobooth: Madd Vybez Entertainment | Florist: Fiora Designs | Photography: That First Moment | Videography: Adrift Films | Musicians: Deborah Dansby