Simply Beautiful Casual Clubhouse Wedding at Waterleigh Clubhouse
Every wedding is special in its own way, and you don't always have to go big to create a memorable event! Hadley and Travis's casual clubhouse wedding at Waterleigh Clubhouse was proof of that. The bride and groom knew they wanted a laid back event that they and their guests could really enjoy, and that's exactly what they got!
The couple turned to Prostyle Wedding Entertainment & Productions for their day-of coordination and photography, and they went above and beyond to make everything just right.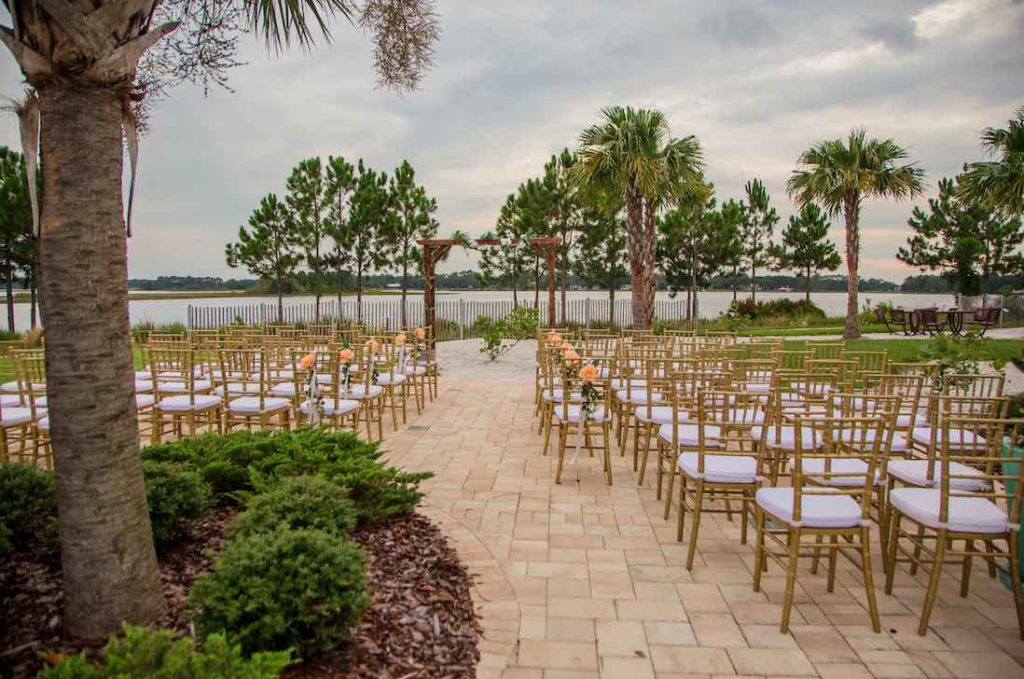 Keeping the couple's vision in mind, we set up for the outdoor ceremony in record time. The gold Chiavari chairs with white Chiavari pads added a subtle touch of elegance to the event, leading up to the mahogany arch where the bride and groom would say their I Do's.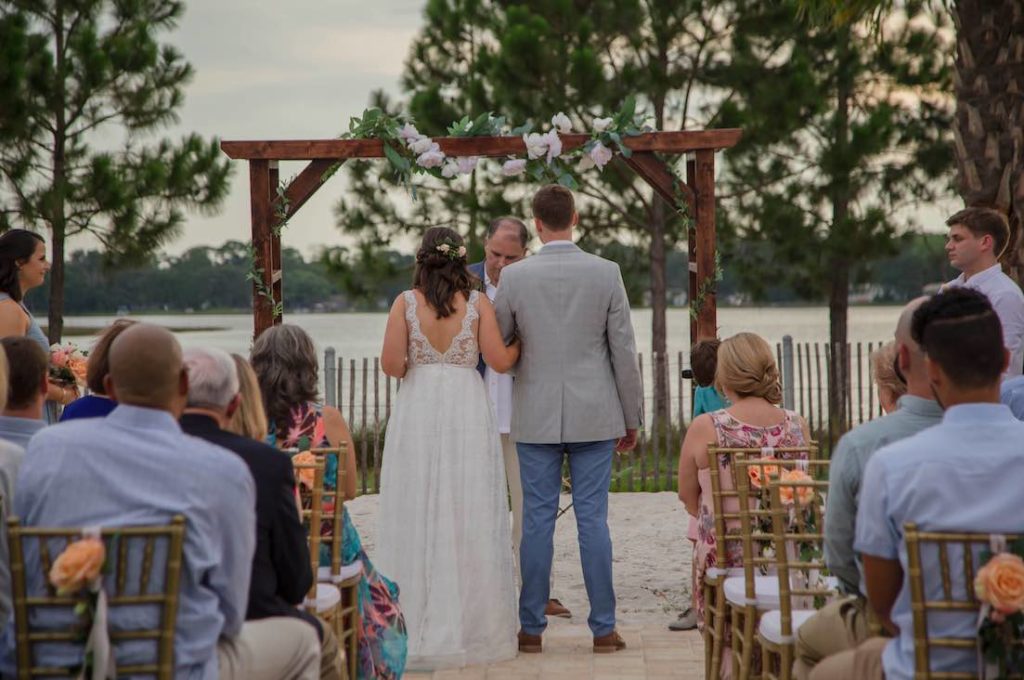 Hadley looked beautiful in her sleeveless gown with lace details, while Travis opted for a simple but chic look in a light gray blazer and jeans. They stood in front of the mahogany arch, beaming as they exchanged vows amidst the cheers of their loved ones.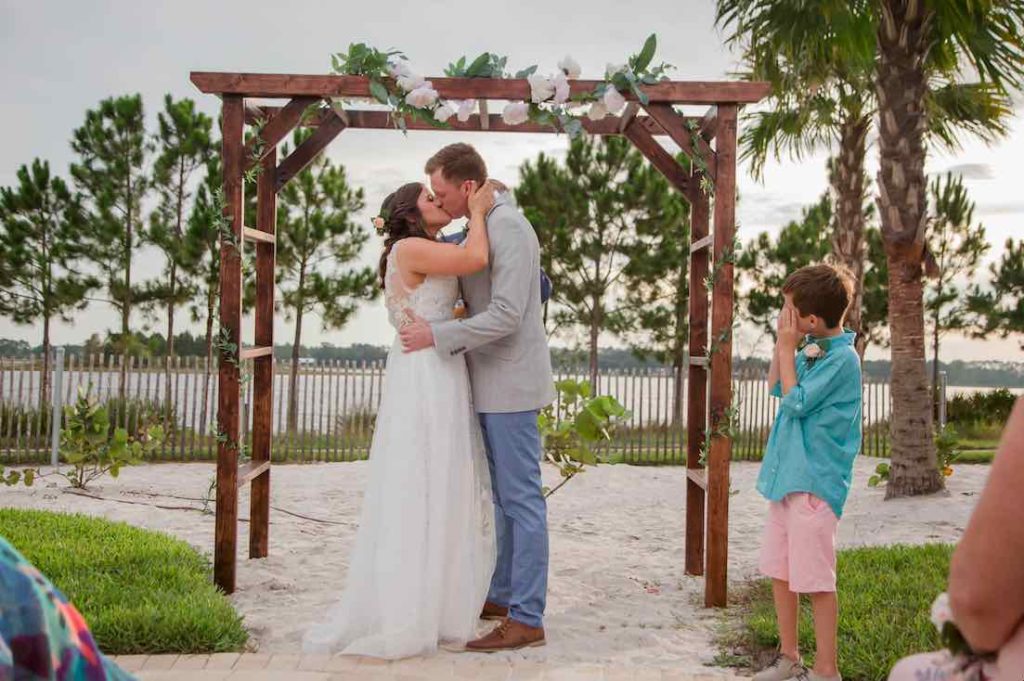 Shortly after the ceremony, the couple took to the clubhouse to celebrate their newlywed status with their friends and family. Keeping the casual clubhouse wedding theme in mind, the reception was simple, but heartwarming. Round tables had been set up for the guests, topped with peach linen napkins and subtle decor. For the bride and groom, there was a sweetheart table adorned with glowing candles and lovely floral.
The clubhouse's simple decor ensured that everyone's focus was on the bride and groom, and on creating new memories as they enjoyed a delicious dinner. Following dinner and dancing, the newlyweds and the guests tucked into the yummy cake by Linda Kotch.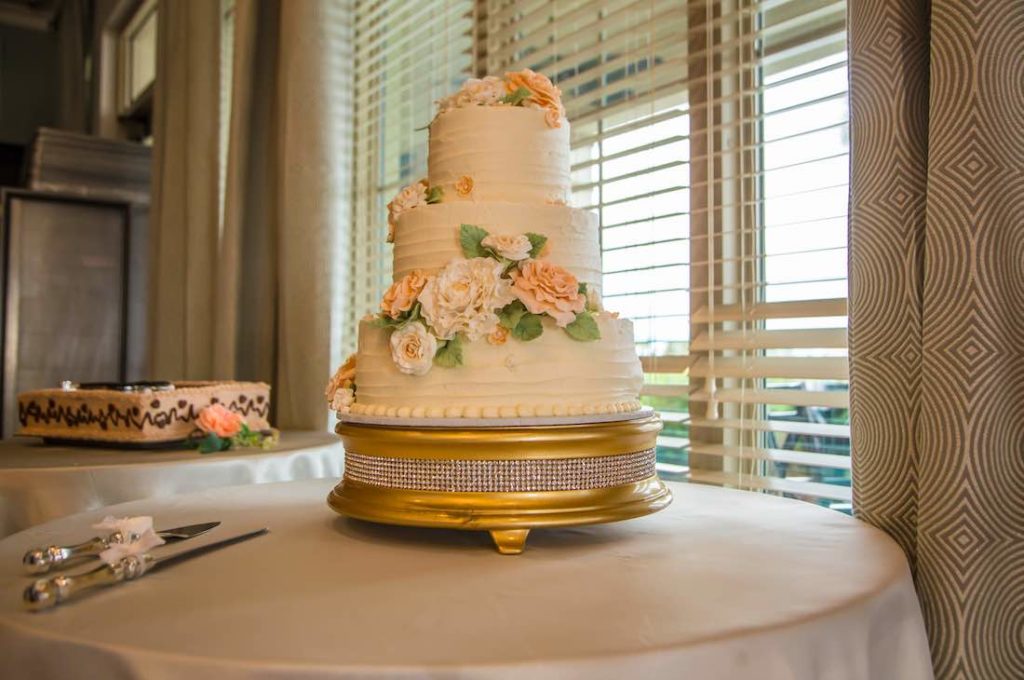 The three-tier wedding cake looked so elegant on our round gold crystal cake stand, making for perfect pictures as the bride and groom cut into it for their first slice!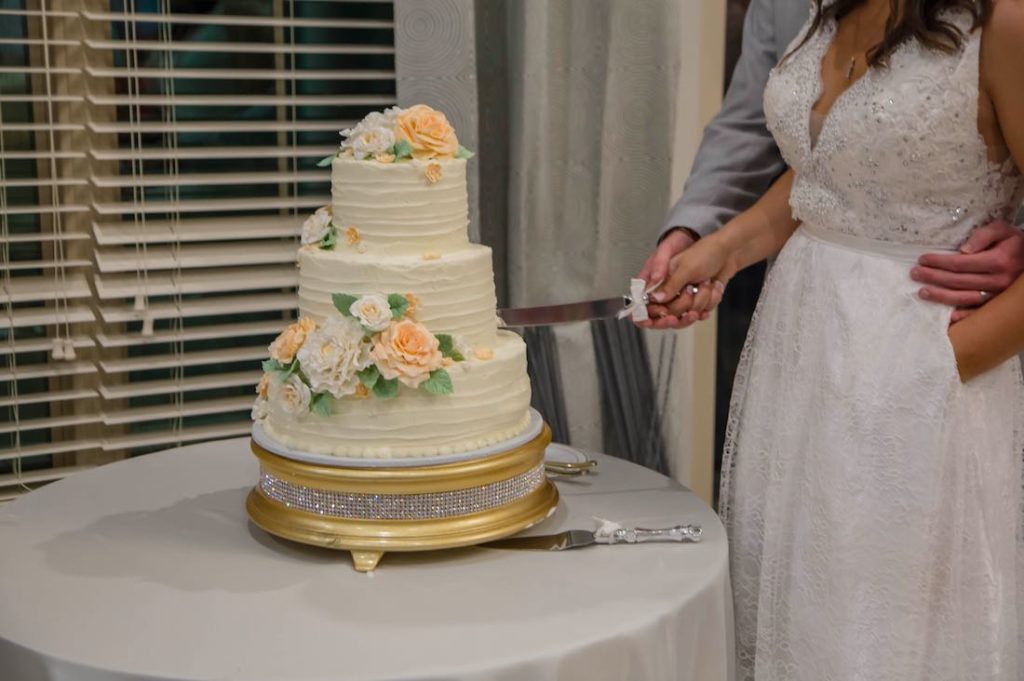 At the end of it all, this casual clubhouse wedding at Waterleigh Clubhouse was everything it was imagined to be, and more. Congratulations, Hadley and Travis! We at A Chair Affair wish you a very happy married life!
Featured items: mahogany wooden wedding arch   |   gold Chiavari chairs   |   white Chiavari pads   |   rectangular chafing dishes   |   round chafing dishes   |   round folding tables   |   peach polyester linen napkins   |   gold wire bread baskets   |   bus tubs   |   wine buckets   |   serving spoons   |   flat tongs   |   round gold crystal cake stand   |   electric holding cabinet   |   sheet pans   |   sweetheart folding table   |   cake server
Vendors: Florist: Something Borrowed Blooms   |   Photography/DJ/photo booth/servers/day of coordinator: ProStyle Wedding Entertainment & Productions   |   Ceremony/Reception Venue: Waterleigh Clubhouse   |   Beauty Artist: Before the Aisle   |   Cake: Linda Kotch