Rosen Shingle Creek Resort Wedding – Ivory and Berry
This Rosen Shingle Creek Resort wedding turned out to be an unforgettable day for us all! We at A Chair Affair see so many different couples day in and day out, and with every one, we are struck by the love and passion they share. Mary and Brandon are such a unique, fun couple, and their wedding had us enchanted!
Notes of ivory and berry tones were diffused throughout the decor and details, creating a striking, romantic look that was perfectly suited to our couple for this Rosen Shingle Creek Resort wedding.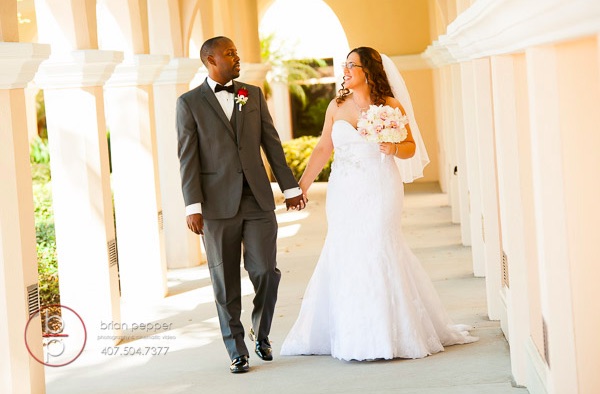 Jenna and Shannon of The Busy Bee Events & Design kept everything running smoothly while we got set up for the outdoor ceremony, placing our garden wedding arch meticulously so Orlando Wedding Pix could get the perfect shot.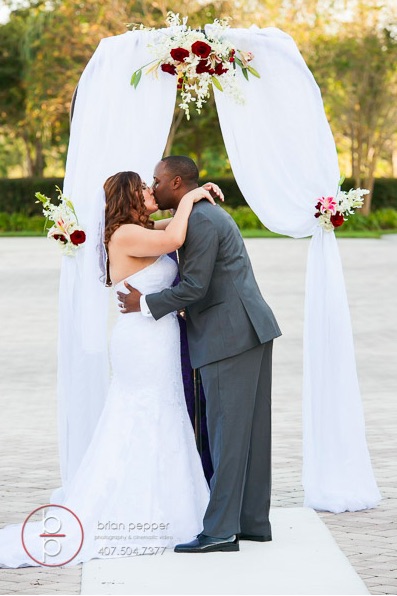 Mary made the loveliest bride, effortlessly capturing everyone's attention as she walked down the aisle towards her groom, who was waiting for her by a garden wedding arch draped with fresh cream and berry-toned florals from Lee Forrest Design. Fiesty, fun, and elegant, these two were clearly made for each other, and their wedding was no ordinary celebration!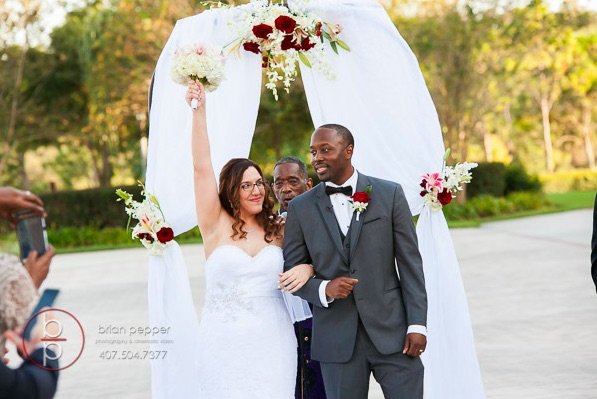 The moment we'd all been waiting for had arrived. Mary and Brandon were officially husband and wife, but the party was only just getting started! The newlyweds and their guests rocked out on the dance floor, having the time of their lives and making memories that would last forever.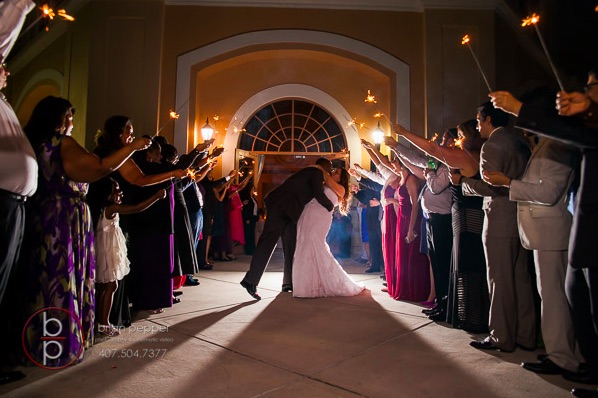 Congratulations, Mary and Brandon, on your Rosen Shingle Creek Resort wedding! We were honored to provide the arch for your wedding ceremony!
Featured items: garden wedding arch
Vendors: Photography: Orlando Wedding Pix   |   Videography: Innova Video   |   Venue: Rosen Shingle Creek Resort   |   Hair and makeup:  Kristy's Artistry Design Team  |   Flowers: Lee Forrest Design   |   Bishop: Bishop McKissick of Bethel Baptist Institution   |   DJ: Ricky Vazquez DJ Entertainment   |   Cake: Publix Bakery   |   Wedding planners: The Busy Bee Events & Design   |   Arch: A Chair Affair