Each month, one of our couples wins $500 off their wedding rentals. Say hello to our lucky March winners, Megan and Kevin! They've just gotten married, and we can't wait to share their love story with you! Read on for our chat with the bride, Megan:
Where did you meet your fiancé?
Kevin & I met at the movie theater through mutual friends.
How did you know that he was the one for you?
I knew Kevin was the one for me when I realized I had met someone who could outtalk me. LOL! Just kidding. I had gone overseas with my family and had no communication with him. I missed him like crazy and couldn't wait to get back to the USA so I could call him and tell him how excited I was to come home!
What are the things you have in common?
Kevin and I both love to talk and entertain. You will always find us with friends or family. We also love food! We love to try new restaurants in town and making date nights out on the regular. We both work full-time jobs, so we like to enjoy our days off by either spending them at the beach or even hitting a spring! Kevin loves to freedive (me, not so much; so I just float in a raft and keep an eye out.)
How did he propose?
OMG! Thinking about the proposal makes me so happy and takes me right back to that moment. We had planned a weekend in St. Augustine (my favorite city) for my birthday, which was also the week before Christmas, so they had all the lights set up around town. We had gone to Harry's Seafood for dinner, and while waiting for our table we had run into friends of ours who were waiting for a table also, total surprise! We ended up sitting with them, and after three short hours we decided to get up and walk to the park where the "million" lights were. Before we left the restaurant, I had to use the restroom; at that time Kevin filled our friends in that he was going to propose and he would love if they would record/take pictures of the whole thing. They were so excited, they couldn't even stand it! I, totally clueless, came out and we walked toward the lights. As we approached the trees filled with white Christmas lights, Kevin turned to our friend Jessica and said, would you mind taking a photo of us under the tree? I was still clueless! We were standing under the tree taking photos, and when I went to walk away to see how the photo came out, Kevin grabbed my hand and got down on one knee. I was in complete SHOCK! I couldn't believe it, I instantly started crying and honestly can't even remember what he said, because I think I blacked out. I just remember him telling me how much he loved me and couldn't imagine his life without me in it. I am forever grateful for the video and photos that our friends took for us. It was seriously the best day ever (besides the wedding day, of course!)
What part of the wedding day are you looking forward to most?
Our wedding day was March 24, 2017, and it was everything I had ever hoped for. I am so lucky to have amazing parents who provided the most beautiful wedding for us. I am most excited to finally be a Crawford. Kevin's family is so amazing and I am happy I get to be a part of it.
What inspired your wedding colors?
Our wedding was actually inspired by Morgan Stewart's wedding, from Rich Kids Of Beverly Hills. It was classic and beautiful and that is exactly what I was going for. We got married outside at Cypress Grove Estate House, and I really just wanted to enhance the beauty that was provided already. The grounds are so beautiful, you really don't need a lot! We used all white flowers with ivory table clothes paired with champagne colored charger plates with a hunter green napkin for a pop of color. It was perfect!
Thanks, Megan! It was great to chat with you. Your wedding was beautiful!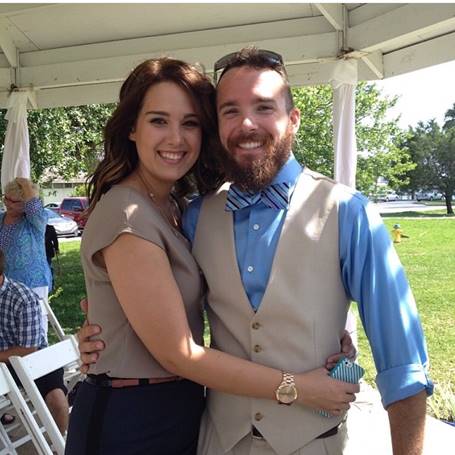 Are you getting married soon? Tell us your story for a chance to win $500 off your wedding rentals with us! Click here!
Vendors from Megan and Kevin's wedding:  
You & I Pictures– Video
Kelsee Van Nus Photography- Photo
Cloud 9 Wedding Flowers– Flowers
Runway Events– Wedding Planning
Cypress Grove Estate House– Venue
Gina Cuchetti– Live Performer; Ceremony
Flash– PhotoBooth
Chair Affair– Charger Rentals
Quest Events– Draping
Two Sweets Bake Shop– Dessert Bar
The Runway Collection– Rentals