Omni Championsgate Resort Sophisticated Tropical Wedding
When it comes to love, sometimes you have to travel the world to find your soulmate. That's how it happened for our bride and groom; Stephanie and Luc. When they met over 14 years ago while studying abroad in Spain, they both knew they had found the one. With a love that spans the globe, they wanted to reflect their love of travel and the tropical decor of their families' islands in their wedding at the  Resort at ChampionsGate. While the couple worked closely with Blush by Brandee Gaar to design their gorgeous celebration, the talented Nate Puhr was on-hand to capture the day.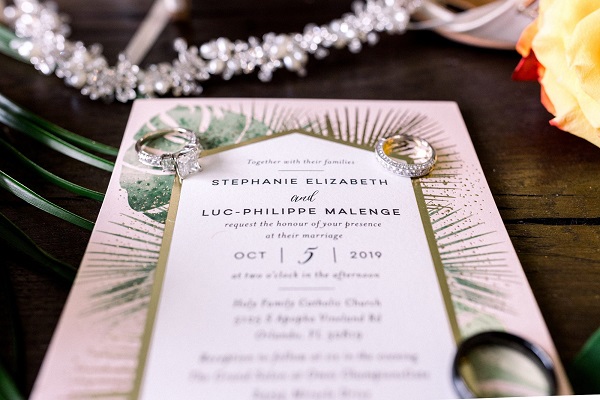 The Ceremony
First, the wedding ceremony at the beautiful  Holy Family Catholic Church was intimate and sweet. With all their family and friends present, they exchanged vows. And after being pronounced husband and wife, the newlyweds shared a tender kiss. As they walked hand in hand down the aisle, their wedding guests celebrated.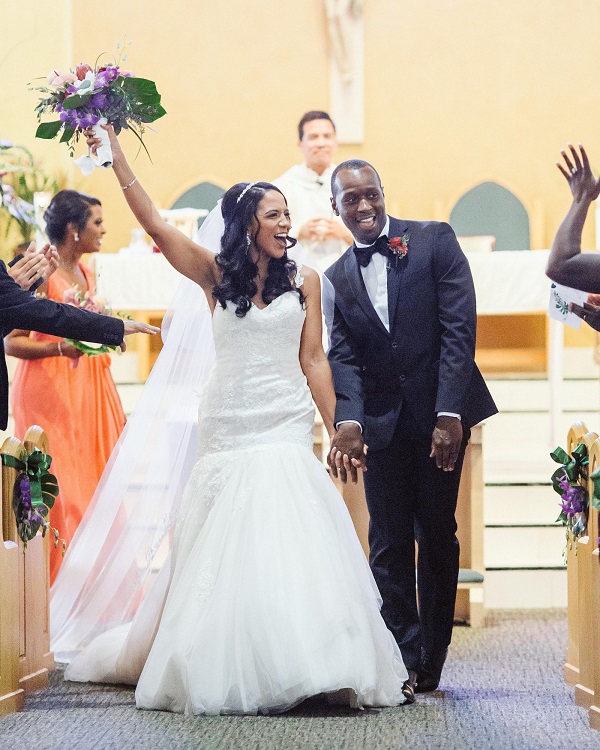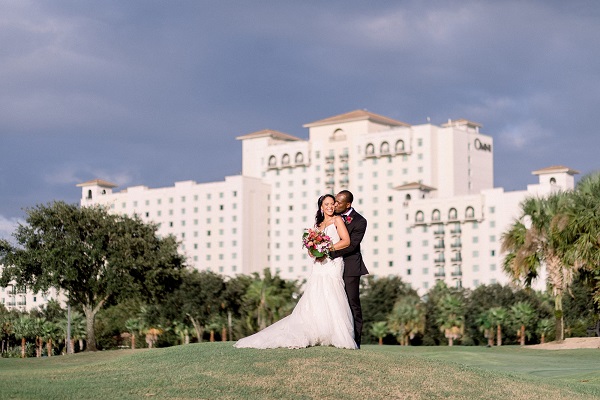 The Reception
After the gorgeous church ceremony, it was time to celebrate the newlyweds. With the ballroom of the Resort at ChampionsGate decked out in crisp white and gold, the tropical wedding was set. Our Gold Chiavari Chairs with White pads graced each table. And our  Gold rim Chargers were placed at each setting.
First, you can't have a tropical wedding without a gorgeous foliage. And the fabulous Lee James Floral created stunning centerpieces that were both sophisticated and fun. A perfect reflection of the bride and groom.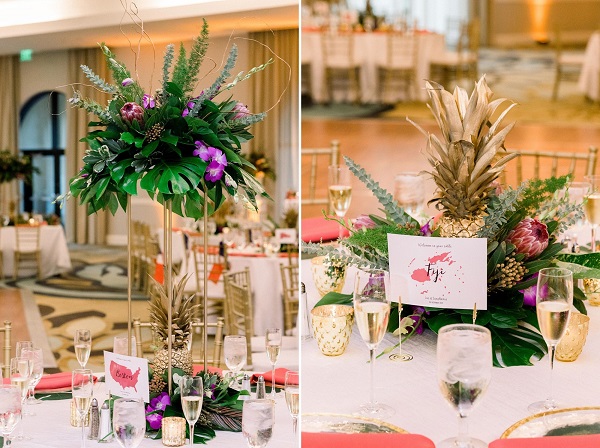 And speaking of the fun couple, they entered their reception both carrying flags that represented their countries. With the bride carrying both the Dominican Republic and Puerto Rican flags, and the groom waving his Congo flag. Their wedding guests were asked to join in on the fun as they all waved flags from their home country to represent how far they have traveled, as well as their nationality.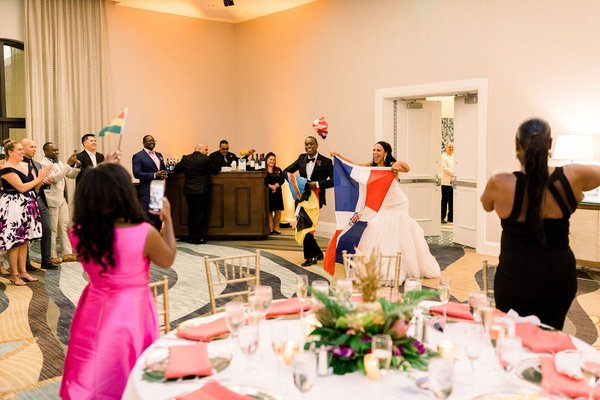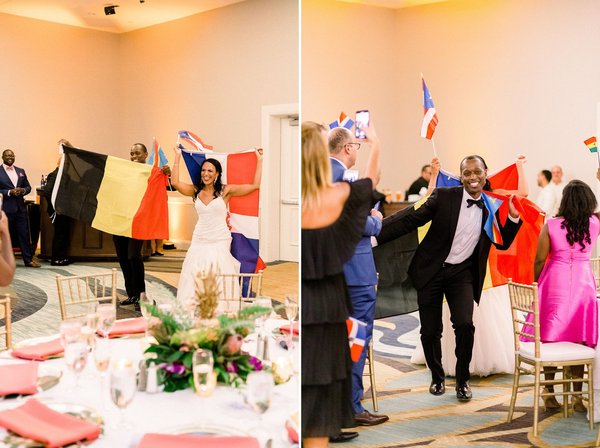 And the fun did not stop. After a quick gown change, the bride and groom shared their first dance. Because the groom is a dancer/choreographer, everyone knew it would going to be a dance to remember. And boy, it was!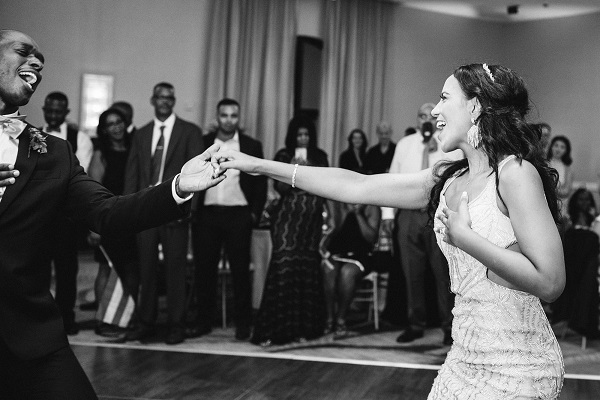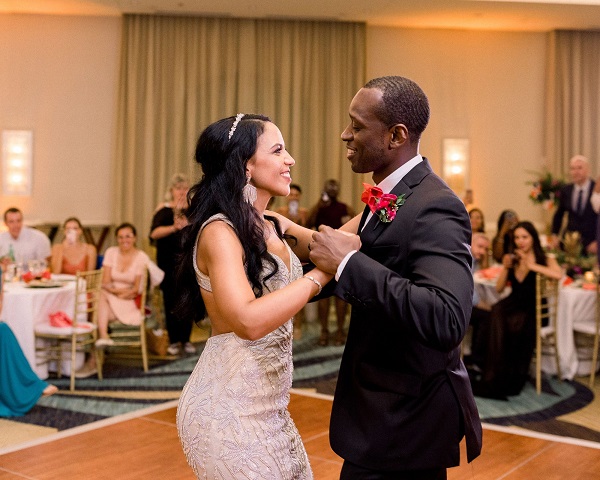 While the night went on with dinner and laughter and more dancing, it was evident that the bride and groom were surrounded by so much love.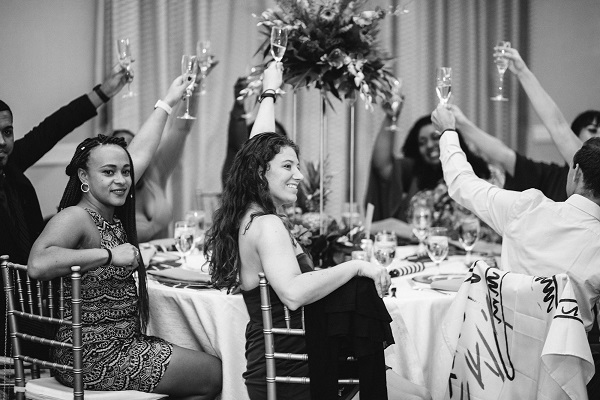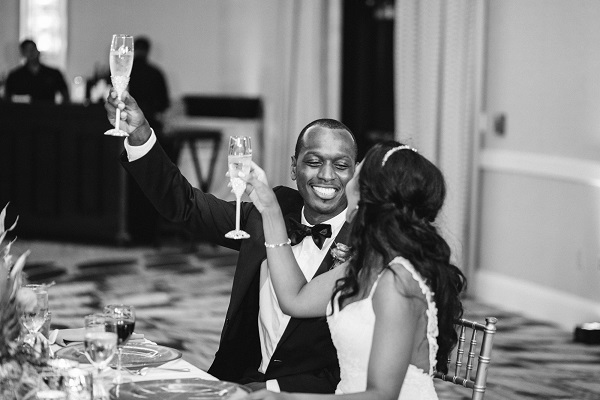 And soon, it was time to say good night. But not before another big surprise. With a line of Samba dancers, the bride and groom brought all their friends and family on the dance-floor for a dance under a shower of confetti. The tropical wedding came to an end at the start of their happy ever after began.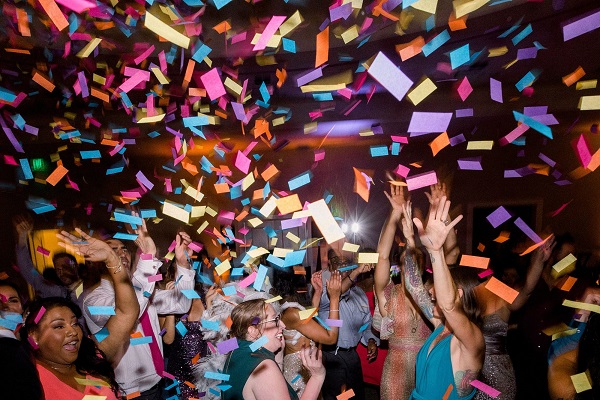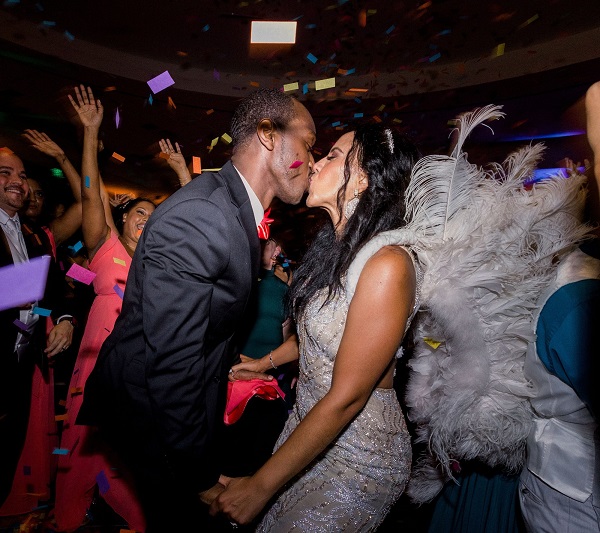 Featured Products: Gold Chiavari Chairs with White pads, Gold rim Chargers
Coordination: Alison Watkins Blush by Brandee Gaar | Ceremony Venue: Holy Family Catholic Church | Reception Venue: Resort at ChampionsGate | Photographer/Videographer: Nate Puhr | Florist: Lee James Floral | DJ/Photo Booth/Uplights: Our DJ Rocks | Cake: Sugar Sugar Custom Cake Boutique | Rentals: A Chair Affair | Napkins: Over the Top | Hair/Makeup: Jazz it Up Artistry | Transportation: VIP Wedding Transportation