A Romantic Modern Lakeside Ranch Wedding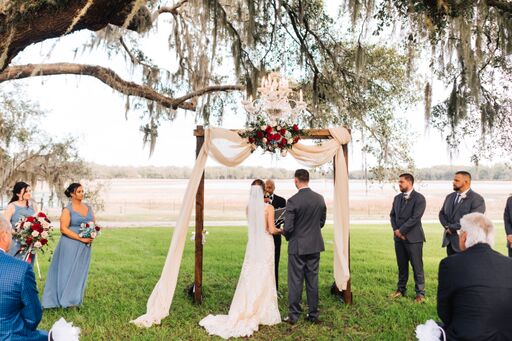 Meghan and Brandon chose a beautiful spot for their romantic and modern wedding! Lakeside Ranch is a unique venue that combines an airy outdoor ceremony location with a open and modern covered reception area. With The Hons Photography there to capture every beautiful detail, and Simply Elegant Weddings and Events behind the planning, this Lakeside Ranch wedding was one to remember!
Meghan's breathtaking lace wedding gown brought romantic texture to her bridal style. Her hair was perfectly styled with flowers peeking out for another modern romantic touch. The skilled artists at Beauty Bullies made sure Meghan and her bridesmaids all glowed down the aisle!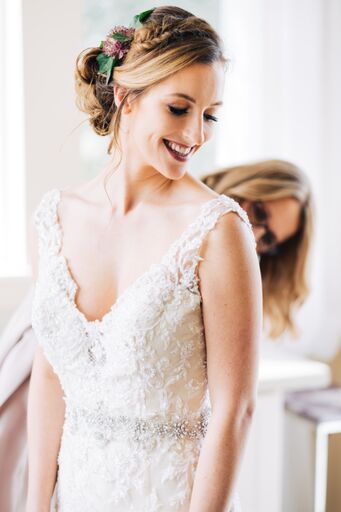 Carrying a striking bouquet of roses and greenery, Meghan looked like the very essence of modern romance. The roses in light blush and dark red popped against her creamy lace gown. The bridesmaids also carried smaller versions of the dramatic color palette, which contrasted beautifully agains their bright blue gowns. Blue Grass Chic provided exceptional floral design for this modern wedding.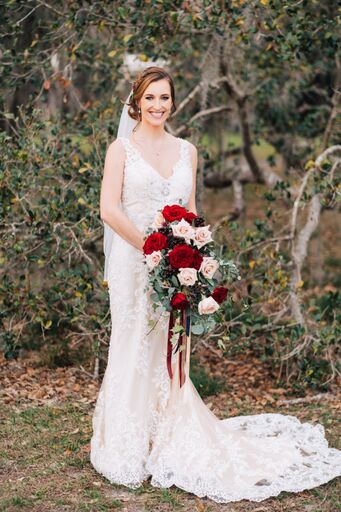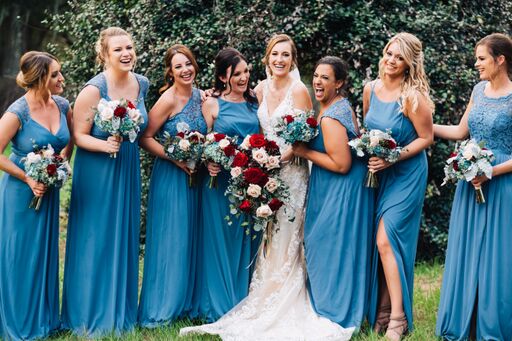 Brandon made a dashing groom in his grey suit. The deep red boutonniere reflected the modern wedding's color story while helping him stand out amongst his groomsmen, who wore lighter boutonnieres. Together they were polished, refined, and every bit the modern wedding party.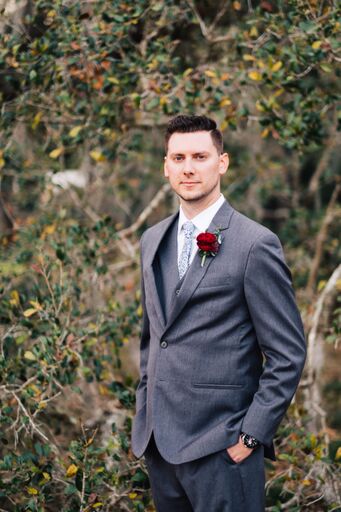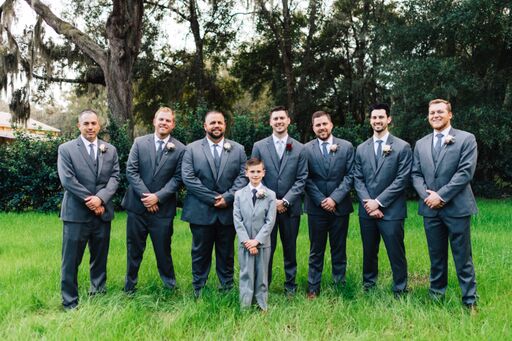 One of the benefits of a Lakeside Ranch wedding is the picturesque ceremony spot overlooking the property. Meghan and Brandon held their ceremony under mossy trees and a ceremony arch draped in creamy fabric and even more florals. The setting was a beautiful place for them to share their vows with each other in front of their family and friends. By using deep, rich colors along with romantic creams, the ceremony continued the modern romantic wedding theme.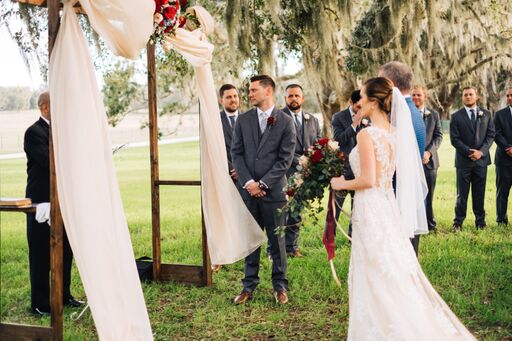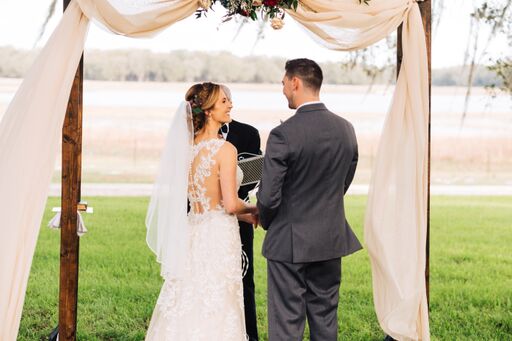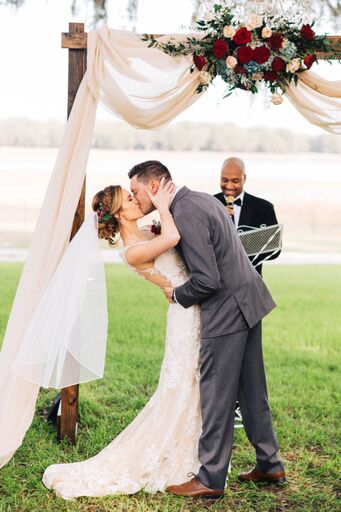 A lovely reception awaited guests, with candlelight shining around the room and fabric draping the tables. Their minimal tablescape was a perfect choice for their modern wedding, as it focused on the quality and beauty of each piece.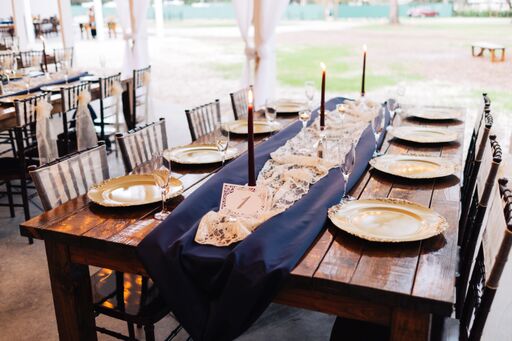 Meghan and Brandon wanted a simple spot for their guests to lounge, take pictures, and rest their feet during the reception. Our Lisa Marie Settee was position between candles for a perfect, simple lounge area. The antique design and romantic texture of the blue velvet echoed their colors and modern wedding theme. The spray of flowers on the sweetheart table tied all of the elements together.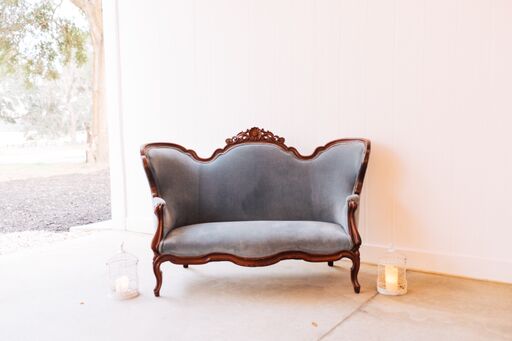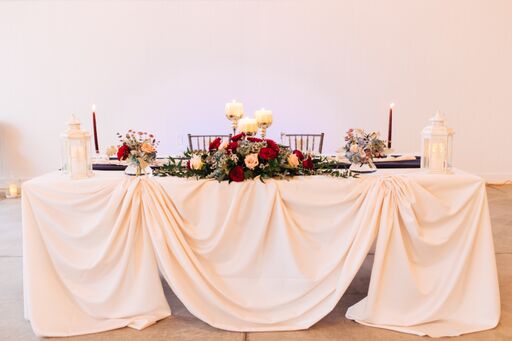 At their reception, Meghan and Brandon enjoyed catering by John Mason Catering, cocktail service by Orlando Party Servers, and a gorgeous cake by Publix Bakery. They danced their first dance in front of all their family and friends, and soaked in all the love in the room.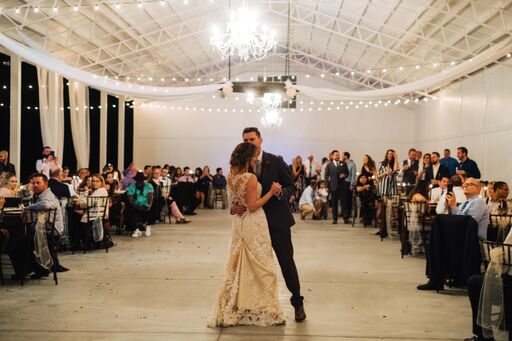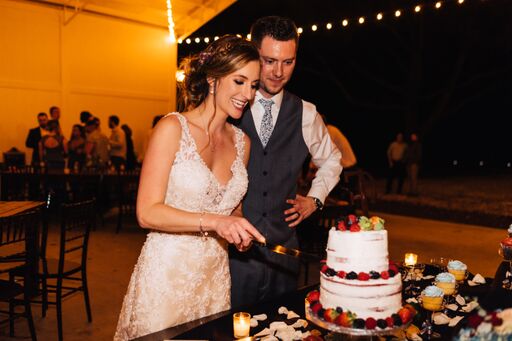 FyerFly Productions kept everyone dancing and celebrating. As the night went on, they kicked up the energy of their reception with an unexpected burst of confetti over the dance floor. Their guests were ecstatic at the surprise, and the happy couple loved giving them a fun memory.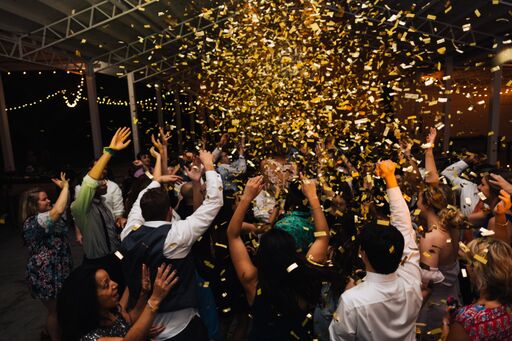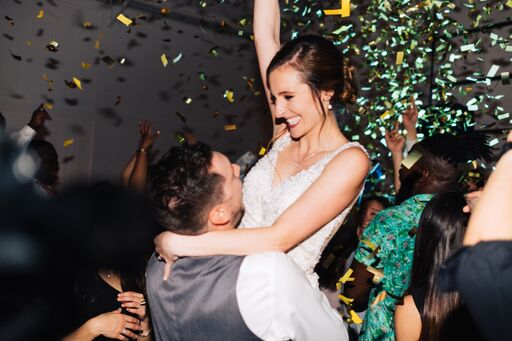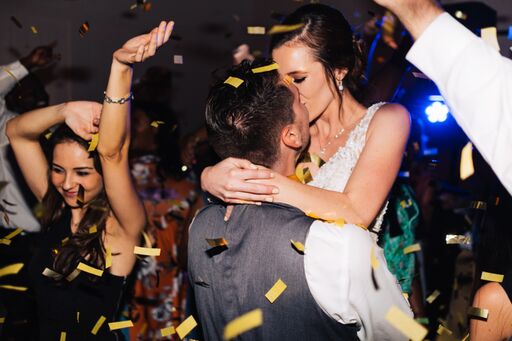 Congratulations to Meghan and Brandon! We are so happy we could be part of this lovely Lakeside Ranch wedding, and we wish them many years to come of fun, love, and adventure!
Featured Products: Lisa Marie Settee
Vendors: Wedding & Event Planner: Simply Elegant Weddings and Events | Venue: Lakeside Ranch & Resort | Flowers: Blue Grass Chic | Photography/Videography: The Hons Photography |  DJ: FyerFly Productions | Caterer: John Mason Catering | Bar/Bartenders: Orlando Party Servers | Cake: Publix Supermarket Bakery | Transportation: Glorified Limousine | Accommodations: Holiday Inn & Suites Inverness | Hair/Makeup: Beauty Bullies