Every month, one special couple gets to win $500 off their wedding rentals! Well, we're proud to announce our January winners, Kristina and Rich! Read on for their unique love story!
Where did you and your fiancé meet?
We actually met at a bike shop where Rich worked. He sold me my first road bike and we both were secretly determined to get to know each other. He ended up asking me out on a date, and it lasted 7 hours!
How did you know he/she was the one for you?
Rich: One day, I was over at Kristina's apartment, and she had to get something off of the top shelf in the cabinet. Not asking for help, she jumped up onto the countertop with a set of tongs, and before I could offer assistance, she proclaimed that she could figure it out – along with an inside joke between us. And in that moment, I learned more about the type of person that she is. She is the smartest girl that I know. She is independent, hard working as well as compassionate. Similar situations have come up a couple more times after that day, and it's always a good laugh.
Kristina: Rich and I had just started dating and I think one of the most memorable signs to me (also kind of hard to explain) was when we were laying on his couch talking/listening to music. The lyrics from a song that played in the background matched everything I was feeling about our new relationship, and this overwhelming feeling of love and security came over me. I still can relive that exact feeling every time the song is played.
What are the things you have in common?
We have a lot in common! When we first started dating, we rode our bicycles often and even signed up to do a sprint triathlon together (my first race type event ever). We also enjoy going to sporting events, country music, hiking, and traveling.
How did he propose?
We were vacationing in the Blue Ridge Mountains of Georgia. He had secretly asked my dad a few days before our vacation, and was anxiously awaiting the right time to ask. That right time just so happened to be a Saturday morning around 7:00am, so it goes without saying that I definitely woke up my parents when I called about the exciting news.
What part of your wedding day are you looking forward to most?
Spending time and sharing our special day with all of our loved ones.
What is the inspiration for your wedding colors?
Our wedding colors are blush, waterfall (light blueish green), and grey. I chose those because they are some of my favorites, and go with our vintage rustic theme.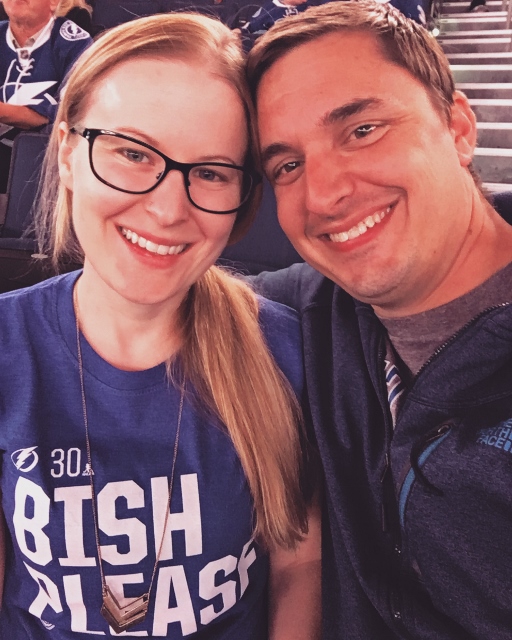 Thanks, Kristina and Rich! It was great getting to know you two a little better.
If you're getting married soon, tell us your love story, and YOU can be our next winners! Click here to find out how!