Every wedding is special, but every now and then, there's one that stands out among the rest, like Sarah and Danny's Big Day! Sarah and Danny are true New Yorkers to the bone, but they opted for a Destination Wedding at the Gasparilla Inn in Boca Grande, and it was glorious!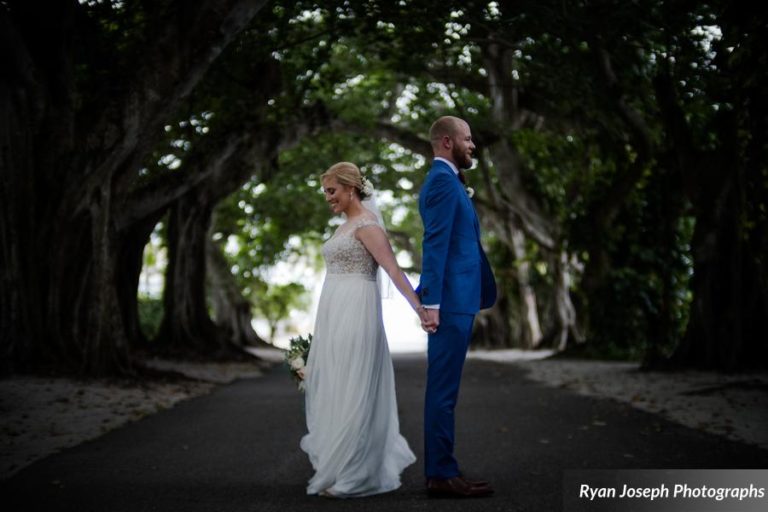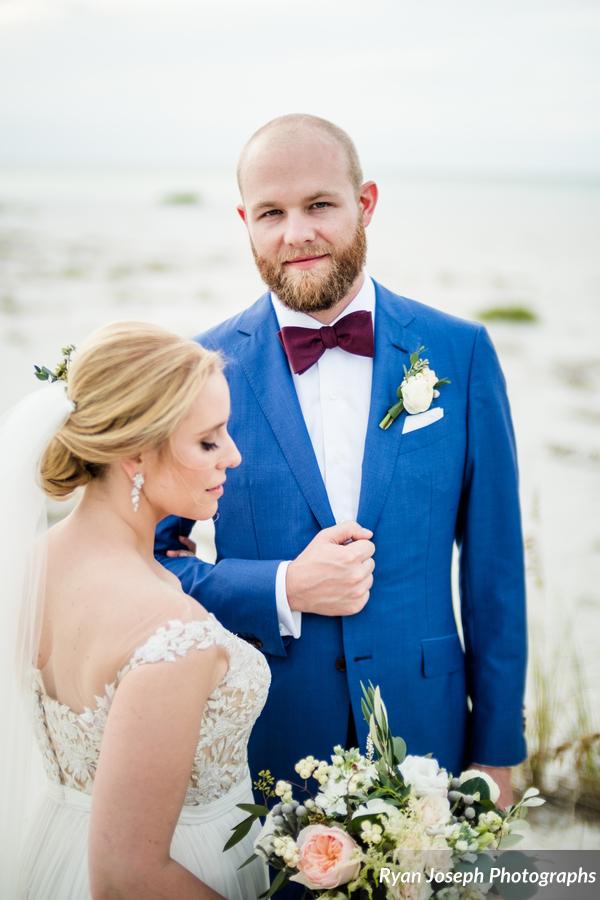 Anna Lucia Events kept everything running smoothly; every detail was just right, with Ryan Joseph Photographs there every step of the way to capture it all. With such experts at the helm, this destination wedding at the Gasparilla Inn in Boca Grande was  guaranteed to be grand!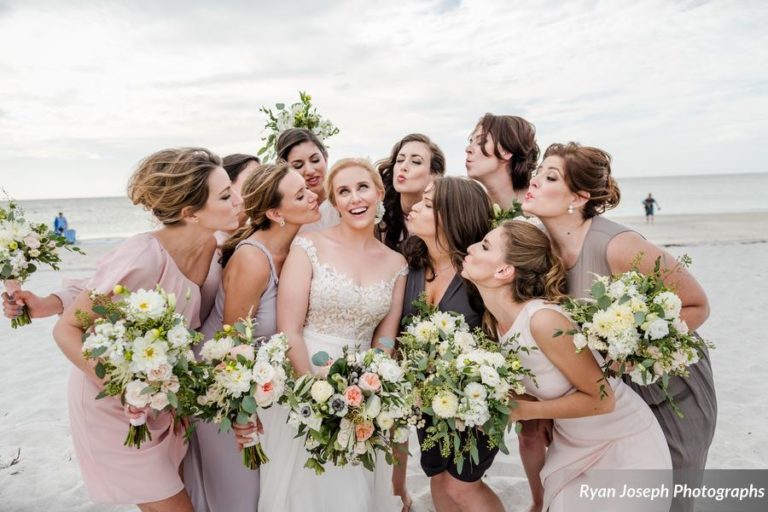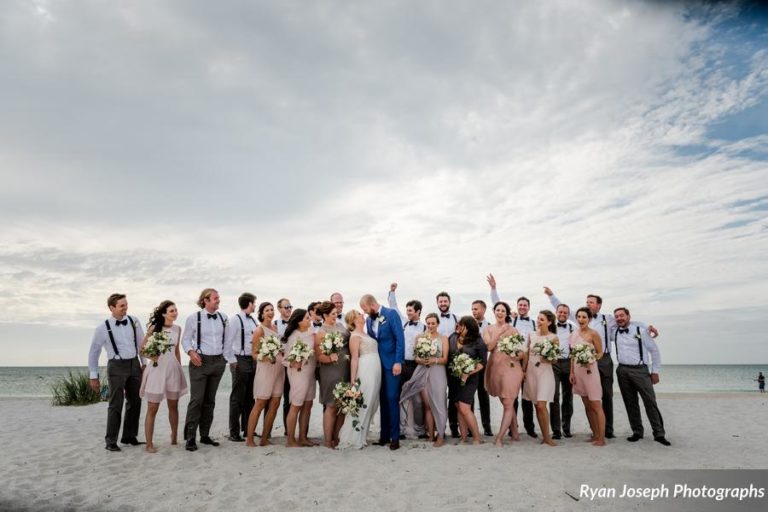 Sarah made a breathtaking bride! Her dazzling gown, perfect makeup, and blonde hair styled into a romantic updo all came together flawlessly. Danny, on the other hand, looked effortlessly dashing. His royal blue suit instantly drew the eye and added a unique element to the event.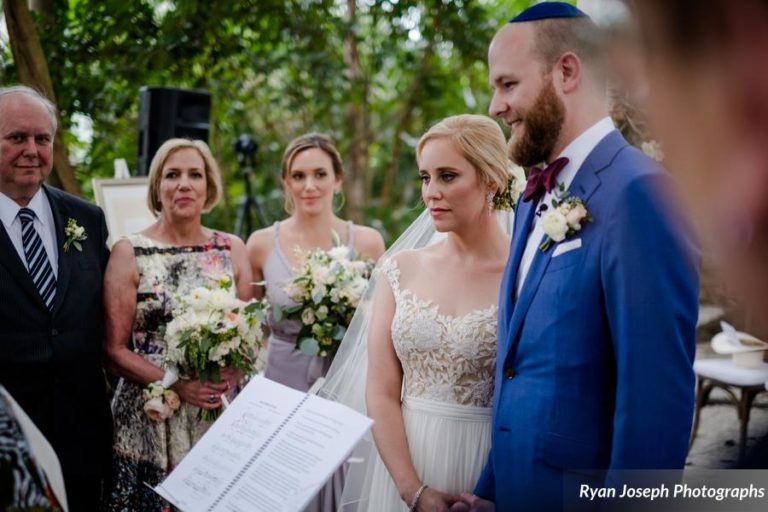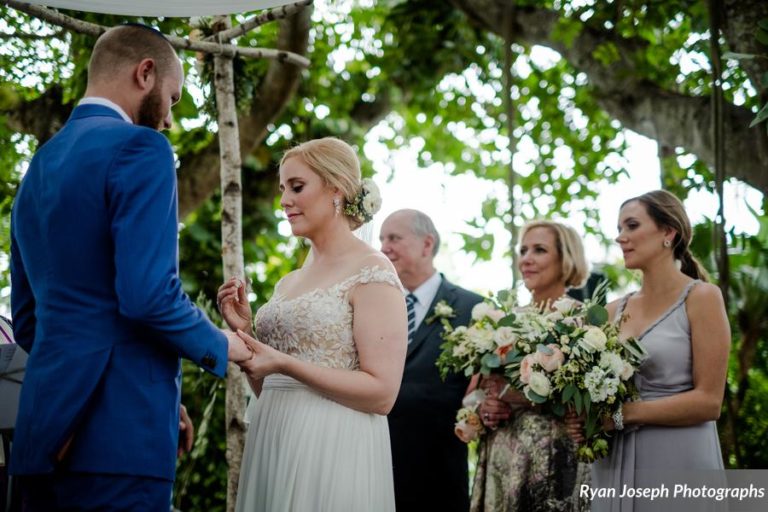 The outdoor ceremony was so beautiful, it was impossible not to be in awe! The trees overhead created the most beautiful natural canopy over the altar, while the rustic look of our French Country Chairs perfectly complemented the natural elements.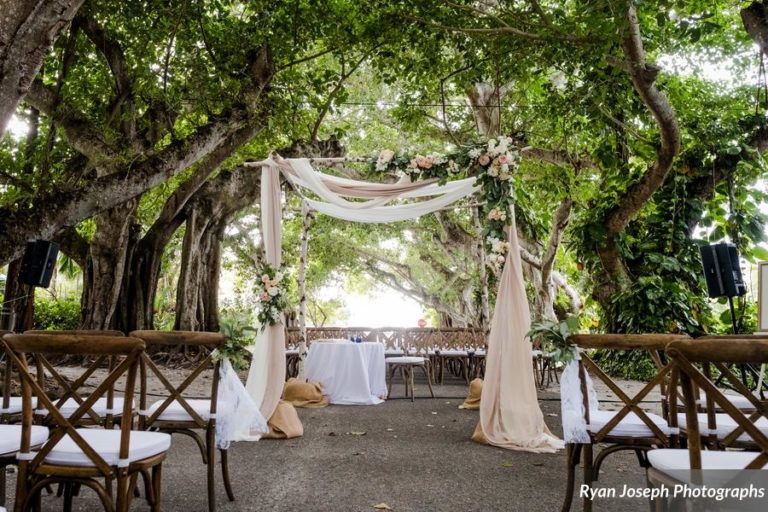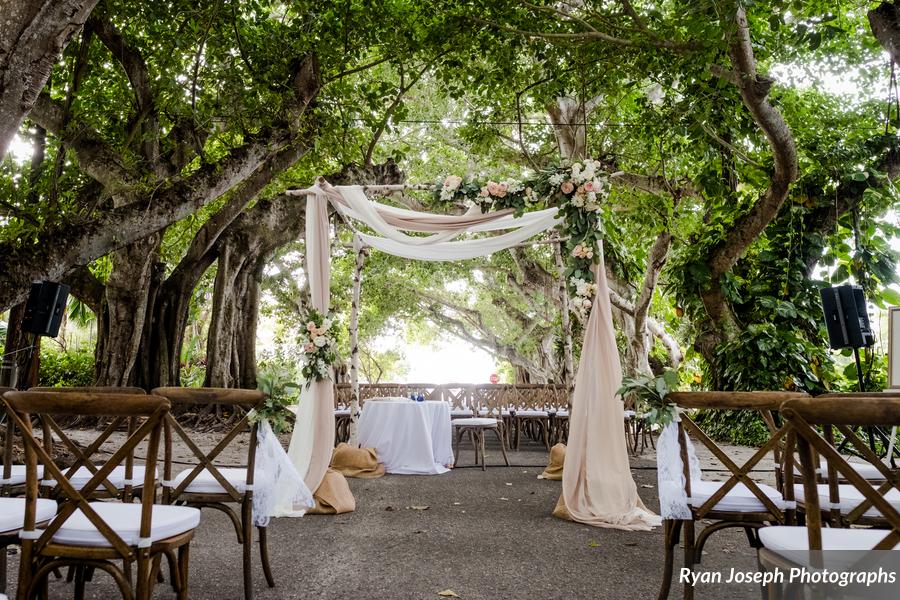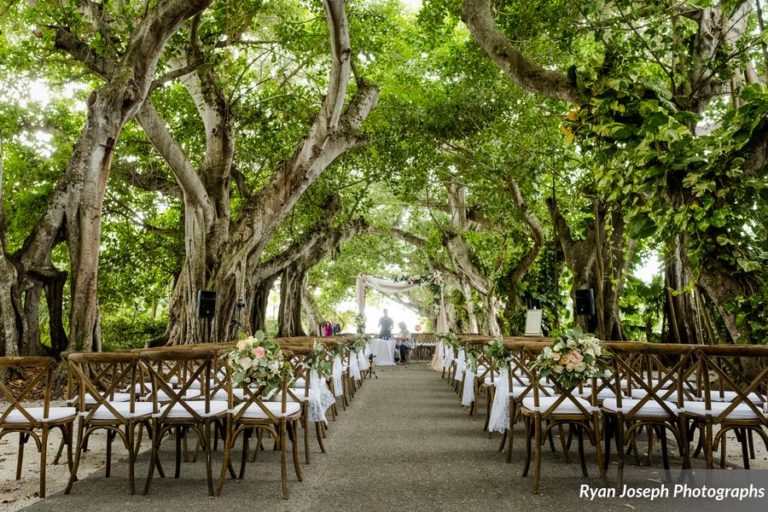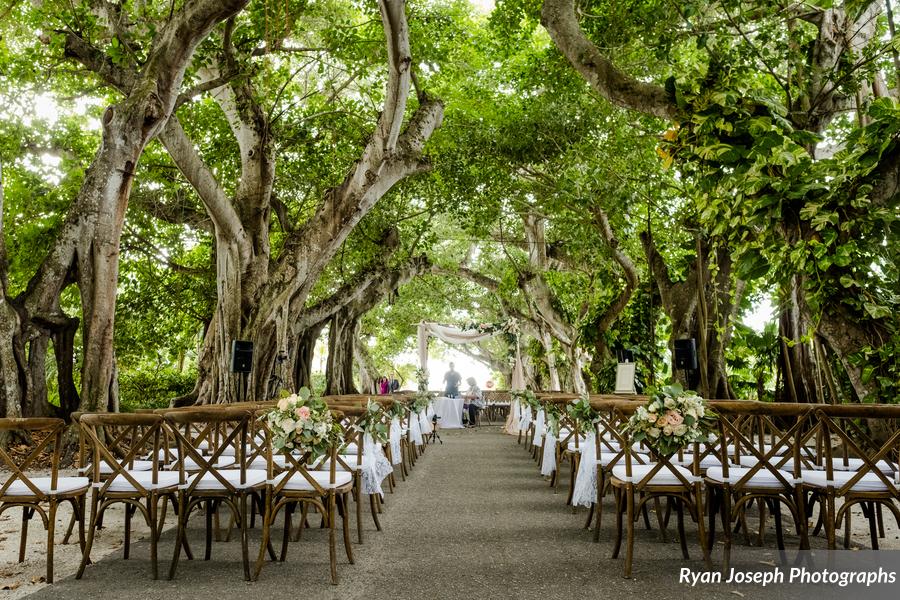 After the sweet, romantic ceremony and a gorgeous photo session on the beach, it was time to celebrate! The covered outdoor reception was just as flawless as was the ceremony. Our Mahogany Farm Tables offered just a hint of polished but natural beauty, topped with ivory lace runners from Over the Top Rentals for an elegant finish! Gorgeous floral in soft pops of pale pink and orange completed the look.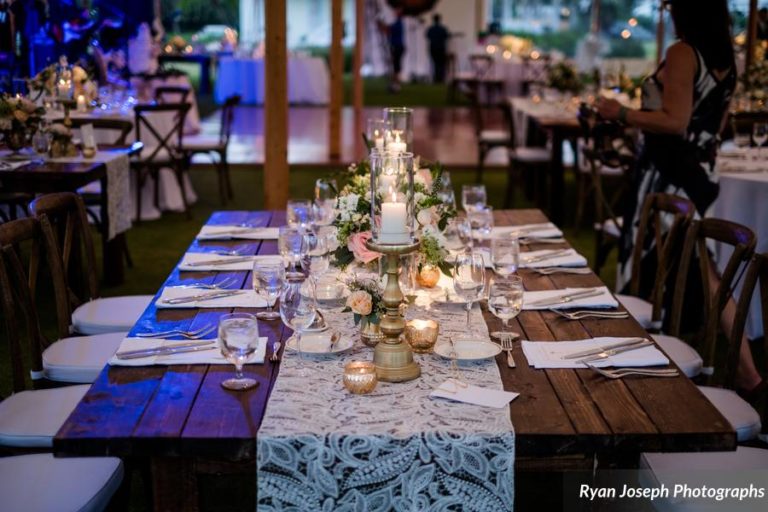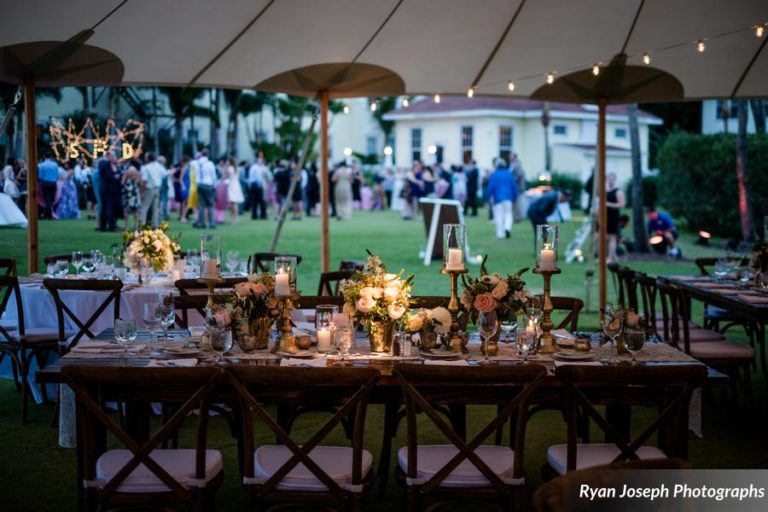 The evening flew by as our newlyweds and their guests enjoyed each moment, dancing and feasting on the most delicious dinner and cake. But as with all good things, this destination wedding at the Gasparilla Inn in Boca Grande had to come to an end, and everyone gathered to wish the newlyweds well and usher them into the next chapter of their lives.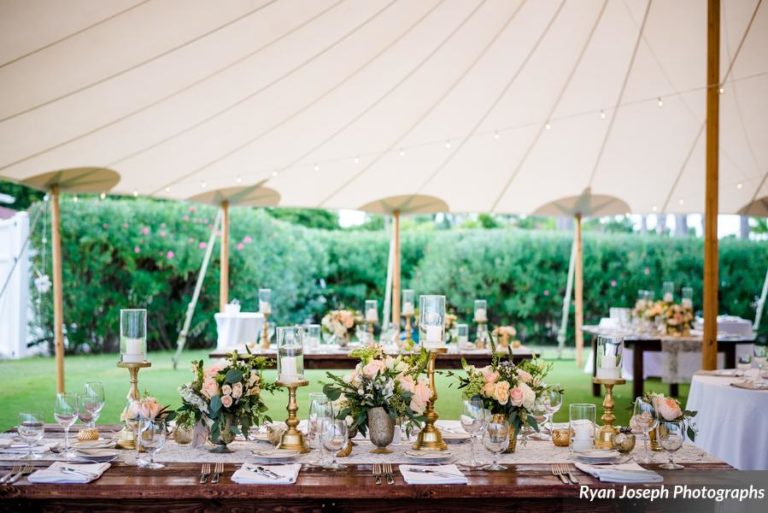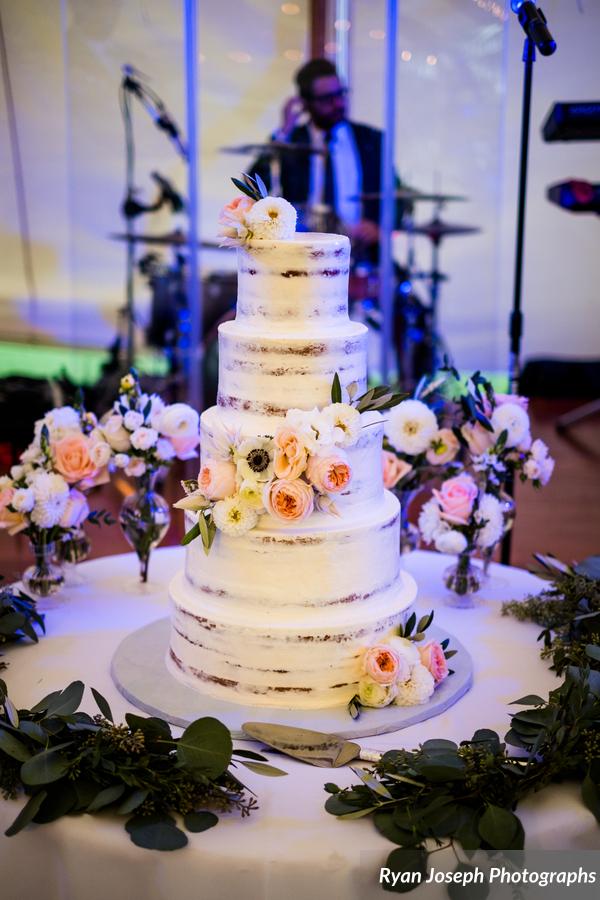 Congratulations again, Sarah and Danny! Your destination wedding at the Gasparilla Inn in Boca Grande was stunning, and we are so glad to have been a part of it! We wish you all the best for your future!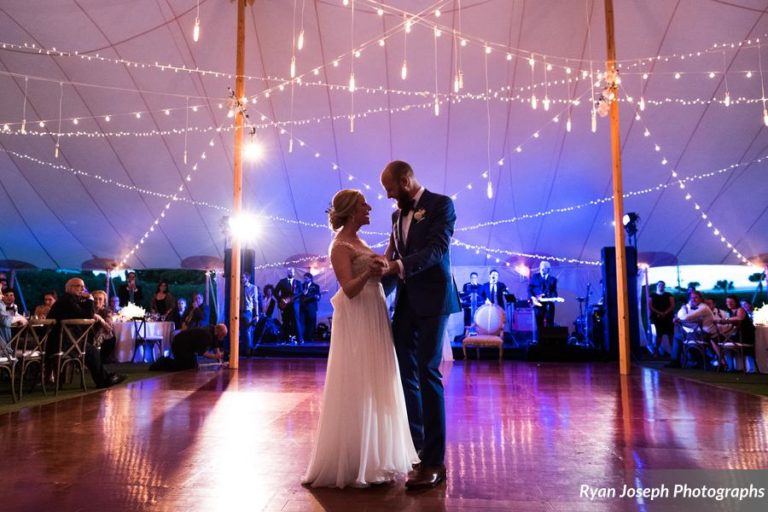 Featured Items:  French Country Chairs  |  Mahogany Farm Tables
Vendors:  Venue:  Gasparilla Inn  |  Floral Design:  2 Birds Florist  |  Equipment Rentals:  A Chair Affair  |  Event Planner:  Anna Lucia Events  |  Makeup Artist:  Cynful Makeup  |  Lighting:  Kaleidoscope Event Lighting  |   Event Design:  MMD Events  |  Linens and Coverings:  Over the Top Rental Linens  | Band:  Powerhouse Band   |   Equipment Rentals:  Sperry Tents   |   Cinema and Video:  Voila Cinematic   |    Paper Props:  Wedding Paper Divas   |   Photographer:  Ryan Joseph Photographs