Deanna & Jake
While we don't typically hear the words "Viking" and "romance" together, after witnessing the romantic Viking-inspired wedding of Deanna and Jake, our ideas have changed. The rustic Bridle Oaks Barn was the perfect location for this Viking wedding. Wedding planner Victoria Rose Events created a magical and romantic day that would rival any Norse story, and Alice's Art Gallery froze the moments in time.
Romantic First Look
It's no secret that we love the tradition of the first look. It helps shake the wedding day jitters and gives the bride and groom some time together before a busy day. But, the "first touch" is becoming another of our favorite wedding day traditions.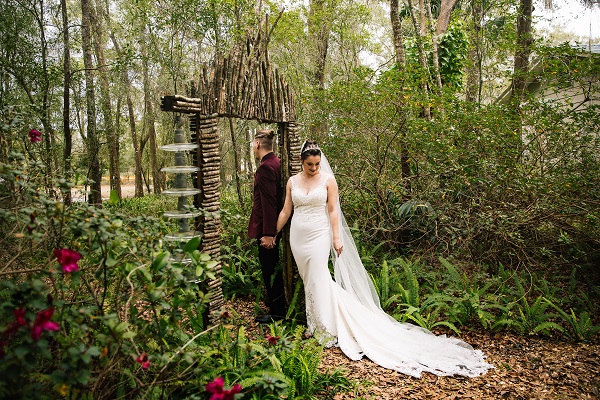 Instead of seeing each other before their wedding, Deanna and Jake met in the woods and held hands. With the trees surrounding them, they shared their quiet thoughts about the upcoming ceremony. And they got to enjoy the romantic moment in solitude before the rush of the day.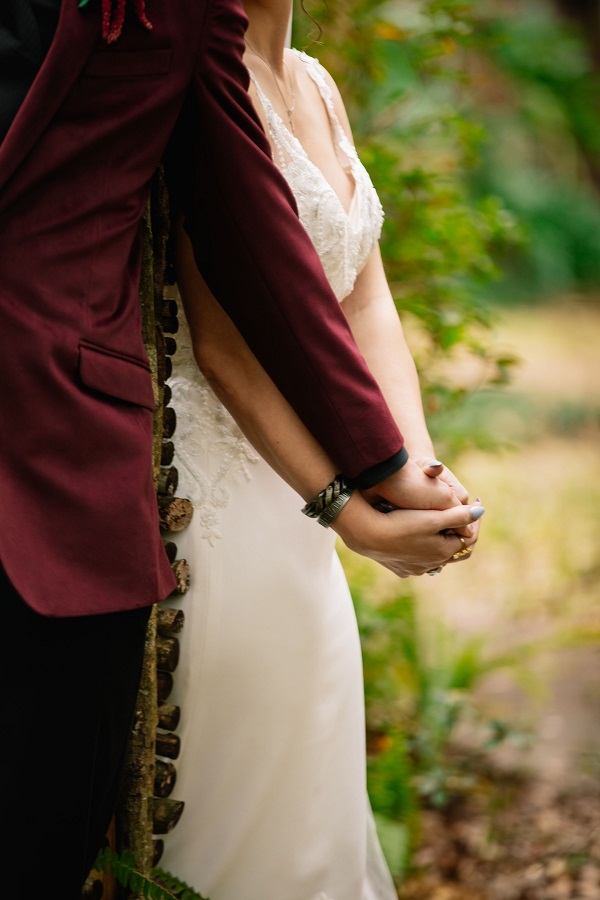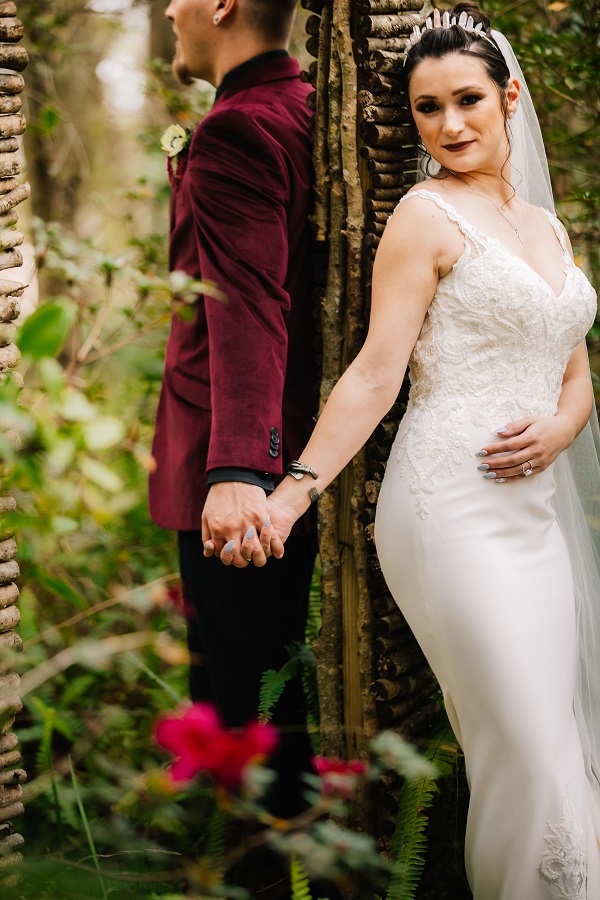 And then they were finally able to meet face-to-face at the altar during their beautiful ceremony, and it was a moment worth waiting for! Deanna and Jake's Viking wedding ceremony was romantic and soulful. And then, it was time to party as real Vikings do!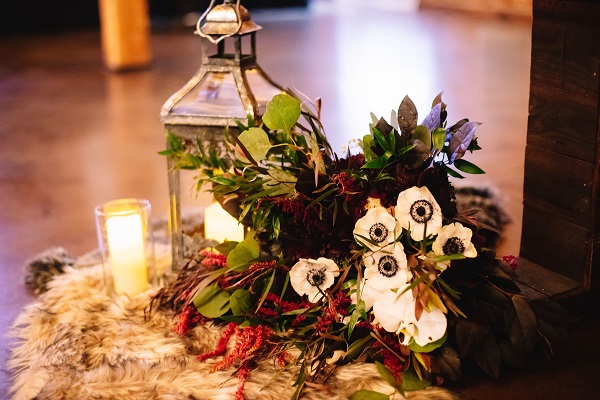 The couple met their wedding guests inside the barn, with tables ready for a feast. Black linens were paired with our white china, capri flatware,  and standard stemware. Feathery florals from  Pink Flamingo Petals completed the design.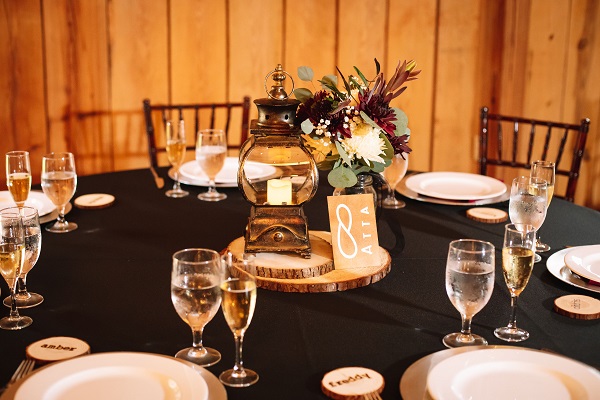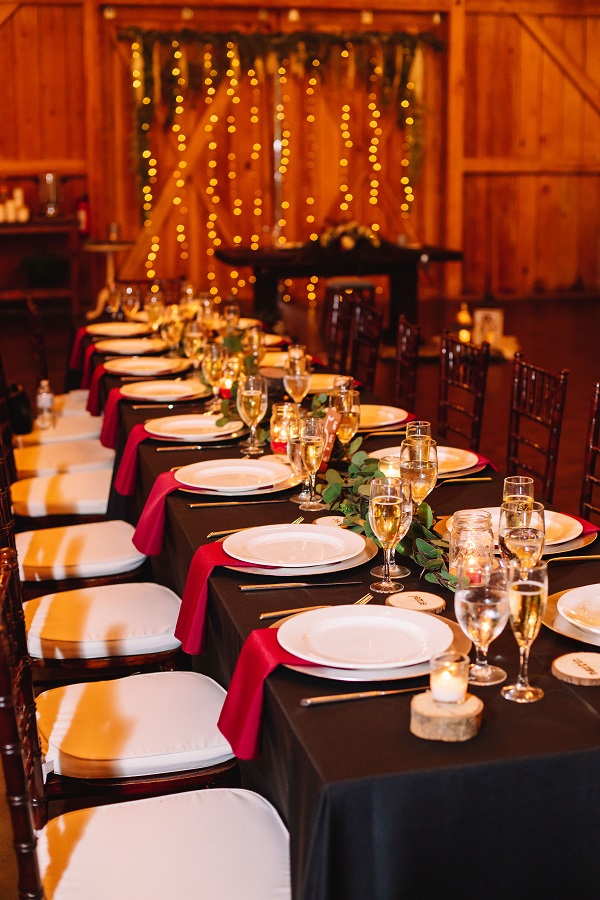 During dinner, the bride and groom celebrated with raised Champagne Glasses. And when it was time, they danced the night away with their wedding guests.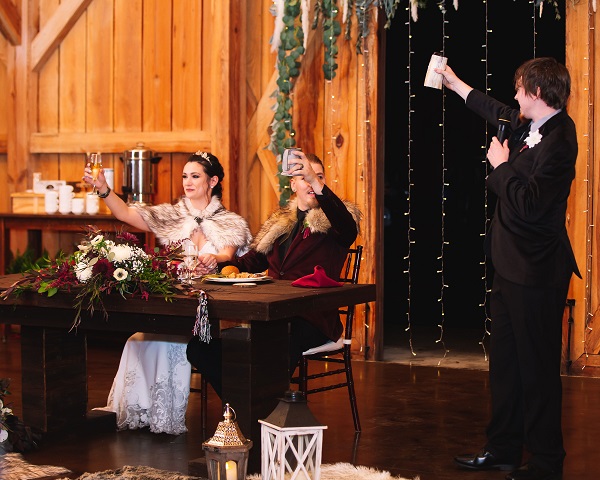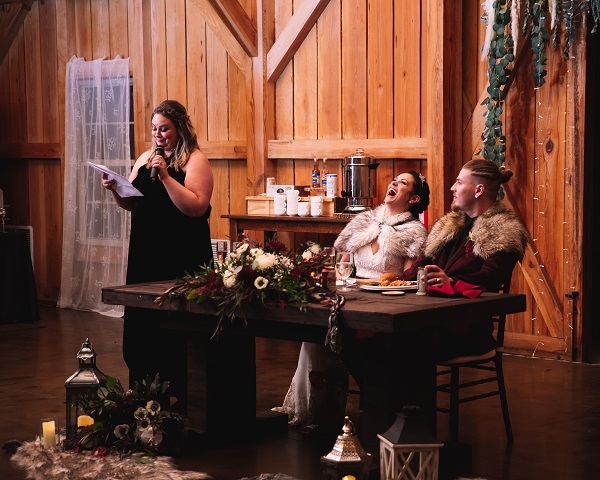 When it was time to send the newlyweds off, it was done in Viking fashion. Wedding guests held lanterns to light their way. And Jake took his bride andhe dipped and kissed her in the most romantic way. So yes, Viking weddings are very romantic!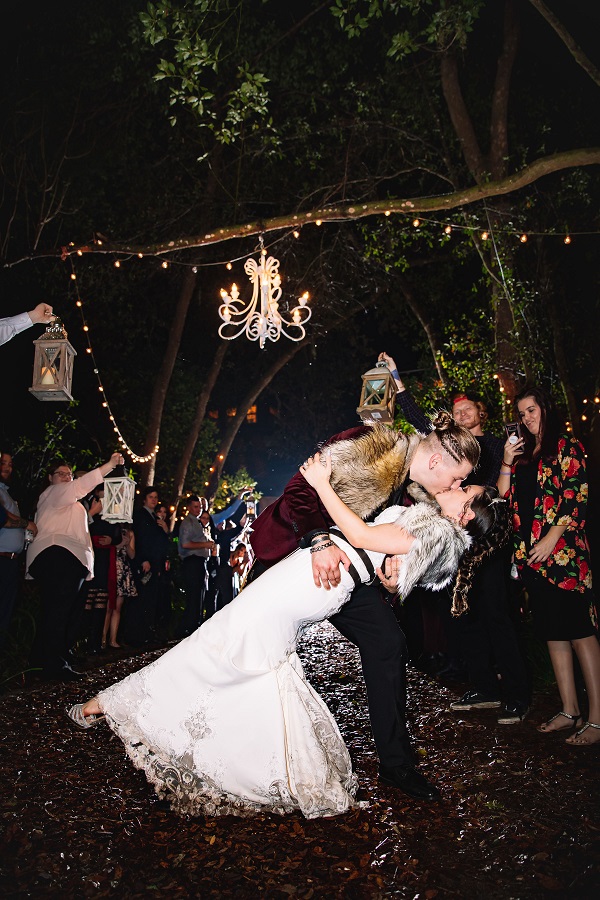 Featured Products: White china, Capri flatware, Standard Stemware, Amy B&B Plate, Champagne Glasses
Venue: Bridle Oaks Barn | Planner: Victoria Rose Events | Photographer: Alice's Art Gallery | Rentals: A Chair Affair | Florist: Pink Flamingo Petals | Hair & Makeup: Laura Reynolds Artistry Hair and Makeup Team |  DJ: DJ Phil Joeckel | Invitation Designer: Basic Invite | Tuxedo & Men's Attire: Kenneth Cole | Bridal Salon: Lily's Bridal | Bartending: J & T Bartending