Fernanda and Zachary married at Bella Collina, a beautiful venue with Tuscan inspired design. They used soft, romantic details to play up their theme while weaving effortlessly into the little piece of Italy. An Affair to Remember did an amazing job inviting guests into Fernanda and Zachary's storybook tale of love.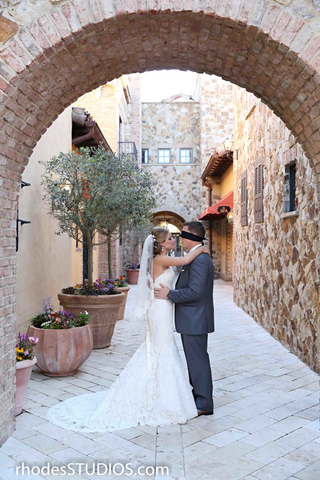 Staying true to the tradition the groom did not see his bride before the nuptials. In a creative twist he did get to hold his lady with the assistance of blindfold. What a lovely loophole!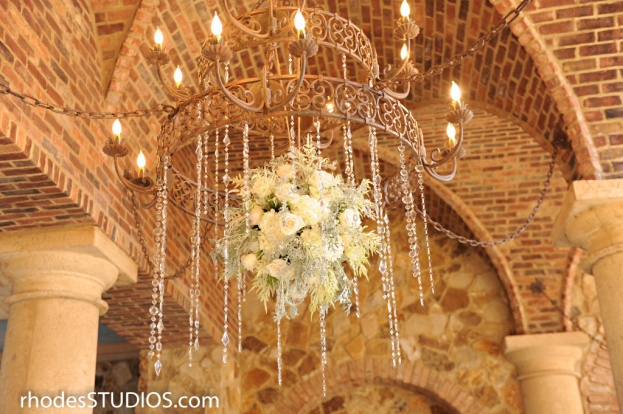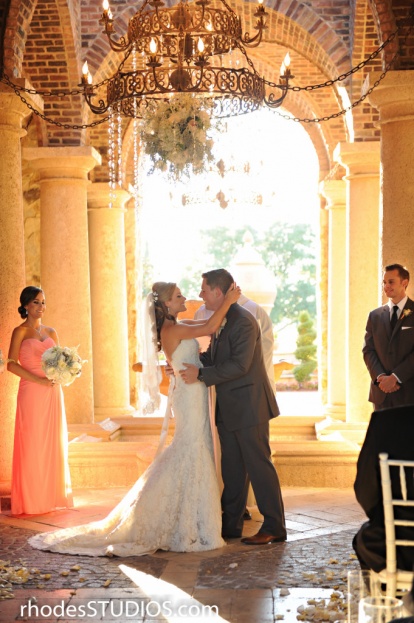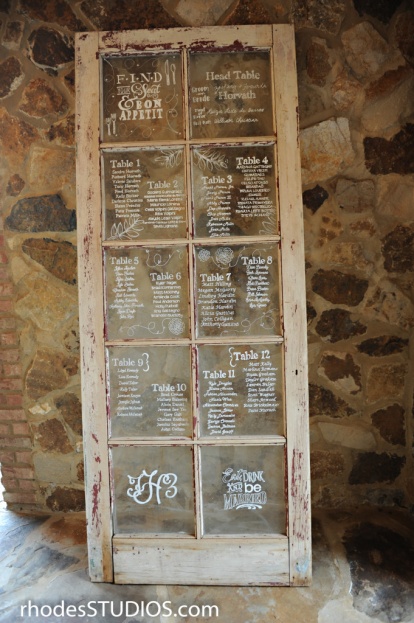 This rustic widow pane served as a directory for the guest seating arrangements. An artistic break from traditional name cards, this piece is not only unique but played into the Italian details throughout the ceremony hall. This piece is an ode to An Affair to Remember' s attention to detail.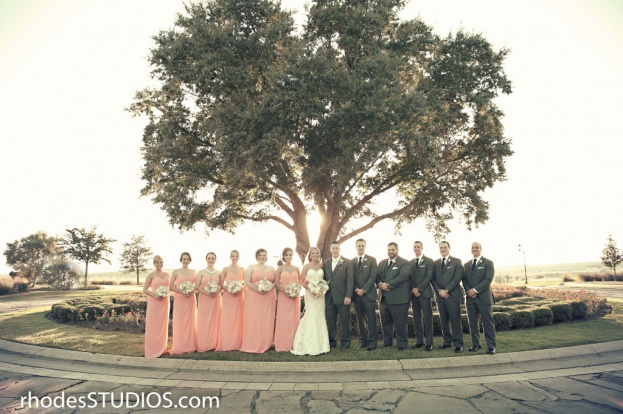 A Chair Affair was pleased to be a part of their beautiful outdoor reception with our contribution of beautiful decorative chargers and chiavari chairs. Guests were enveloped in a cloud of white and silver adorned with flower arrangements by Lee Forrest Designs. The reception was topped with yet another gorgeous chandelier.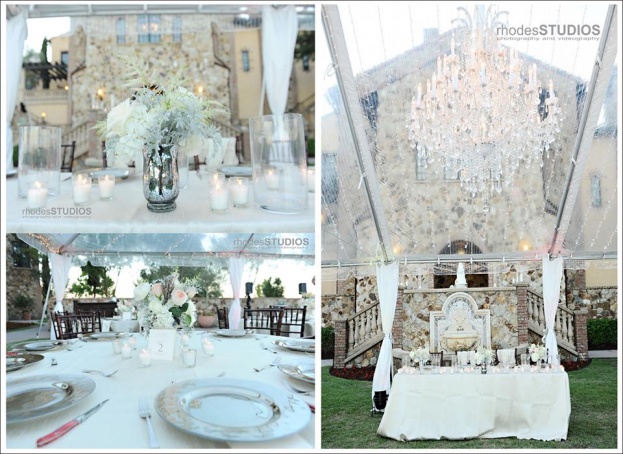 The bride and groom shared this delicate cake with modest details that matched the silver cake stand. The Sugar Suite added a sweet mascot to the first tier of the cake, displaying the playful side of the couple's relationship.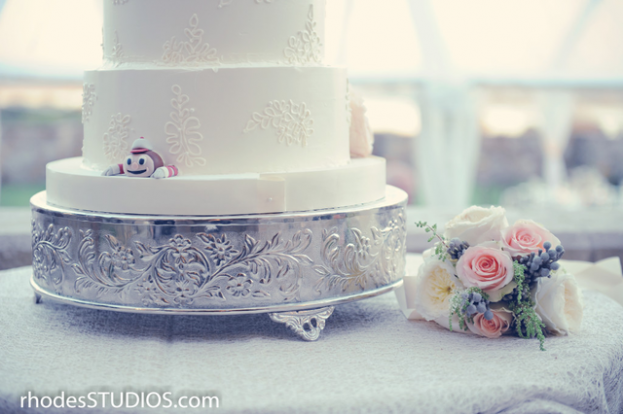 These chairbacks intertwined with lace were the perfect back drop for the "I'm his Mrs." and "I'm her Mr." signs. The text on the back only added to the couples excitement over belonging to each other.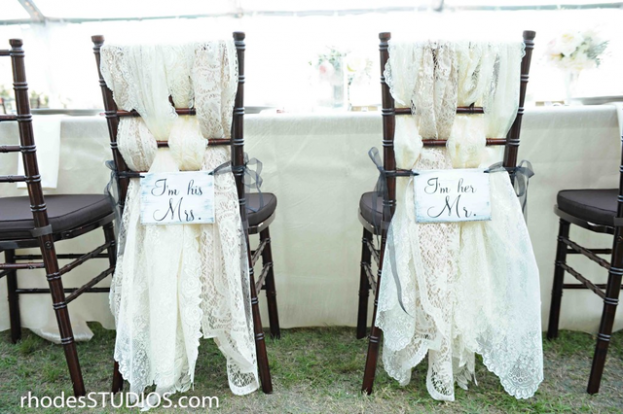 Guests looked on as the newlyweds shared their first dance under a starry night created out of twinkle lights and another beautiful chandelier proved by Signature Chandelier Rentals.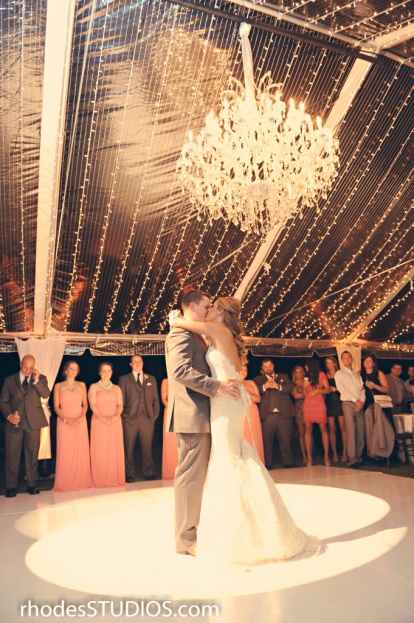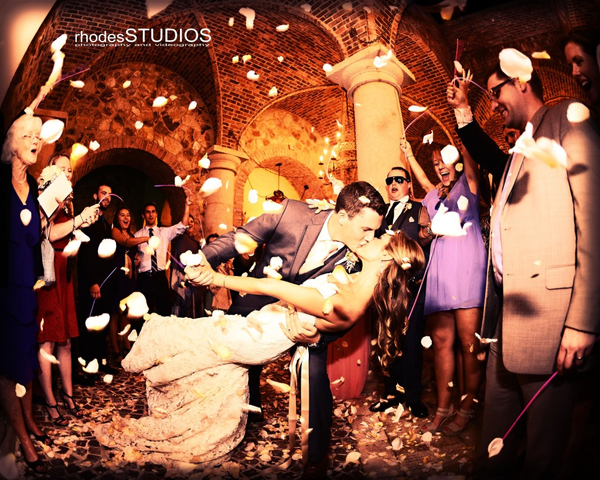 With a final dip of marital joy, we would like to wish Fernanda and Zachary the best on their new chapter life accompanied with lifelong happiness and joy.
We would also like to acknowledge all of the talented vendors who came together to make this fantasy come to life:
Wedding Design, Planning and Coordination: An Affair to Remember
Venue: Bella Collina
Invitations: Invitations by Design
Officiant: Father Ricky
Ceremony Music: Christine MacPhail
Florist: Lee Forrest Designs
Photographer/Videographer: Rhodes Studios
Cake: The Sugar Suite
Hair & Make Up: LeJeune Artistry
Linens: Over the Top Inc
Chargers: A Chair Affair
Chandelier: Signature Chandelier Rentals
Dance Floor Wrap: That's A Wrap!
Dress: Solutions Bridal